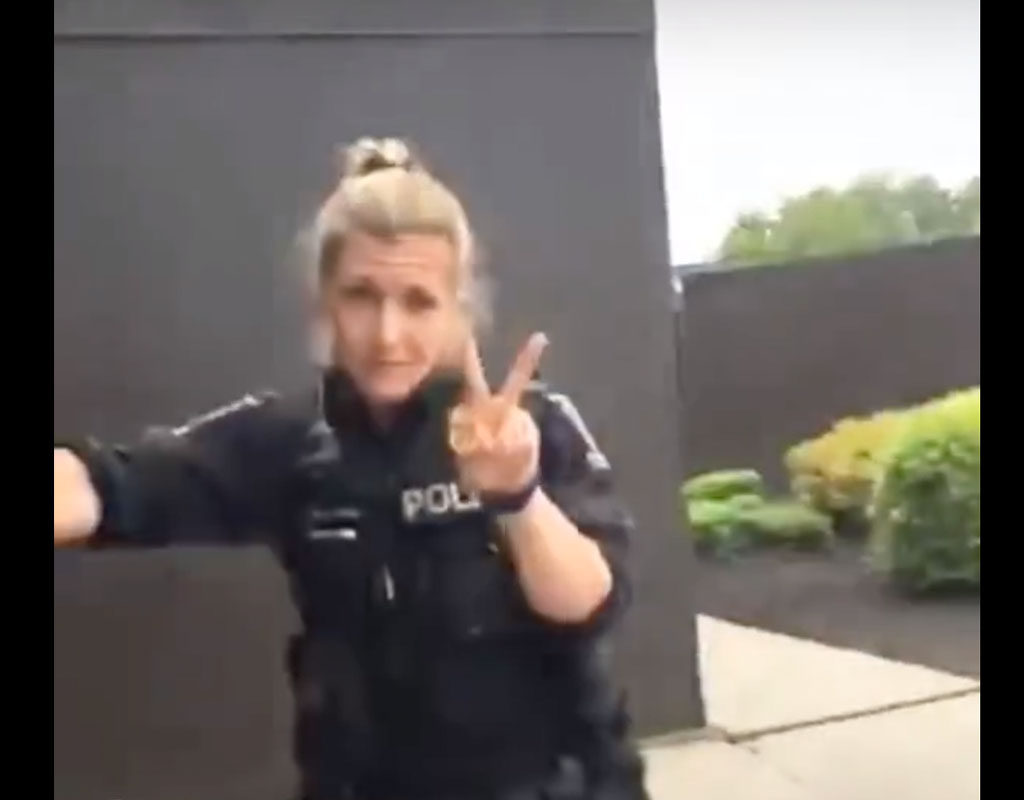 Montgomery Police Release Footage Showing MCPD Officer Using N-Word
Montgomery County police are investigating an incident of racial bias involving one of their police officers.
MCPD released a statement Thursday evening saying that they take "allegations of racial discrimination seriously."
"We are committed to serving all members of the community in a fair, impartial, and non-discriminatory manner at all times. All allegations of misconduct surrounding inappropriate actions or language by our employees are investigated by our Internal Affairs Division, at times in concert with other governmental agencies within Montgomery County," police said.
The incident of bias occurred Thursday at a McDonald's located at 11146 New Hampshire Ave. in Silver Spring before 11 a.m. Police say that the officers were "investigating trespassers at that location."
During the interaction, responding officers searched through a group of men's belongings.
One man who was interacting with the police live-streamed a video of the exchange. The man's video went viral Thursday afternoon because it appeared to show one of the responding officers using the n-word.
"Hey you want to get out of here fast right?" the officer asked one of the men.
The officer then used the n-word.
She said, "Y'all n**** been trying to something."
The man recording the officer called her a "racist."
"What I'm doing is repeating your words," the officer said.
Police released two videos that were captured during the exchange at McDonald's: the full Instagram video and the officer's body camera footage.
"As part of our commitment to accountability and transparency, we are releasing both the social media video and the body worn camera footage of the involved officer for all to view," police say.
"The statements observed on the social media video clip are contrary to our extensive training curriculum that include implicit bias training and other training programs to ensure fair, unbiased, and non-discriminatory policing in our community," police said.
Police said they understand that the rhetoric in the video has brought pain to the community.
"This incident remains under investigation and appropriate actions shall be taken in conformance with applicable laws and policy," police said.
Instagram Footage and Officer's Body Camera Footage
Here's the video of the Instagram footage that one of the men who was interacting with the police officers published live-streamed Thursday morning. Note: The following video contains offensive language.
Here's the police officer's body camera footage. Note: The following video contains offensive language.
County Officials Condemn Police Officers Racist Rhetoric
Since the video has gone viral Thursday, county officials have condemned the racist rhetoric.
County Executive Marc Elrich released a statement saying that he's spoken to Acting Police Chief Russell Hamill about the situation and that an investigation is underway.
Elrich said, "I watched a video of a Montgomery County police officer that circulated around social media earlier today. The officer's comments recorded on the video violate the standards which we expect our officers to uphold. There are no circumstances that justify what the officer said. Every time something like this happens it hurts the reputation of all officers; and it works against efforts to build trust in the community."
Nancy Navarro also released a statement Wednesday morning.
Navarro said, "These actions are not representative of the high expectations we hold our County's police officers and it is my expectation that the individuals involved will be held accountable for these offensive actions. We are and will continue to be an inclusive County and it is imperative that we continue our work to engage in education and outreach to sensitize our residents on the harmful effects of racism on the residents of our communities."
In addition to Elrich and Navarro, Councilmembers Craig Rice, Will Jawando, Sidney Katz reacted, and Gabe Albornoz reacted to the footage on social media.
Completely unacceptable. I've also asked MCPD why these young men were stopped in the first place.

— Will Jawando (@willjawando) May 9, 2019
No chance. Thank you.

— Will Jawando (@willjawando) May 9, 2019
After seeing the troubling video posted today, and hearing from Acting Chief Hamill, I know MCPD is investigating the incident fully. All interactions with the public by our public safety personnel should be done with the utmost respect. Derogatory language is never acceptable.

— Sidney Katz (@MC_Council_Katz) May 9, 2019
Below please find my official statement regarding a racial incident that occurred in our community yesterday. As a member of the Public Safety Committee, I will follow the investigation closely and expect a full review of this incident in its entirety. pic.twitter.com/sfeSLrjjIP

— Gabe Albornoz (@albornoz_gabe) May 10, 2019
Jawando, the lead sponsor of the recently passed Law Enforcement Trust and Transparency Act, said he'd like to know why the men were even initially stopped.