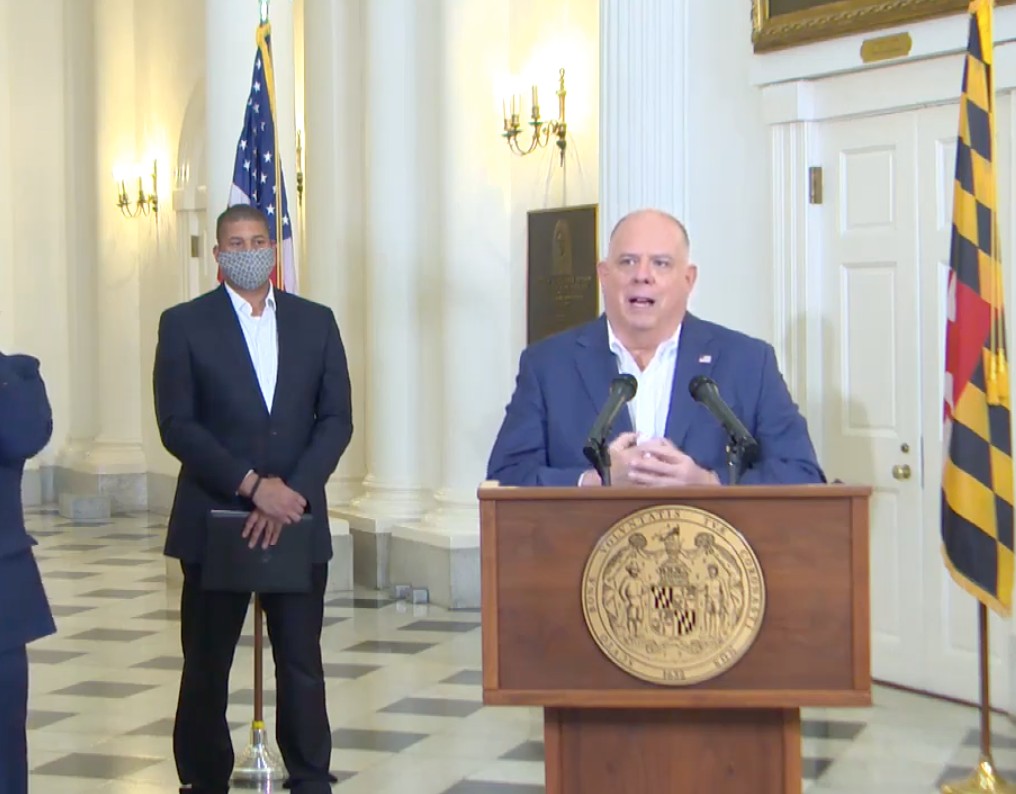 Four Steps Are Necessary Before Maryland Can Reopen, Hogan Says
There are four building blocks necessary for Maryland to recover and reopen after COVID-19, Gov. Larry Hogan said at a press conference Wednesday. 
The first step is expanding testing capability, he said. Maryland has increased testing by 5,000 percent in the past month, and is working to be able to test up to 10,000 people per day. The state has received 40,000 more tests, aside from tests that clinical facilities and private commercial labs have. 
The second building block is increasing hospital surge capacity by 6,000 beds. Hogan said Maryland is delivering on this goal weeks ahead of schedule. 250 beds have been added to a field hospital at the Baltimore Convention Center. The Hagerstown Correctional Facility and former Washington Adventist Hospital in Takoma Park are being converted to field hospitals as well, among other sites. The state is also in the process of setting up 60 COVID-19 response tents across the states, with one Montgomery County site in Germantown. 
The third step is getting more personal protective equipment (PPE). There are large deliveries of supplies coming in daily, Hogan said. In the past week, one million face shields have come in and 1,000 ICU beds. 4.5 million N95 masks are expected to come within the next week, as well as 252 ICU ventilators and 290 oxygen concentrators. 
The fourth building block necessary before Maryland can re-open is more contact tracing of COVID-19 positive patients. People who do contact tracing are like 'disease investigators,' said Deputy Secretary for Public Health Services Fran Phillips. They reach out to patients who tested positive and interview them on everything the patient did for the last two weeks, all the places they traveled, and who they came into close contact with. There are currently 250 people in Maryland doing contact tracing, and Hogan said he wants to increase it to at least 1,000. 
LIVE: COVID-19 Update – April 15, 2020

Live captions are available on YouTube. https://t.co/IrYZBigf1p

— Governor Larry Hogan (@GovLarryHogan) April 15, 2020
Hogan acknowledged that people want to know when they'll get back to living a normal life. He said sometime in the next week the state will lay out some information about a plan to re-open the economy. However, they will not be exact details of any final plan, he said. Hogan emphasized that Maryland has not yet reached its peak in cases, so now would be the worst time to relax measures. 
"The worst possible thing we could do is to take actions too quickly and then have that spike so we look like New York and we have thousands of people die and hundreds of thousands of people sick and we overload our hospital system because then it's very hard to get that genie back in the bottle," Hogan said.