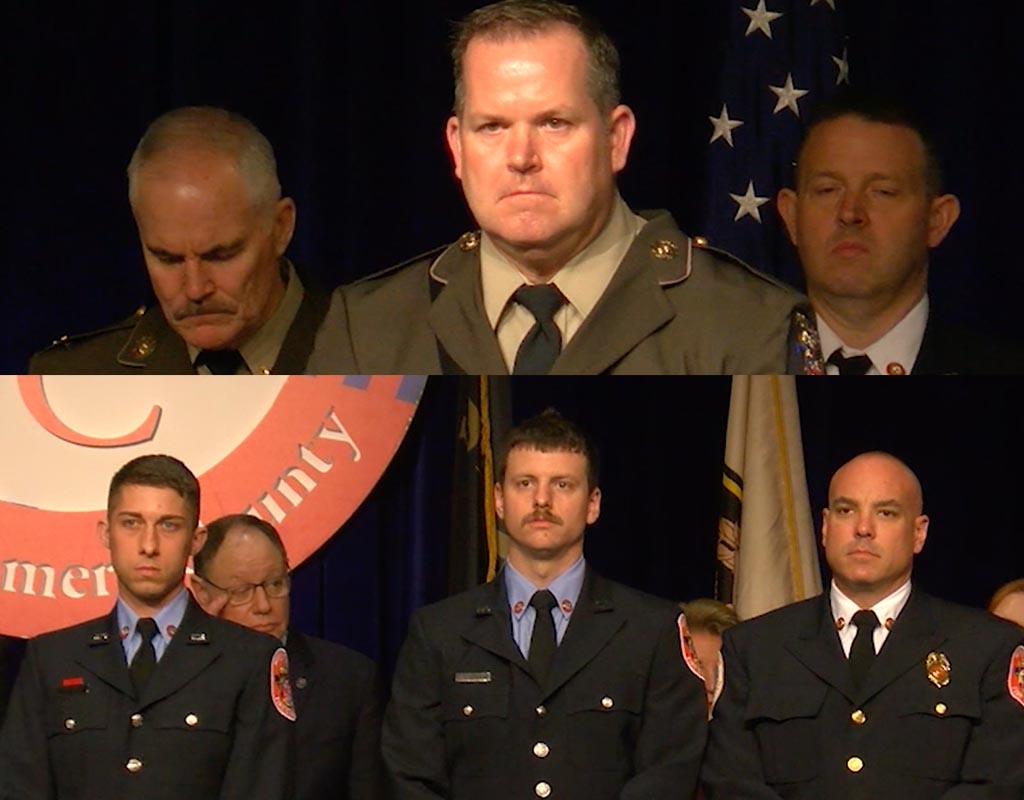 First Responders Honored for Response to Armed Clarksburg Student, Silver Spring Fire
Montgomery County first responders were honored for acts of bravery at the 45th Annual Public Safety Award Luncheon.
MCM's Deirdre Byrne spoke with Montgomery County Police Officer Troy Melott and Montgomery County Fire & Rescue Services Capt. Chase Fabrizio about being honored: Melott was honored for peacefully responding to an armed Clarksburg High School student; Fabrizio was honored, along with eight other firefighters, for a heroic response to an apartment fire on Thayer Avenue in Silver Spring.
Melott and Fabrizio discuss why they were honored in the video below.
Officer Troy Melott Honored for Response to Armed Clarksburg High School Student
Here's a video of Melott earning an Honorable Mention of Valor for responding to an armed student at Clarksburg High School.
Mellot, who had been the school resources officer at Clarksburg, received a tip on February 15, 2018 — one day after the mass shooting at Marjory Stoneman Douglas High School — from a Clarksburg student about another student bringing a loaded gun to school that day. Melott responded to the incident peacefully, without causing a commotion, by locating the student's classroom and bringing him to the school office.
Mellot discovered that the student packed a loaded, 9-millimeter handgun in his backpack. Additionally, Montgomery County detectives found "body armor, a shotgun, two rifles, ammunition, and other weapons" at the student's home.
Had Melott not acted on the tip he received, the school may potentially have had to face the dangers of an active shooter.
Nine Firefighters Honored for Life-Saving Efforts During Silver Spring Apartment Fire
Nine Montgomery County firefighters were honored for responding to an apartment fire in Silver Spring on Thayer Avenue in January 2018.
MCFRS responded to a 911 call at around midnight about the fire, but the fire alarm and sprinkler systems weren't working. Therefore, the first responders had to wake up the residents of the apartment building to have them evacuate the burning fire.
According to the Public Safety Awards brochure, there was zero visibility in the apartment during the fire and the "smoke was overwhelming."
As some of the firefighters extinguished the fire, others "started rescuing people from the upper floor of the apartment building."
After the team worked together to put out the large fire, they received extraordinary news: "nobody died in the fire and any injuries sustained were minor."
The following firefighters from MCFRS were honored with a Bronze Medal of Valor for operating "alone in zero visibility performing high-risk search" and for saving a woman:
Capt. Chase Fabrizio
Firefighter Scott Pierce
Firefighter Michael Nokes
Additionally, the following firefighters earned a Unit Citation for their "extraordinary teamwork in putting out a fire and rescuing people under extreme conditions":
Capt. Scott Kitner
Master Firefighter Ojibwa Miller
Master Firefighter Allen "Bull" Durham
Firefighter Kirk McNeel
Firefighter Chris Miller
Firefighter Nicholas Newman.
(Midnite 1/20) 2nd Alarm – 537 Thayer Av, Silver Spring, w/ multiple rescues; 2 dozen displaced; Cause, electronics (laptop) overheated & caught bed on fire; Area of Origin, 2nd fl bedroom; Damage, >$550K; 1 civ NLT inj (smoke inhalation); FFs assisted w/several rescues pic.twitter.com/OWQLtqQJXy

— Pete Piringer (@mcfrsPIO) January 20, 2018
Photos of Public Safety Officers Winning Awards
Here are some photos of the public safety officers winning these awards at the luncheon.
Previous Posts
MCPS Superintendent Dr. Jack Smith's Statement on School Safety