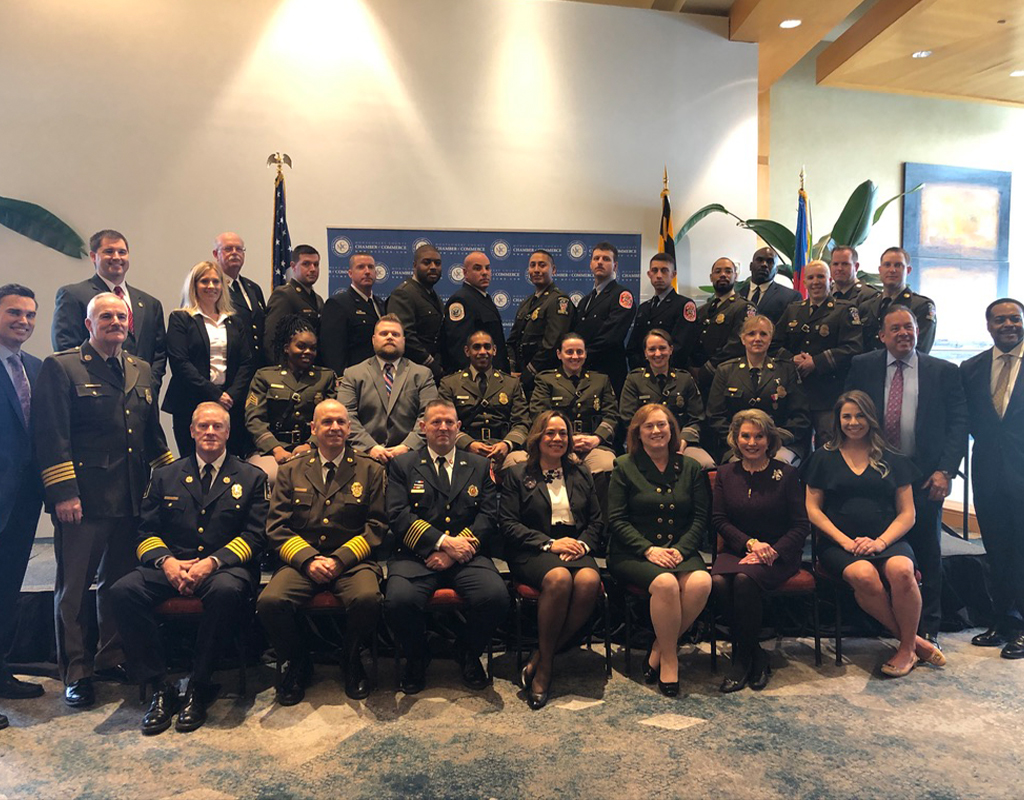 Police, Firefighters Honored at 45th Annual Public Safety Awards
A number of public safety officers were honored at this year's 45 Annual Public Safety Awards Luncheon at the Bethesda North Marriott Hotel & County Conference Center in North Bethesda. The event was emceed by NBC4's Leon Harris and Doug Kammerer. The event is organized by the Montgomery County Chamber of Commerce.
Make sure to check back at MCM for details on the police officers and firefighters who won awards.
Take a look at the tweets and videos from the event.
Chief Tom Manger Honored at Award Ceremony
MCM also caught up with Chief Tom Manger, who was honored at the ceremony to find out what his retirement plans are. It turns out, he'll still be hard at work even if he isn't serving as the police chief for the county.
Manger is going to be Washington D.C.'s representative for the Major Cities Chiefs Association.
Live Tweets From Event
Here's a recap of the award ceremony.
Thread: I'm covering @MCCCMD's 45th Annual Public Safety Awards for @mymcmedia. #MCCCPSA pic.twitter.com/1uC4zoBIzw

— Deirdre Byrne (@DeirdreByrneMCM) March 15, 2019
Great turnout! #MCCCPSA pic.twitter.com/r3KJt9xxdt

— Deirdre Byrne (@DeirdreByrneMCM) March 15, 2019
Steven Robins, the chair of @MCCCMD's #MCCCPSA is addressing the room. He thanks the following individuals….

Here's part 1… pic.twitter.com/44P4wAAxdE

— Deirdre Byrne (@DeirdreByrneMCM) March 15, 2019
Here's part 3 pic.twitter.com/7CGwx19COK

— Deirdre Byrne (@DeirdreByrneMCM) March 15, 2019
Here are the awardees all lined up! pic.twitter.com/FXyr5n3g7w

— Deirdre Byrne (@DeirdreByrneMCM) March 15, 2019
@RepDavidTrone talks about his dedication to addressing the opioid crisis. pic.twitter.com/Lv5gh8Vsmo

— Deirdre Byrne (@DeirdreByrneMCM) March 15, 2019
@MoCoCouncilMD President @nancy_navarro also thanked the public safety officers for their service to the county on behalf of the council. pic.twitter.com/cSuWnBHq2M

— Deirdre Byrne (@DeirdreByrneMCM) March 15, 2019
I got a look at the awards that will be distributed to today's honorees. 🤫 #mcccpsa pic.twitter.com/CV9fz0kYCc

— Deirdre Byrne (@DeirdreByrneMCM) March 15, 2019
Next up the Forensic Medical Unit Nursing Team from @AdventistHC Shady Grove Medical Center wins the #MCCCPSA award for Public Safety Corporate Vital Link. pic.twitter.com/GpqPriDnhX

— Deirdre Byrne (@DeirdreByrneMCM) March 15, 2019
The Federal Bureau of Alcohol, Tobacco, Firearms, and Explosives wins the #MCCCPSA award for Public Safety Government Partner of the Year. pic.twitter.com/PkCPQZiL8K

— Deirdre Byrne (@DeirdreByrneMCM) March 15, 2019
Bad news @mcps students, @dougkammerer isn't expecting anymore snow. pic.twitter.com/MdxVyRZ4CS

— Deirdre Byrne (@DeirdreByrneMCM) March 15, 2019
Next up @mcfrs's Chief Leslie B. Thompson wins the Community Service Award. pic.twitter.com/LHIT38Y8PP

— Deirdre Byrne (@DeirdreByrneMCM) March 15, 2019
These are the police officers (@mcpnews) winning the Chief Bernard D. Crooke Jr. Community Service Award. #MCCCPSA pic.twitter.com/nJ0ys4WJ9A

— Deirdre Byrne (@DeirdreByrneMCM) March 15, 2019
Now @MCCCMD presents this Hurricane Rescue Leadership award to Captain Mike Stream got his heroic efforts in the wake of Hurricane Florence. Stream is getting an Honorable Mention of Valor. #mcccpsa pic.twitter.com/hSgGx22PEy

— Deirdre Byrne (@DeirdreByrneMCM) March 15, 2019
These firefighters from @mcfrs are winning a Bronze Medal of Honor for their efforts to respond to an apartment fire in Silver Spring. #MCCCPSA pic.twitter.com/T6NCkbcY2m

— Deirdre Byrne (@DeirdreByrneMCM) March 15, 2019
@mcpnews's Police Officer III Emily Zupancic wins a Bronze Medal of Valor Award for her bravery in entering a home of an armed man. By doing so she saved lives. pic.twitter.com/5l1aOQlmiq

— Deirdre Byrne (@DeirdreByrneMCM) March 15, 2019
Now we honor @mcpnews's Officers Beverly LaFleur, Cecil Williams, and Cody Hobbs. Here they are in action. pic.twitter.com/4mMiE4lcm8

— Deirdre Byrne (@DeirdreByrneMCM) March 15, 2019
@mcpnews's Police Officer II Laura Zito wins the Silver Medal of Valor Award for chasing down an armed gunman in Germantown. Without her efforts the man might have gotten away with it. pic.twitter.com/ouONFtRO4j

— Deirdre Byrne (@DeirdreByrneMCM) March 15, 2019
Here's Chief Tom Manger addressing the audience. #MCCCPSA pic.twitter.com/R49Tuc6inG

— Deirdre Byrne (@DeirdreByrneMCM) March 15, 2019
Photos from the 45th Annual Public Safety Awards Luncheon