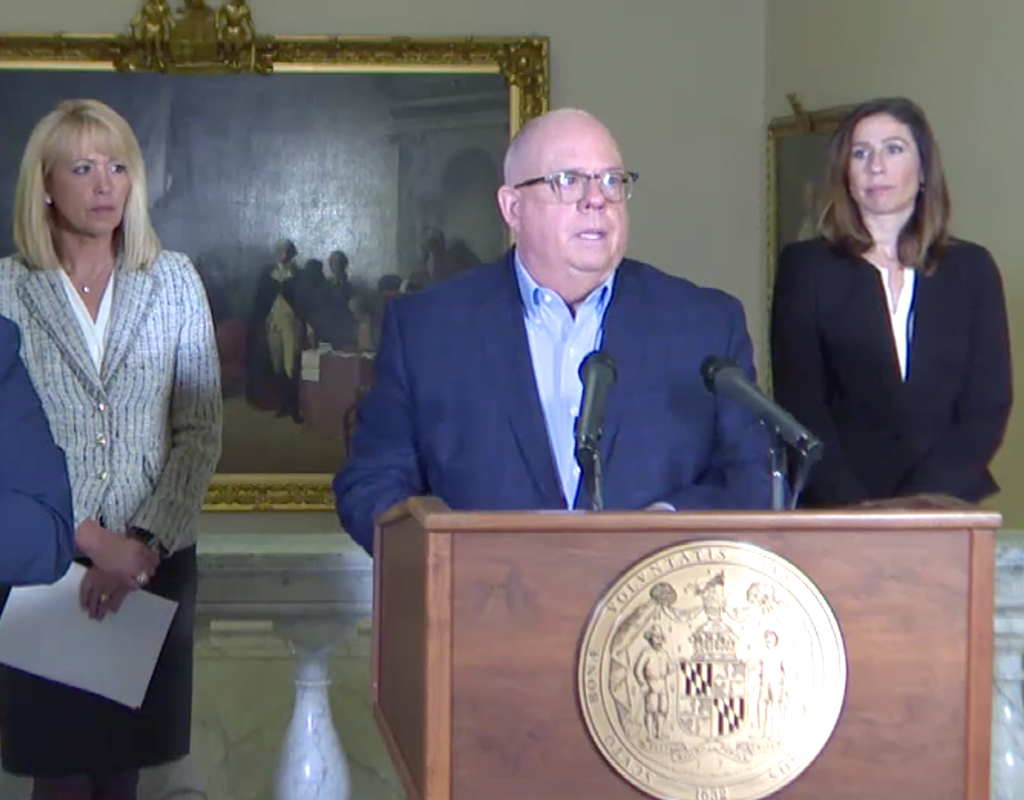 Hogan Orders Nonessential Businesses to Close, Announces Business Relief Funds
Gov. Larry Hogan has ordered all nonessential businesses in Maryland to close by 5 p.m. Monday to help combat the potential spread of the coronavirus.
"We are not issuing or ordering a sheltering in place directive, or forcing people to stay home," Hogan said. However, Hogan said the state is saying "unless you have essential reason" Marylanders should stay in their homes.
Here's a look at Hogan's executive order calling for nonessential businesses to close. The document includes a "non-exhaustive" list of businesses considered essential.
Hogan's Executive Order… by Deirdre on Scribd
Hogan Announces Maryland Business Relief Funds
Hogan also announced initiatives intended to help small businesses that are suffering because they've had to close.
In addition to businesses now being able to apply for disaster assistance from the U.S. Small Business Administration, the state has launched Maryland's COVID-19 Business Response website.
Maryland Commerce Secretary Kelly Schulz announced the following business assistance programs:
Maryland Small Business COVID-19 Emergency Relief Loan Fund: "This $75 million loan fund offers no interest or principal payments due for the first 12 months, then converts to a 36-month term loan of principal and interest payments, with an interest rate at 2% per annum."
Maryland Small Business COVID-19 Emergency Relief Grant Fund: "This $50 million grant program offers grant amounts up to $10,000, not to exceed 3 months of demonstrated cash operating expenses for the first quarter of 2020."
Maryland COVID-19 Emergency Relief Manufacturing Fund: "This $5 million incentive program helps Maryland manufacturers to produce personal protective equipment (PPE) that is urgently needed by hospitals and health-care workers across the country. More information coming by Friday, March 27, 2020."
Hogan also issued an executive order to protect families from price gouging. Any retailer that tries to exploit this crisis will be prosecuted, Hogan said.
Maryland Labor Secretary Tiffany Robinson announced Maryland's COVID-19 Layoff Aversion Fund. This initiative includes $7 million in funds that are available to the state's small businesses and workers negatively impacted by the coronavirus.
.@GovLarryHogan and @MD_Labor have launched the new COVID-19 Layoff Aversion Fund. $7 million in funds are immediately available to support Maryland's small businesses and workers who are undergoing financial stresses due to COVID-19. Learn more at https://t.co/Ek2UBJSZns. pic.twitter.com/Yr93DOWBjT

— MD Department of Labor (@MD_Labor) March 23, 2020
Hogan thanked all medical professionals, first responders, Marylanders who've stayed home, as well as small businesses for their flexibility during this public health crisis.
"I know how incredibly difficult this is on each and every one of you. There is a great deal of fear and anxiety and the truth is that none of us really know how bad it's going to get or how long it's going to last," Hogan said. "But I can promise you that there are a great deal, a great many, dedicated people doing some tremendous things working around the clock and doing their very best to help keep the people of Maryland safe and we are all in this together.
Watch Hogan's Full Press Conference