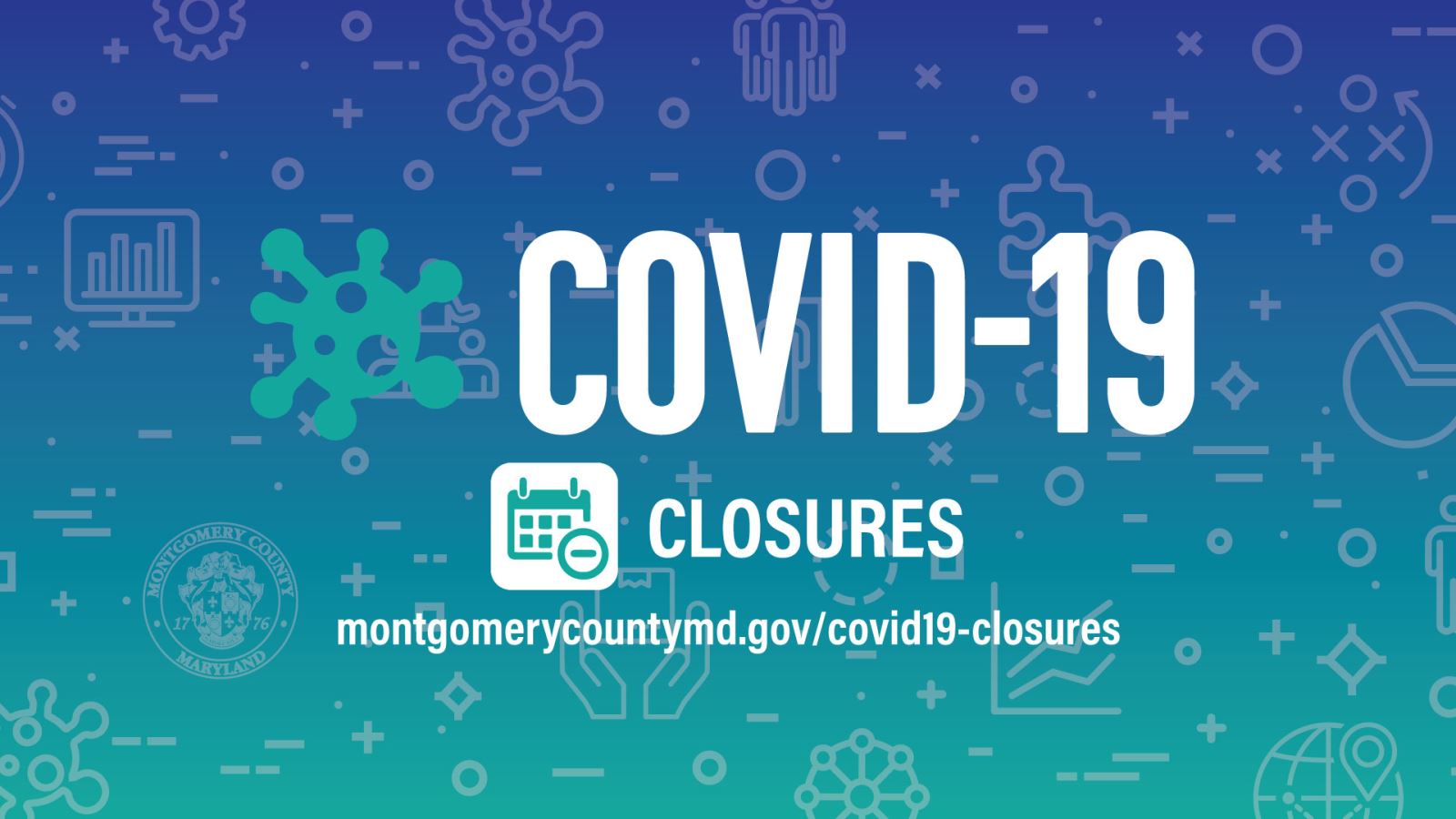 Here's an Updated List of County Closures and Cancellations
Social distancing has become the new norm as we conform to life during the coronavirus pandemic. Although schools and public facilities are closed, some Montgomery County offices remain open for business and a few operations are continuing. However, officials say residents should expect changes to public services.
Below is an updated list of closures throughout the county:
Animal Services and Adoption Center will be closed for adoptions and on-site pet licensing starting Monday, March 16, through Friday, March 27. Animal Field Services and Dispatch operations will continue as well as the daily care of the shelter animals.
Community Use of Public Facilities – All indoor and outdoor public facilities permitted by CUPF remain closed for community use as previously announced until March 31. This includes schools, the Silver Spring Civic Building, Regional Service Centers, the Executive Office Building, the Council Office Building, libraries, Clarksburg Cottage, police station meeting rooms, stadiums, natural grass fields and artificial turf fields. By order of the Maryland State Department of Education, childcare providers may not operate in public schools. CUPF is in the process of refunding fees for permits by the original method of payment whenever possible. This process may take 10 business days. CUPF office remains closed to the public.
East County Regional Service Center – Customer access to the building, training classes and meetings have been cancelled. Mobile medical clinic will remain operational to continue providing vital health services for the community. Program staff for Montgomery College, Gilchrist IRC, DHHS, Family Services will work remotely.
Gilchrist Center  – Facilities are closed, but phone lines remain open Monday through Friday, 9:00 a.m. to 5:00 p.m., 240-777-4940.  All classes are cancelled.
Montgomery College  – Beginning March 23, all classes and student services will be delivered remotely with no on-campus classes. Beginning March 16, nearly all MC employees are expected to work remotely. Montgomery College will restrict access to its buildings beginning March 24 until further notice. The College will also extend its remote teaching and working plans until further notice. MC will re-evaluate this status on April 15. Check the  Montgomery College coronavirus webpage for updates and resources.
Libraries – Closed March 16 – March 27. There will be a suspension of fulfillment of holds until March 27 and of library fines until April 6. There will be an extension of all due dates to April 6 and of all holds currently waiting for pickup to April 6. MCPL book drops are closed. Please do not attempt to return any materials to the library until further notice. Digital Library resources remain available. Additional information can be found on the  Library Response To Coronavirus website .
Police Department  – The following programs are suspended until further notice: Fingerprinting services, Police Station tours and, Emergency Communications Center tours, Ride-along program, Community training and events held at the Public Safety Training Academy, Keeping Seniors Safe Program.
Recreation Centers and Aquatic Centers – Closed March 16 – March 27. All programs, classes and activities scheduled during the closure are cancelled. All private rentals scheduled through April 5 have been cancelled.
Senior Centers  – Closed until further notice. All senior programs, including the 55+ Active Adult programs, are cancelled until further notice
Board of Elections – Primary Election Day is now scheduled for Tuesday, June 2, 2020. Voters who prefer to vote from home can request an absentee ballot by visiting the Maryland State Board of Elections website and clicking the " Request a Ballot " box. Visit the State's absentee voting FAQ website for additional information on absentee voting.
County Attorney – Effective March 16, the Office of the County Attorney is closed to the public.
Personal property taxes can be paid online. All other payments can be made by mail to: County Attorney's Office, 101 Monroe St., 3rd floor, Rockville MD 20850.
Health and Human Services  – DHHS will remain functional across most of its operations and will continue to provide safety-net services.
Montgomery Parks – Montgomery Parks is extending its closure on all indoor park facilities to the public and cancelling all programs, classes, and events through April 30. Montgomery Parks offices are closed to the public. Parks has limited gatherings to 10 people. Park visitors are urged to avoid contact with surfaces touched by other people and to avoid participating in activities involving physical contact or equipment, like team sports. Additional information can be found on the Montgomery Parks COVID-19 website.
Click here for the complete updated list of cancelations and closures that have been announced throughout the county.
Click here for additional information on COVID-19.
Montgomery County residents & visitors @MontgomeryCoMD Reminder: You can find the updated CLOSURES & CANCELLATIONS list by visiting the Montgomery County website: SEE: https://t.co/BdENw6Cyza Stay Home, Stay Well #MoCo #COVID19 @mcfrs @ReadyMontgomery @MoCoDHHS pic.twitter.com/Bl2rFtG4jl

— Pete Piringer (@mcfrsPIO) March 23, 2020
.@MDHealthDept and @MDMEMA provide daily updates of the number of #COVID19 cases statewide at 10 a.m. based on the most recently available data.

For up-to-date information and health resources, visit: https://t.co/lc55geMQJ9 pic.twitter.com/5srMLMqQ5O

— Maryland Department of Health (@MDHealthDept) March 23, 2020