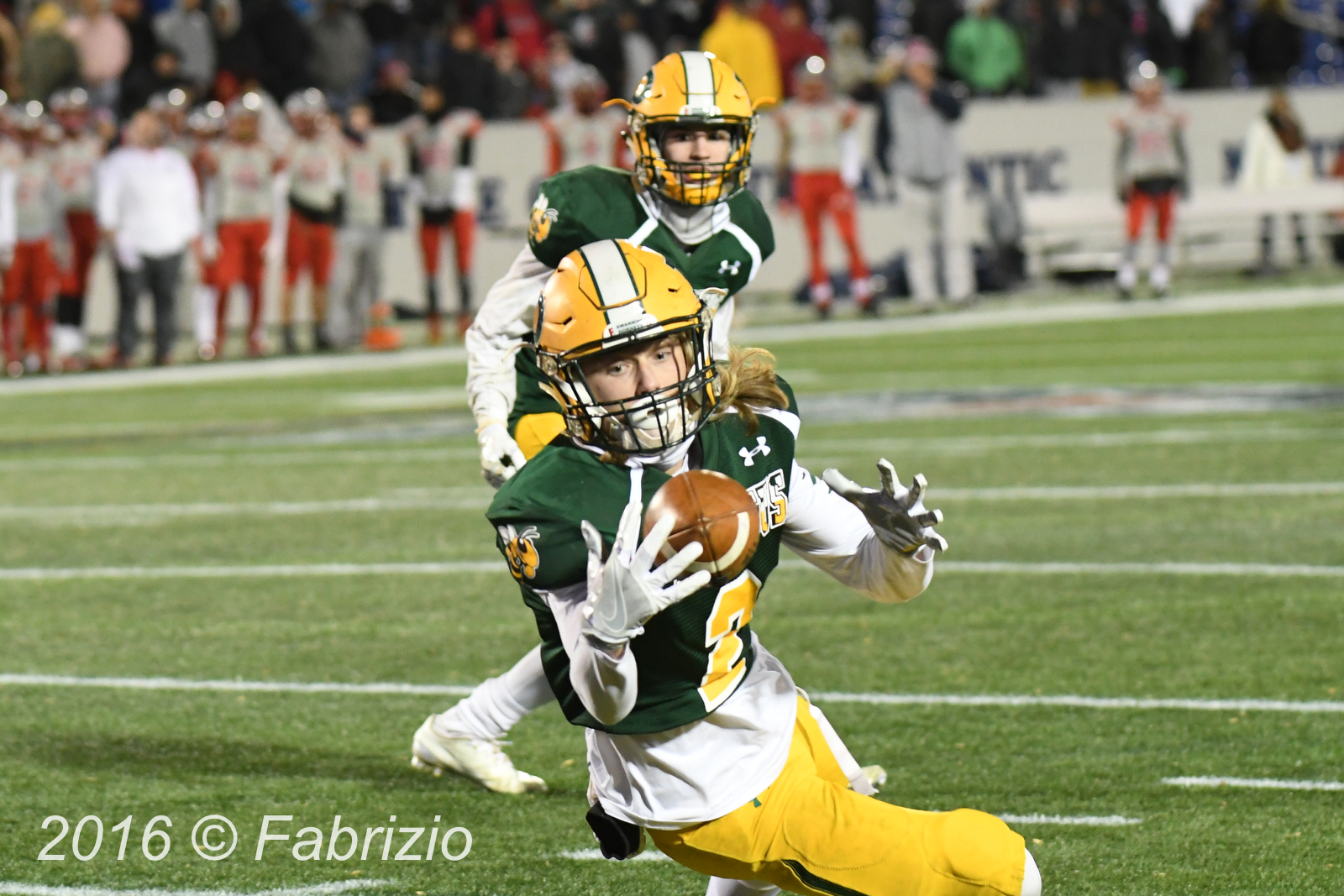 Friday Night Lights Football Year in Review (PHOTOS)
Take us back to the fall, Phil.
For those of us in the DMV it was warm, colorful and full of promise and rewards. I caught some but not all MoCo state high school championship winners in photo action during the year. So before the review starts let me congratulate these MoCo schools for a season of success and excellence in the Maryland Public Secondary School Athletic Association (MPSSAA) championships. In order
Field Hockey – 4A Runner Up – Winston Churchill
Cross Country – 4A Champion – Walter Johnson and Runner Up – Thomas Wootton
Golf – 4A Champion – Winston Churchill and Runner Up – Walt Whitman
Boys Soccer – 4A Champion – Walter Johnson
Girls Soccer – 4A Champion – Walter Johnson
Volleyball – 4A Champion – Northwest and Runner Up – Sherwood
Volleyball – 3A Runner Up – Damascus
Football – 3A Champion – Damascus
Football – 4A Runner Up – Quince Orchard
Boy, what a sports season Walter Johnson had with three state championships!
Now it's time to review the past Friday Night Lights season of MoCo football and those games, teams and players that made the biggest difference.
Before I begin let me refresh all that I cover both private and public schools across the county in football action. Some teams like Damascus and Quince Orchard get covered multiple times because of how they advanced in the MPSSAA playoffs. Add to that, I also covered MoCo teams in competition with league counterparts from across the DMV – like St. Johns and Good Counsel, or Episcopal and Georgetown Prep and even Bishop O'Connell and Bullis. In all it was over 21 teams and 17 football contests.
Metrics, its all about the metrics. So for a twist to this mix of selections I use social media Twitter metrics to be specific. If you follow me @Photoloaf and again @mymcmedia you get to enjoy the results of what I see in momentous action photos. Over 400 live tweets and more than 510,000 social engagements pretty much tell me what you viewed as being important.
Some school athletic departments and booster clubs are more engaged than others with social media as are some of individual fan followers – so let's say I was to tweet a pic on or about @UptoBazzie I could easily count on engagements exceeding 5,000 hits. My favorite is @JakeFunk34 – nobody in MoCo touches that account. So a word to the wise (not @WisePumaSports) if I am in the gym and catching your game then expect me to tweet to you then just follow me otherwise your teams could get left in the churn of social media backwash.
So let's begin FNL in Review with
Friday, September 2 – Damascus at Quince Orchard, winner Damascus 21-13
All-Met Marcus Vinson lights up the night rushing for 278 yards and 3 touchdowns. In what was the closest game Hornet fans endured in over 14 months as Damascus hands QO their only defeat until the Cougars lose in the State finals.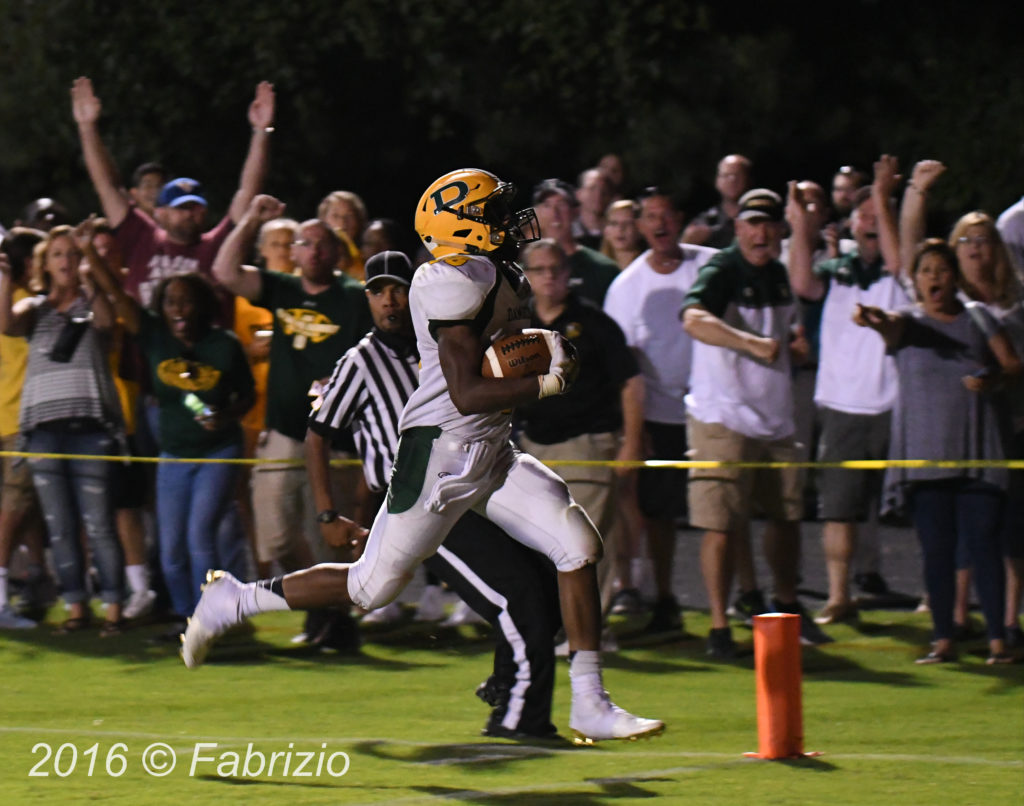 Friday, September 16, 1st half at Watkins Mill at Damascus, winner Damascus 52-14
2nd half at Wootton at Quince Orchard, winner QO 52-13
Sparked by the controversy over taking a knee during the playing of national anthem most, not all team members, of Watkins Mill do so while Damascus remains in the locker room. Quince Orchard meanwhile woops the Patriots behind Marvin Beanders running on 7 carries for 123 yards and 1 TD. But it's @UptoBazzie All-Met and U of MD commit Fofie Bazzie that has the thrill play of the night taking the 2nd half opening kickoff to the house.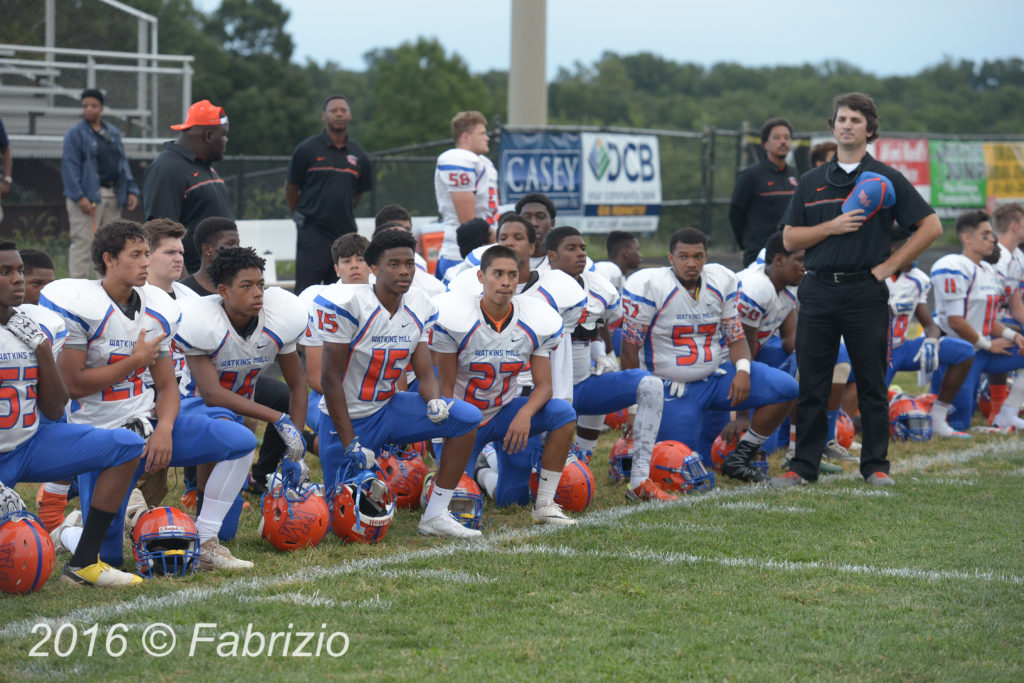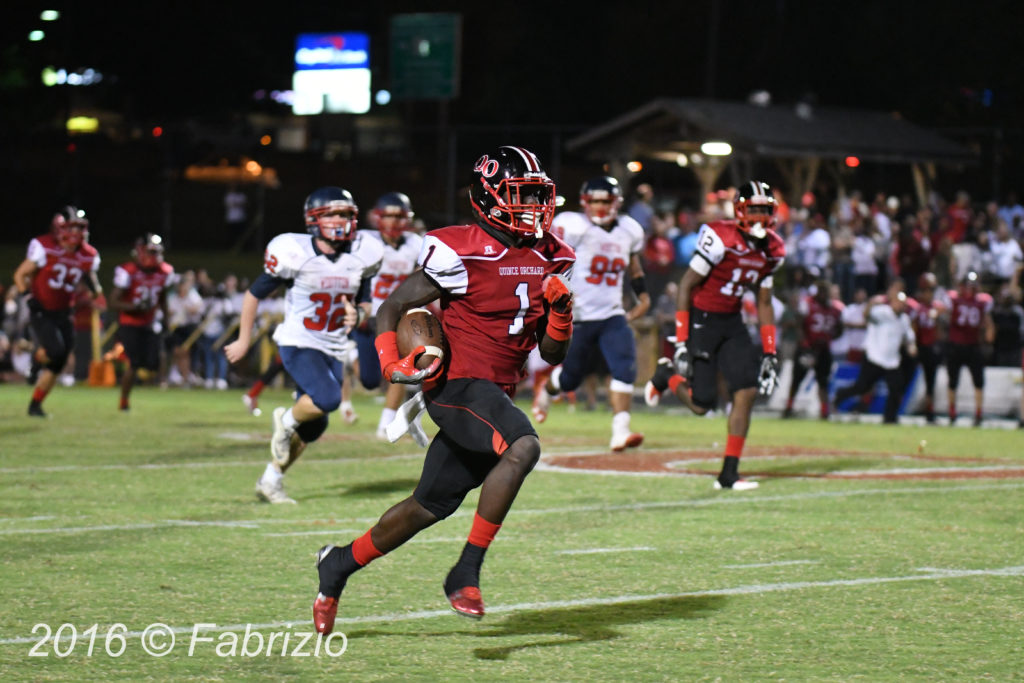 Friday, September 23, Bishop O'Connell at Bullis, winner Bullis 21-0
Bullis QB, Tucker Strachan throws for 86 yards and 2 TD's as O'Connell is overpowered in this league matchup. Bullis ends the season 7-3 by defeating Georgetown Prep.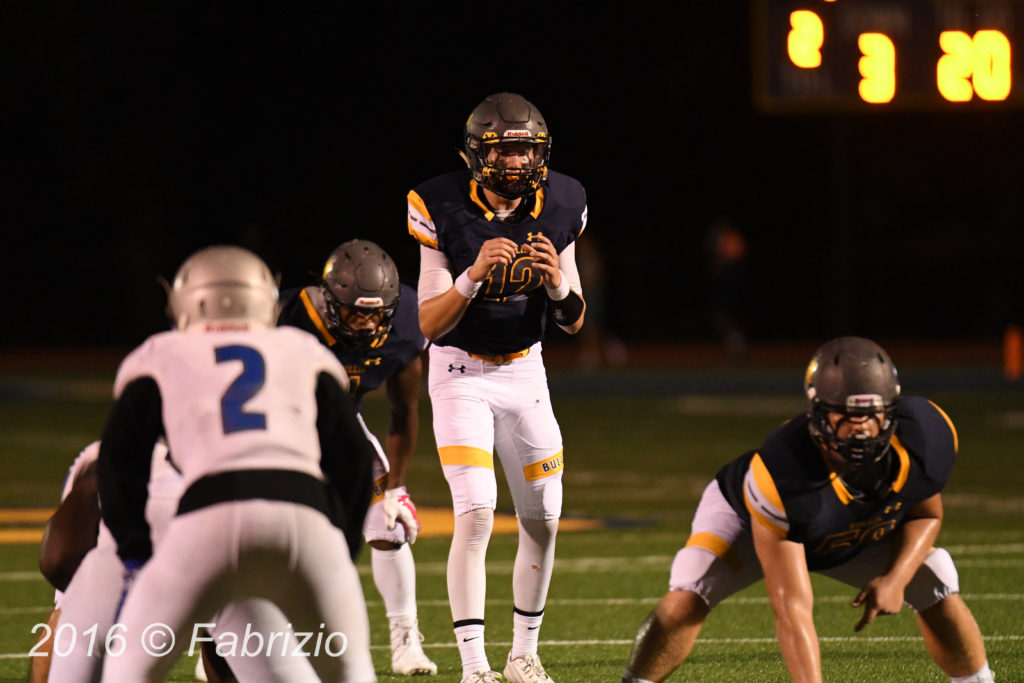 Saturday, September 24, Good Counsel at St. Johns in DC, winner St. John's 39-22
In what was billed, as a matchup between two top 5 DMV teams by the Washington Post, this game turned sour quickly for Good Counsel – St. John's smacked them early and often and then held GC scoreless in the 4th quarter to win. U of MD commit QB Kasim Hill had 176 all purpose yards with 10 of 19 passing for the Cadets. Mohamed Ibrahim for GC rushed for 158 yards and 2 TD's. Good Counsel was never the same ranked team for the rest of their season after this game.
Side note: The Maryland High School Football State Poll just ranked Good Counsel 5th overall in the state which is plain nonsense from this "media poll". GC ended their season 6-5 barely competing in the WCAC conference. There are plenty of MoCo teams that could have taken advantage of GC's down year and with better win/loss records, I can think of one just down the road in Olney by the name of Sherwood.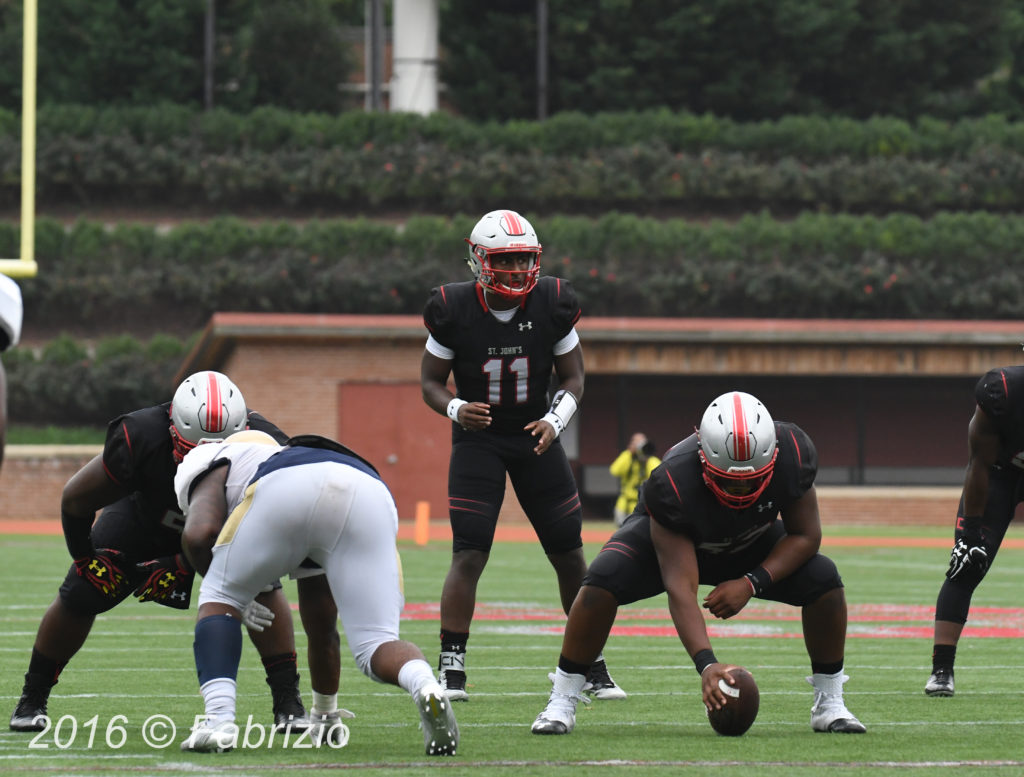 Friday, September 30, 1st half at Magruder at Seneca Valley, winner SV 69-14
2nd half at Sherwood at Northwest, winner Sherwood 28-13
This may have been the last great night for the field and those on it at Seneca Valley. Construction will soon commence on the new school located on this field. It was perhaps the best night in all of MoCo football and also for #7 Senior, Andrew Platt who ran through a hopeless Magruder defense for 327 yards and 9, yes 9, touchdowns, eight of which were in the 1st half. Platt set the school, the county and the state record that evening for scoring touchdowns. For the season Platt rushed for 2,568 yards and lead the DMV with 42 touchdowns on the season. Next year Seneca will drop to 2A state competition along with Damascus and then perhaps earn a playoff berth – they really deserved one this year.
The SV game is a blowout at half so I drive 2 miles down Great Seneca Highway to catch the Sherwood and NW game. Both teams can't move the ball until the clock is ticking out and NW is desperately trying to hang on. Late in the 4th up steps Sherwood's fullback senior Nicholas Comeau who takes a hand off 30 yards to the house for a TD to make it 21-13. It is Comeau's only score of the season and an important one that propels this come from behind Sherwood team to a 10-1 season record only losing in the first round of the 4A MPSSAA playoff.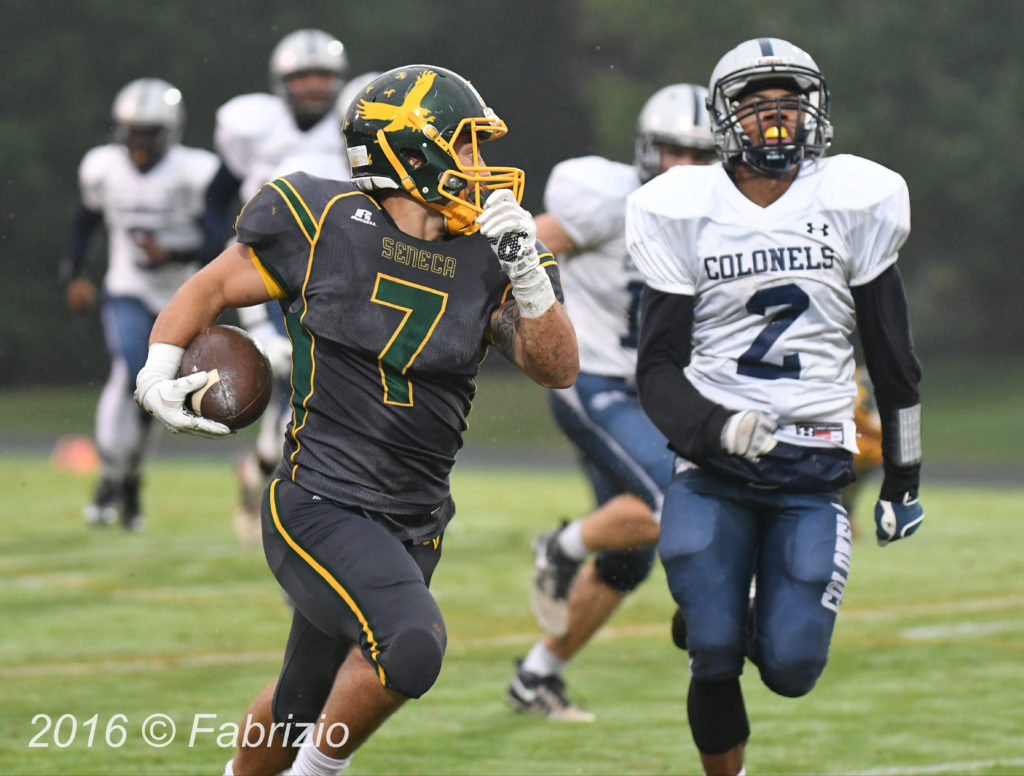 October 7, Churchill at Quince Orchard, winner Quince Orchard 49-0
Doc Bonner comes of age in the game against the Churchill Bulldogs. He was a known threat but in this 6th game of the season he garners 210 all-purpose yards going 10 for 16 through the air and scoring 3 TD with 1 short yardage rushing TD.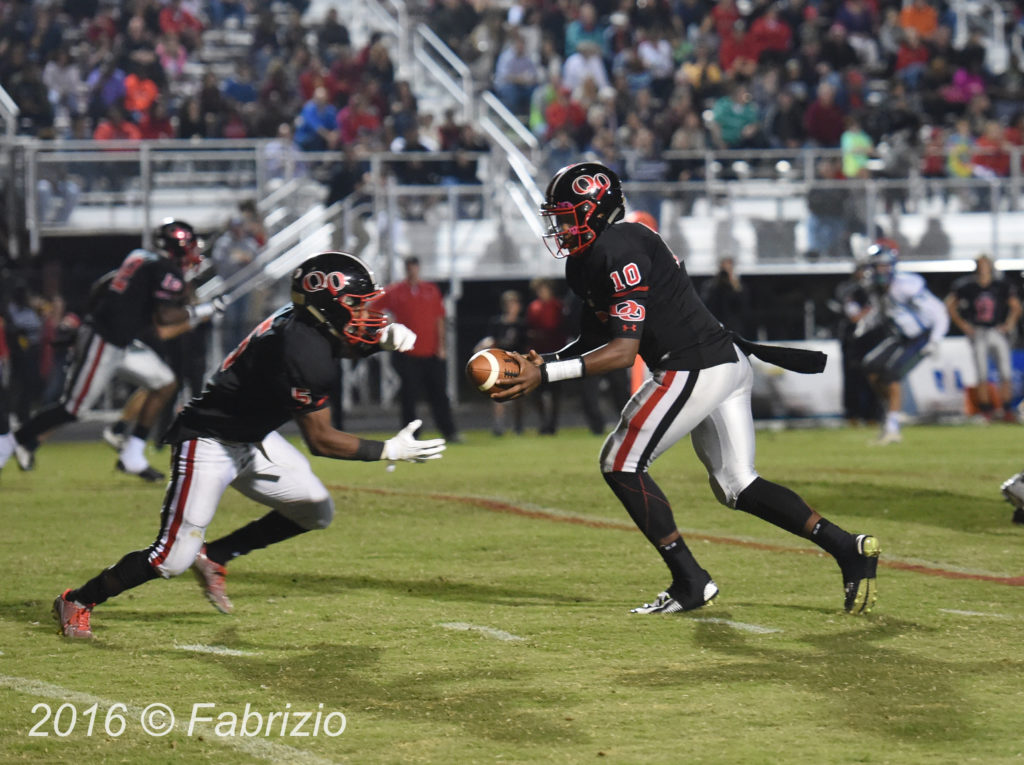 October 14, Quince Orchard at NW in the Battle of Great Seneca, winner QO 24-21
The best picture I took that night was of the NW pom squad (see below). Also got one of All-Met honorable mention QO Kicker, Hayden August who connected on a field goal that proved to be the winning difference in this rivalry game.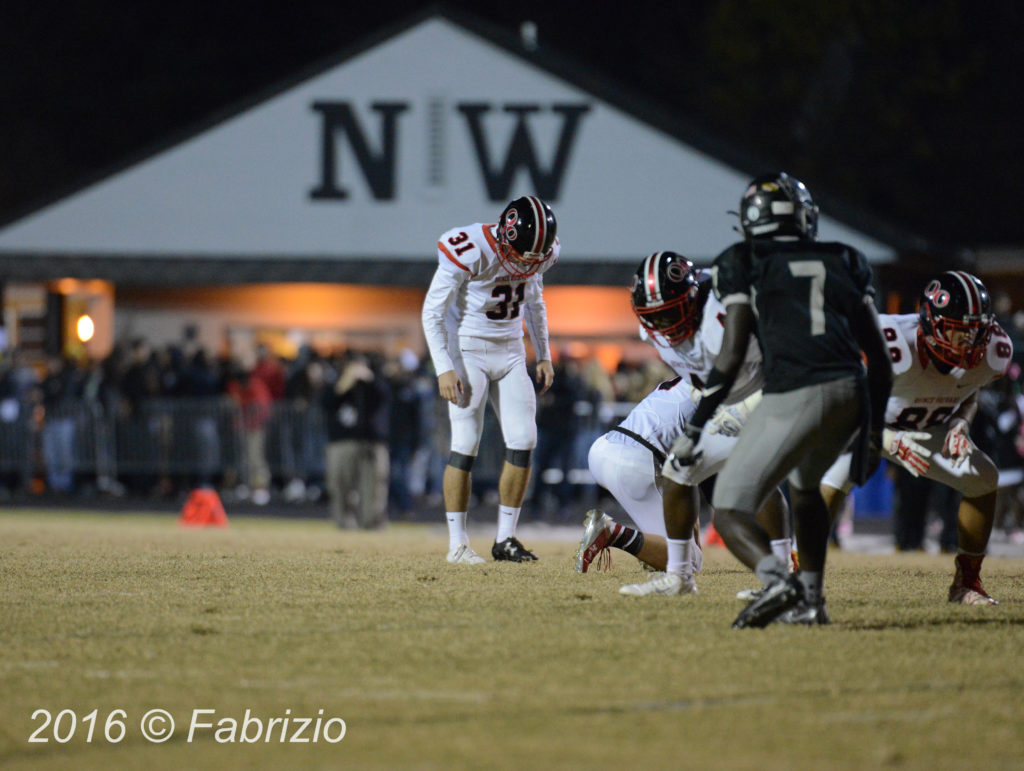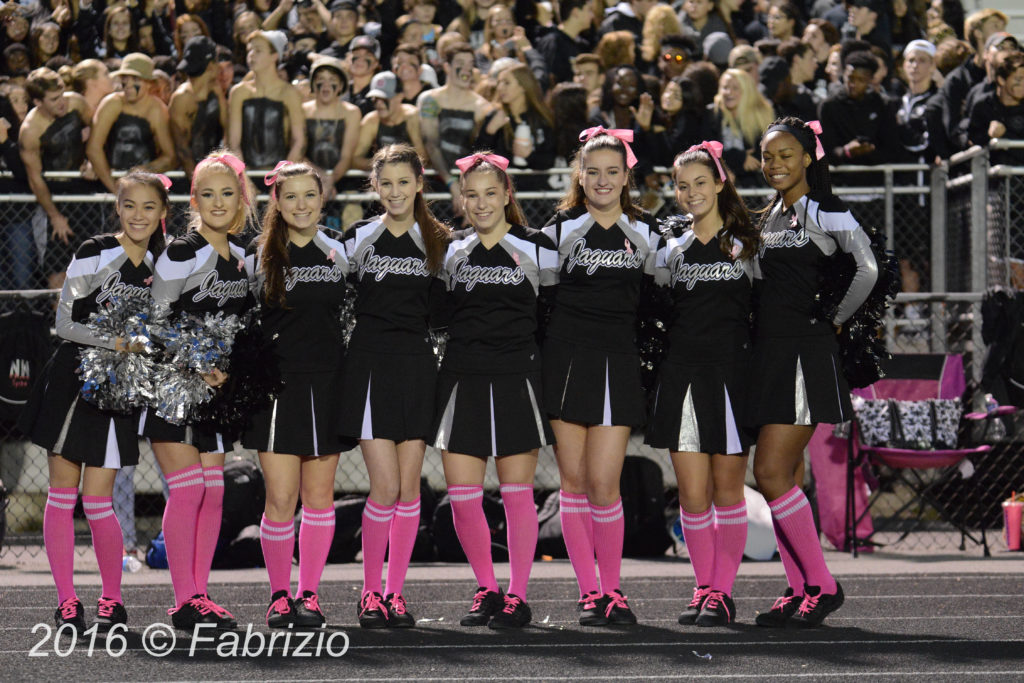 October 21, Sherwood at Paint Branch, winner Sherwood 27-20
On a rainy Paint Branch Senior Night in Burtonsville Sherwood stages another comeback from a deficit of 20-14 in the 4th quarter when #32 Robert Brown picks off a pass and takes it to the house. The real star of the night was Sherwood QB Michael Mbony who had 149 all-purpose yards with 3 TD's. Sherwood survives a determined Paint Branch team.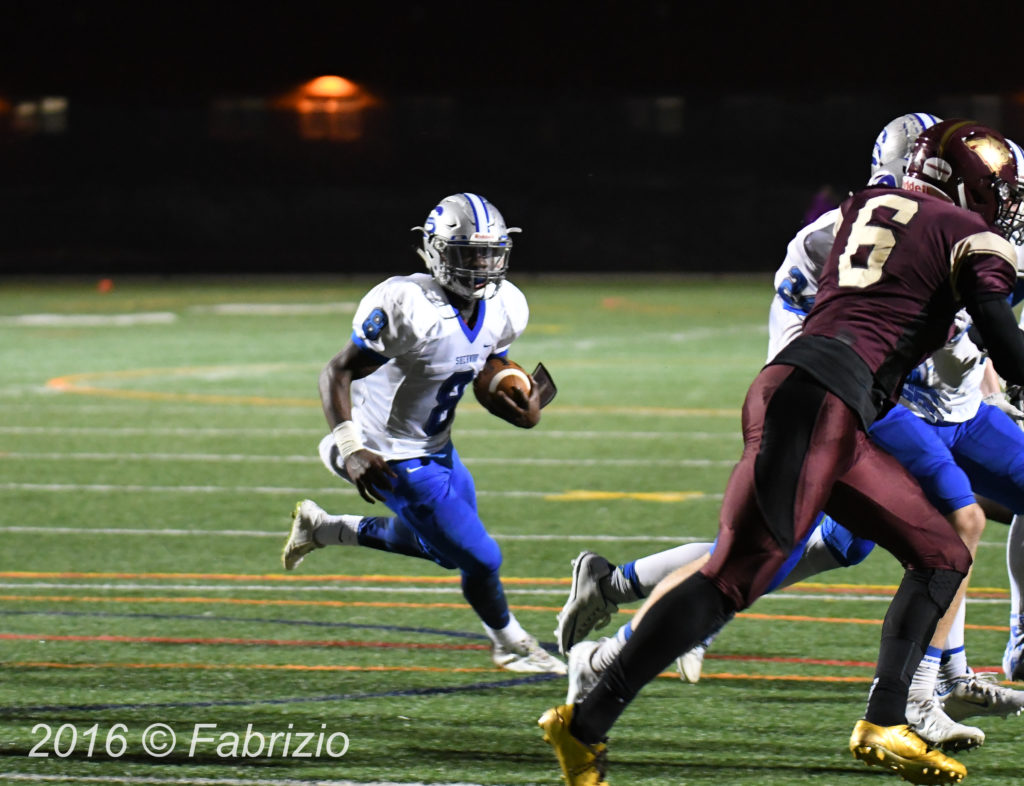 October 28, Seneca Valley at Damascus, winner Damascus 59-21
Next both these teams will be playing rivalry games as 2A competitors but on this night SV needed a win bad to advance to the playoffs. They did not get it. Instead the Swarming Hornets closed down Andrew Platt and All-Met First Team Defensive Back Marcus Vinson becomes the star of the show going for 108 yards rushing with 2 receptions for 108 yards all with 3 TD's. Damascus is on a roll.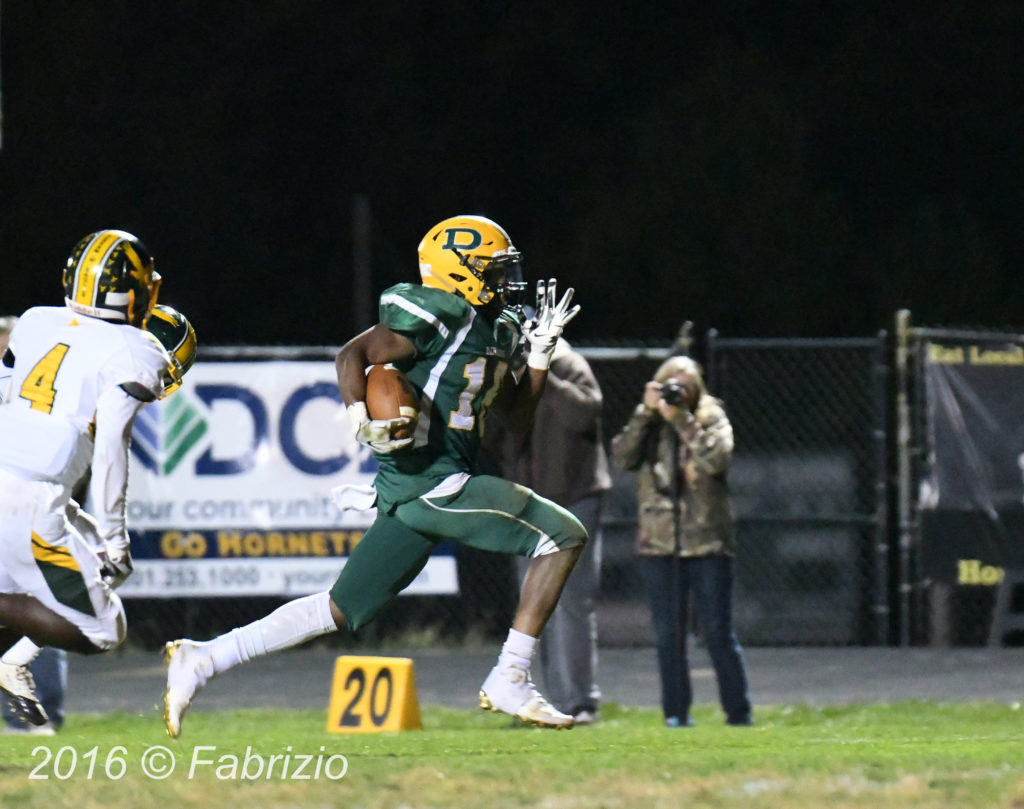 November 4, Episcopal at Georgetown Prep, winner Episcopal 17 -7
The Little Hoya's were having an impressive season, having lost only once in a close one with Gonzaga. This week it's Episcopal and these two top ranked (@AllMetSports) teams meet in Rockville. Prep for most of this game had the best of Episcopal until the 4th quarter. Prep stopped Episcopal on a 4th and goal at the one gaining possession. Normally, this would have been the play of the game. However, that happened the very next play when Episcopal's Vincent Notzon crushes Prep's T.J. Dozier in the end zone causes a FUMBLE which is recovered by Episcopal's All-Met Defensive First Team Luiji Vilain for a score thus becomes the turning point of the game – Episcopal now leads 10-7 with just minutes left in the game. Episcopal wins going undefeated in the IAC to claim the title. Next week the Little Hoya's lose to Bullis ending the season at 7-3.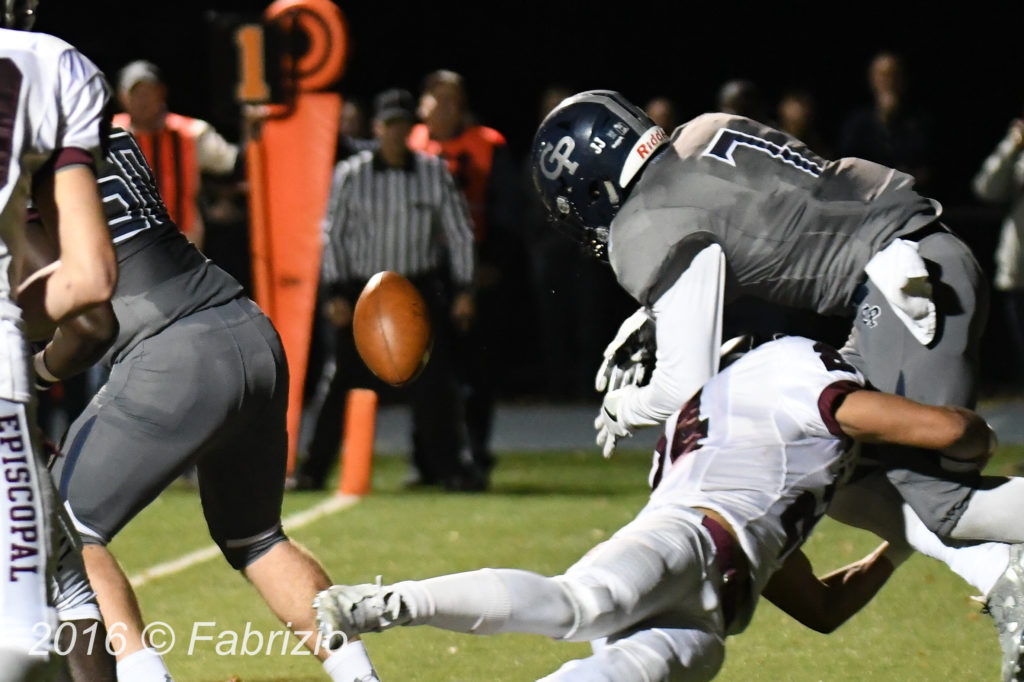 November 11, MPSSAA Playoff game Blair at Quince Orchard, winner QO 35-7
Blair draws the short straw finishing 4th in the 4A divisional rankings and must take on top ranked QO in the Cougar Dome. It was a night for senior All-Met honorable mention Noah Pagley to remember both defensively and offensively. He was a constant reminder in the Blair backfield often camping out on top of Blair QB Desmond Colby but also contributing a TD catch of 23 yards. Pagley just had his "glory day".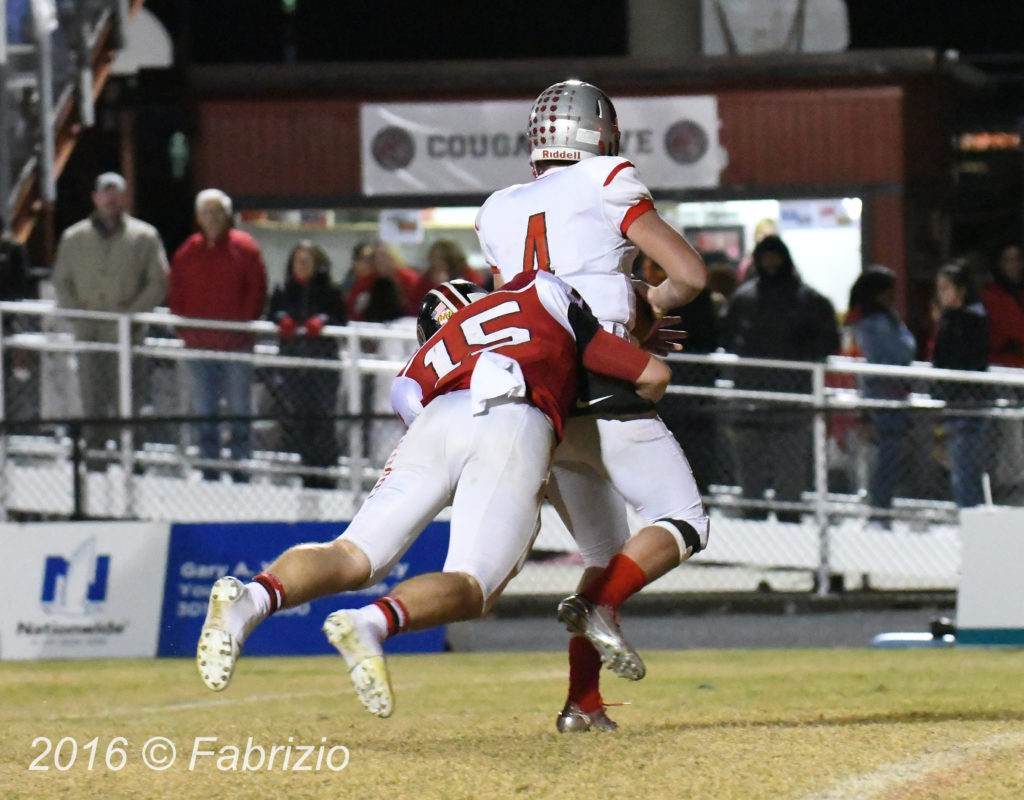 November 18, MPSSAA Playoff game Richard Montgomery at QO, winner QO 49-23
RM dispatched QO nemesis NW the prior week and advanced to the 4A West Region title round. QO had team stand outs through out the game but the story line was that Coach John Kelley got the monkey off his back by bringing home the 4A West Region title back to its rightful home in Darnestown.   Coach Kelley is my nominee for MoCo coach of the year award. I am not homer – just the facts, sir.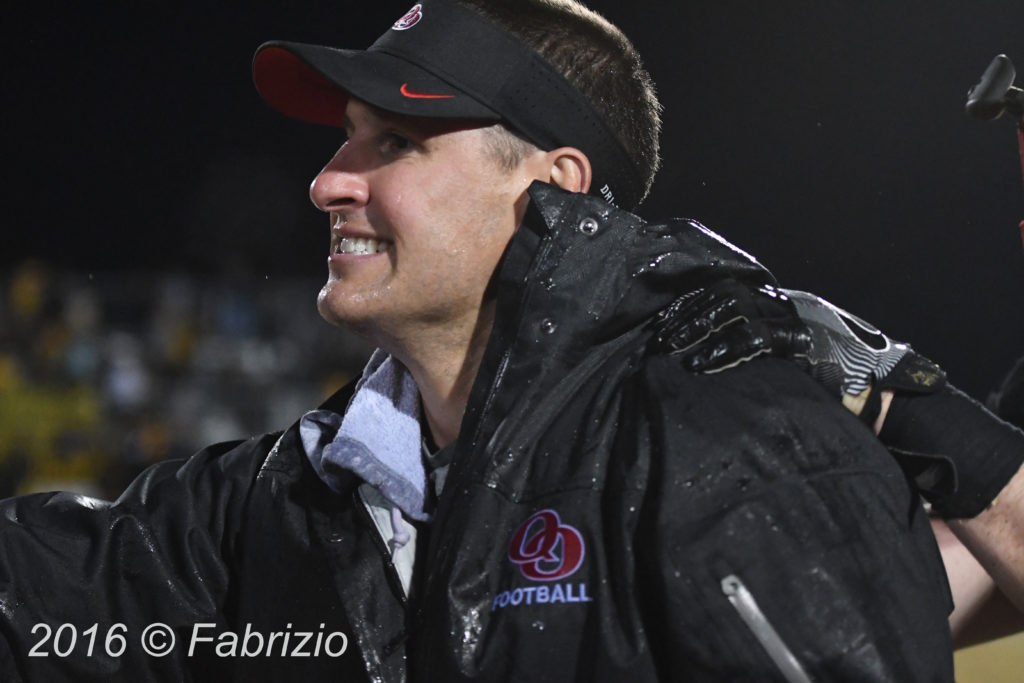 November 25, MPSSAA 4A Semi-Final – Annapolis at QO, winner QO 41-14
Ok, so the only football choices in MoCo this evening was between the above referenced teams or Potomac at Damascus in the 3A Semi's. I was betting on @DMassFootball to win so I took the more intriguing game – plus it was Annapolis first ever game in Gaithersburg. QO's quarterback, a junior, Doc Bonner would impress the standing room only crowd of nearly 2,500 with a 9 of 15 for 133 yards in the air and 1 TD along with 13 rushes for 92 yards and 2 TD's. Should he be healthy by next season he could be playing on Saturday's at the next level because of this game.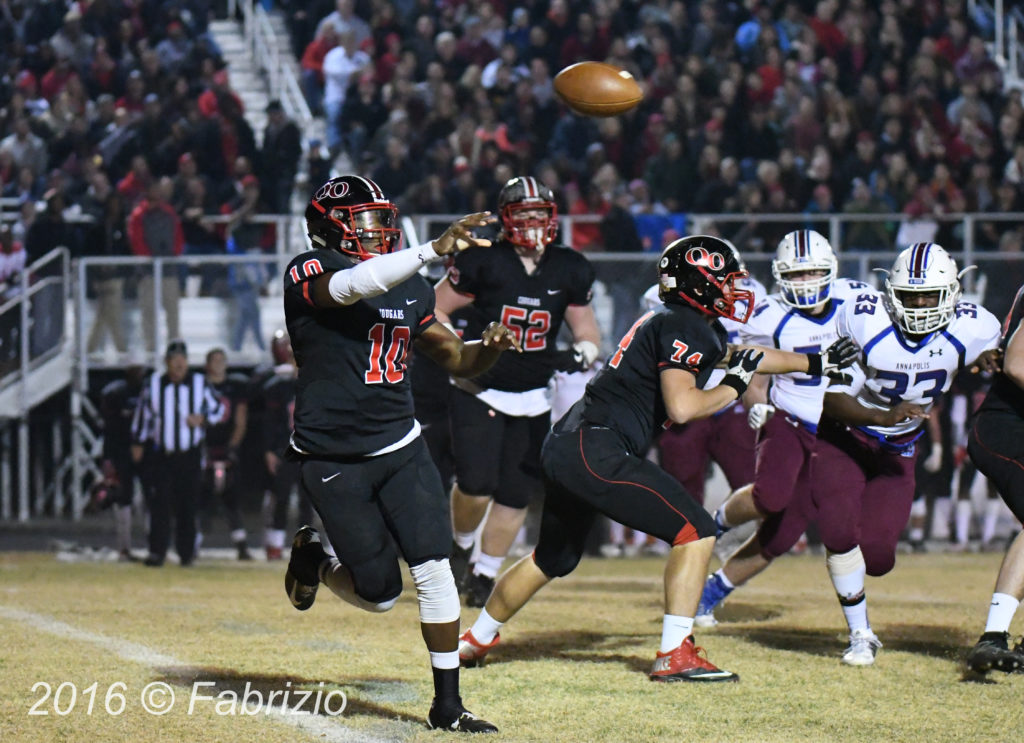 December 8, MPSSAA 3A Final – Franklin (BaltCo) vs. Damascus (MoCo)
Champion is Damascus. See my game summary from an earlier write up for MCM at https://archive.mymcmedia.org/damascus-crowned-3a-football-champs-photos/ . The player of this game was Damascus's Colby Starheim. He is also my choice for MoCo defensive player of the year.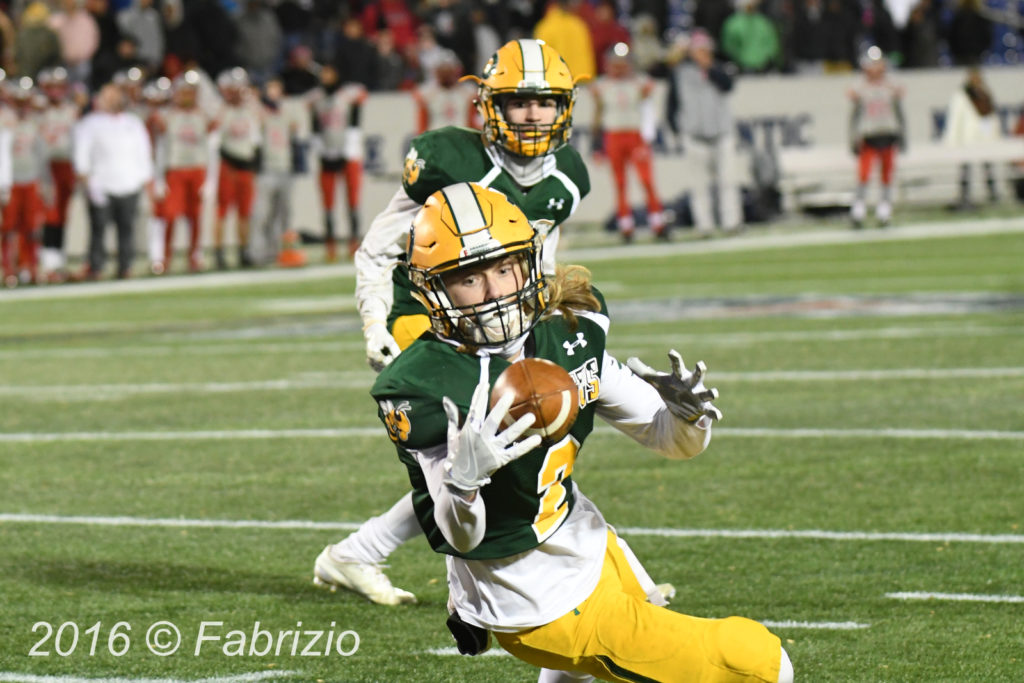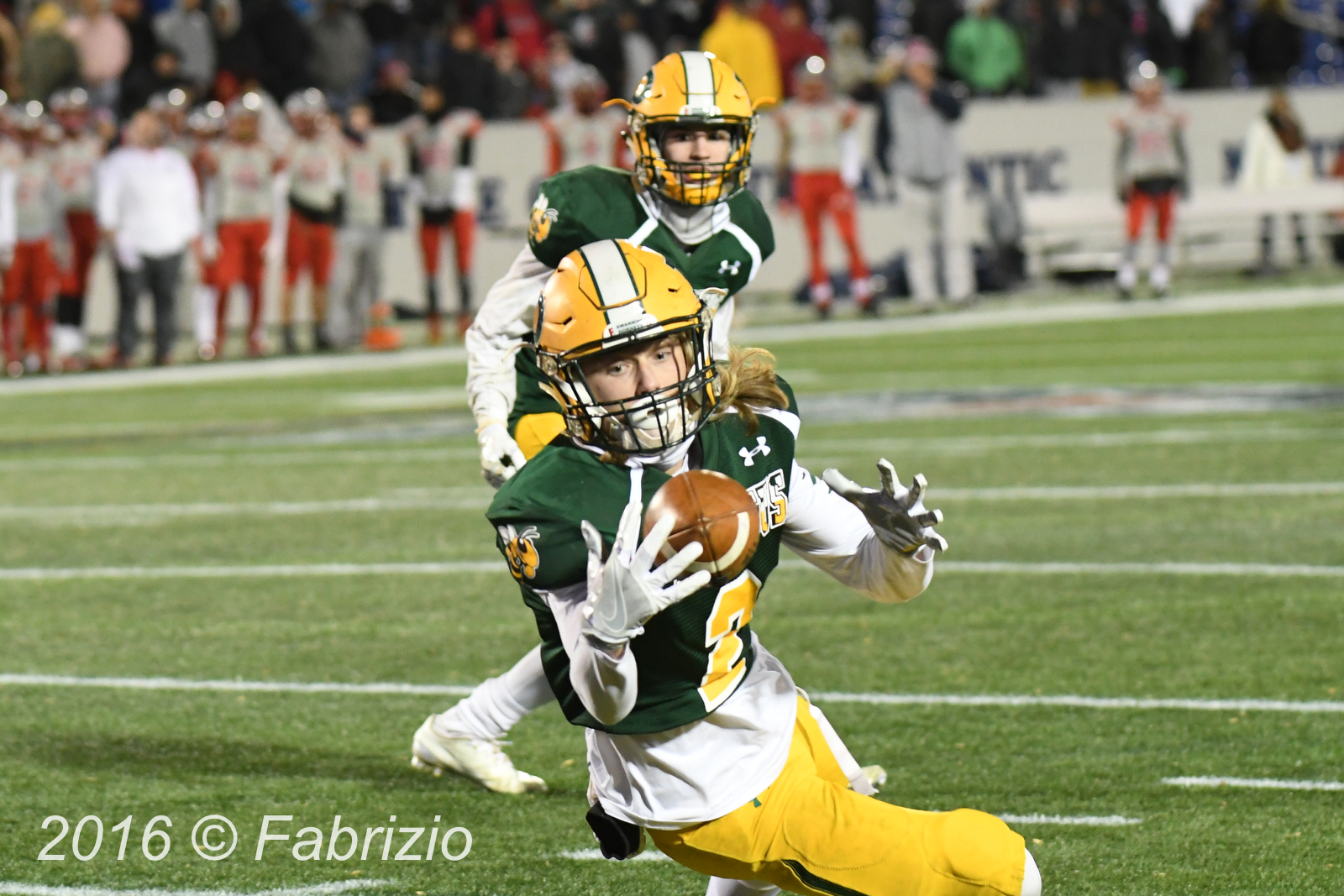 December 9, MPSSAA 4A Final – Quince Orchard (MoCo) vs. Wise (PgCo)
Champion is Wise. Too many tools, too much speed, too many options made Wise the best team in the state this year. See my game summary from an earlier write up for MCM at https://archive.mymcmedia.org/qo-goes-cold-at-state-final-photos/ the player of the game was Wise's All-Met Jabari Laws who went 15 of 18 for 276 yards and 4 TDs. Laws is my All DMV player of the year, oh and he was The Post's Player Of the Year too.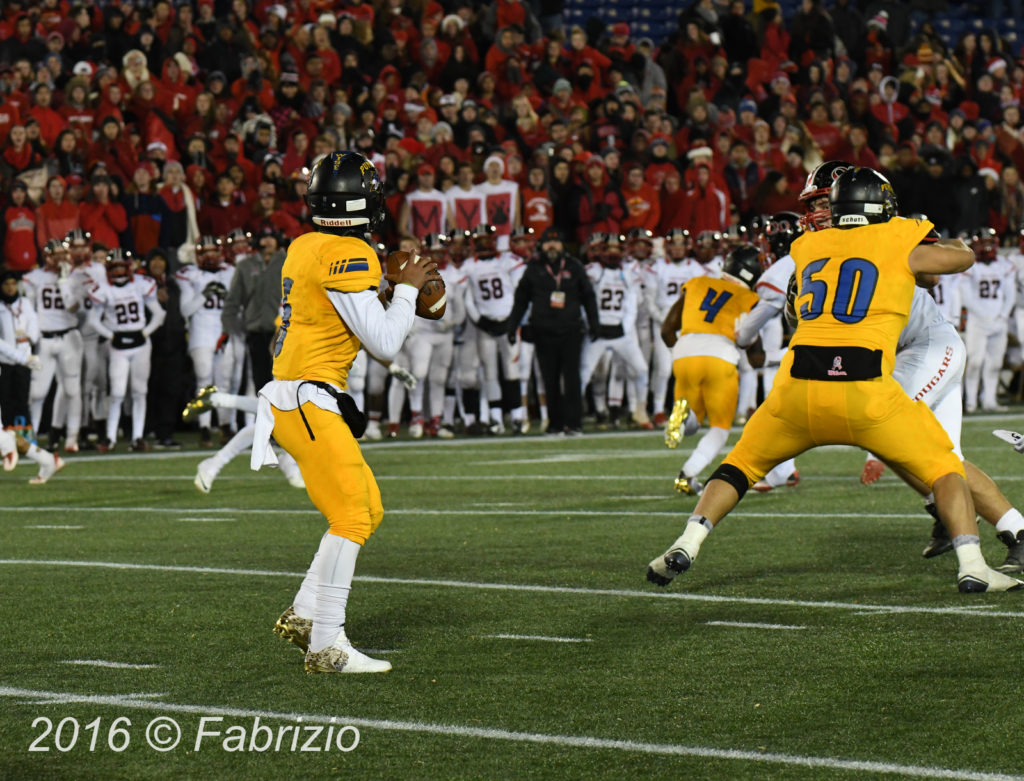 As I wrap it up here this is my take on the top ten teams in the DMV that played in or around the MoCo in this order
DeMatha (saw them on ESPNU)
Wise
Damascus
St. Johns
Episcopal
Quince Orchard
Sherwood
Annapolis
Seneca Valley
Bullis
Phil Fabrizio
Photos © 2016 | Fabrizio | @PhotoLoaf® for MCM