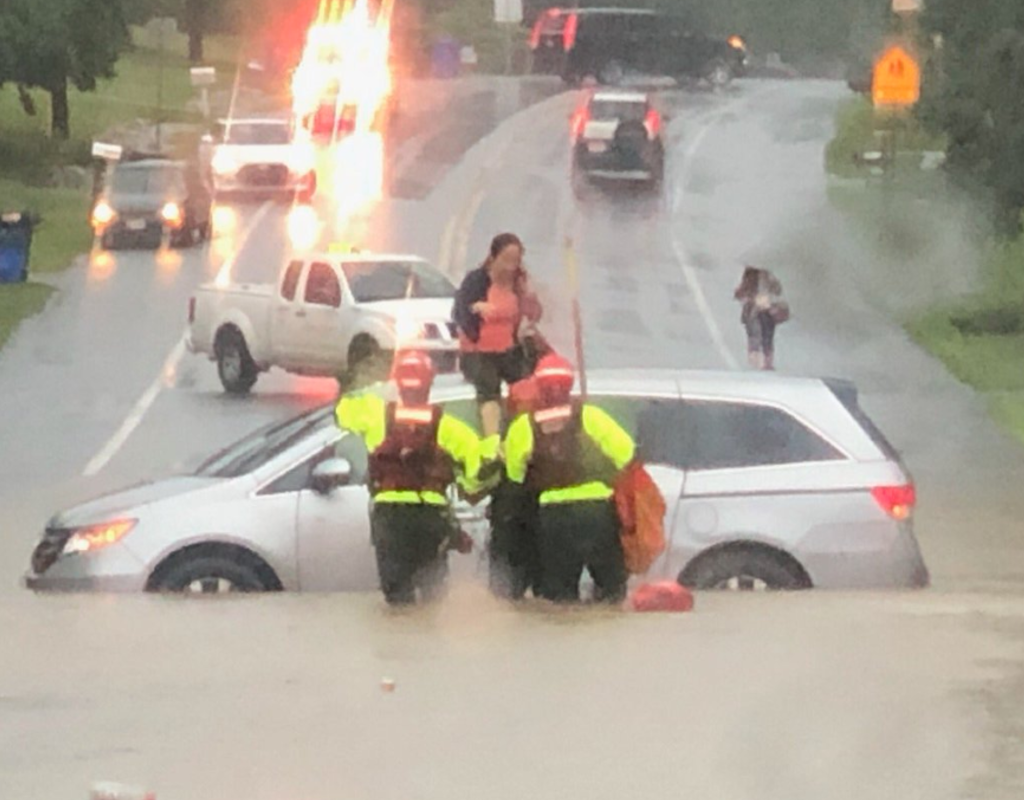 County Road Closures During Flash Flood Warning
A flash flood warning is in effect for Montgomery County until 11:15 a.m., and until 1:45 p.m. in some areas, and the Fire and Rescue Services have reported multiple road closures due to flooding from the heavy rain.
Travelers should check Pete Piringer, MCFRS, and MCDOT Highway Services' updates on Twitter prior to traveling to check for road closures near them. MCFRS advises all travelers to turn around if they encounter flooded roads, as many vehicles have had to be rescued from floods and the Fire & Rescue Services' communications are on Condition Red, resulting in limited availability to help those in trouble. The county government warns that 12 to 18 inches of water is enough to carry away most vehicles.
This post will be updated with any additional reported closures.
Flood WARNING in effect @MontgomeryCoMD be aware many road closures particularly in Upcounty area so be aware of urban street flooding elsewhere pic.twitter.com/PFsqcQDI59

— Pete Piringer (@mcfrsPIO) July 8, 2019
Update – Clara Barton Pkwy, multiple vehicles in moving water, several rescues, road closures trees down, Swift Water rescue boats deployed https://t.co/M6fHZFcsSg

— Pete Piringer (@mcfrsPIO) July 8, 2019
BETHESDA: PLEASE DO NOT DO THIS. Goldsboro Road at Massachusetts Avenue right now … Roads are like this across the area. It's a MESS and so very dangerous in spots. @nbcwashington @WTOPtraffic @washingtonpost @drgridlock #MdTraffic #DCTraffic #VaTraffic pic.twitter.com/5YjoJSzxlx

— First4Traffic (@First4Traffic) July 8, 2019
Water Rescue – Tuckerman Lane near Post Oak Drive, Potomac, Road CLOSED, several people removed from vehicles pic.twitter.com/dlKVBM6to8

— Pete Piringer (@mcfrsPIO) July 8, 2019
Traffic Advisory / Frederick Road, route 355 and NewCut Road, Clarksburg CLOSED https://t.co/aq5tkdFfah

— Pete Piringer (@mcfrsPIO) July 8, 2019
Traffic Advisory – Old hundred Road near I 270 overpass, closed due to high water pic.twitter.com/MSzrK9VTpY

— Pete Piringer (@mcfrsPIO) July 8, 2019
ICYMI – Barnesville Road and W. Old Baltimore Rd., Driver removed & non-injured, Road CLOSED pic.twitter.com/KXSa7E8VLl

— Pete Piringer (@mcfrsPIO) July 8, 2019
Riffle Ford Road and Richter Farm Road are both closed due to flooding conditions. Drivers should find alternative routes and exercise caution.

— MCDOT Highway Services (@MontCo_Highways) July 8, 2019
Water Rescue – Brickyard Road and Coach Street, several vehicles in Highwater w/ powerlines down in water

— Pete Piringer (@mcfrsPIO) July 8, 2019
Traffic Advisory – Little Falls Parkway closed https://t.co/FXKFUXAy8m

— Pete Piringer (@mcfrsPIO) July 8, 2019
Water rescue – 10300 Oaklyn Dr. near Potomac Station Lane, vehicle in Highwater

— Pete Piringer (@mcfrsPIO) July 8, 2019
Partnership Road and River Road, Walter rescue, vehicle in high water 

— Pete Piringer (@mcfrsPIO) July 8, 2019