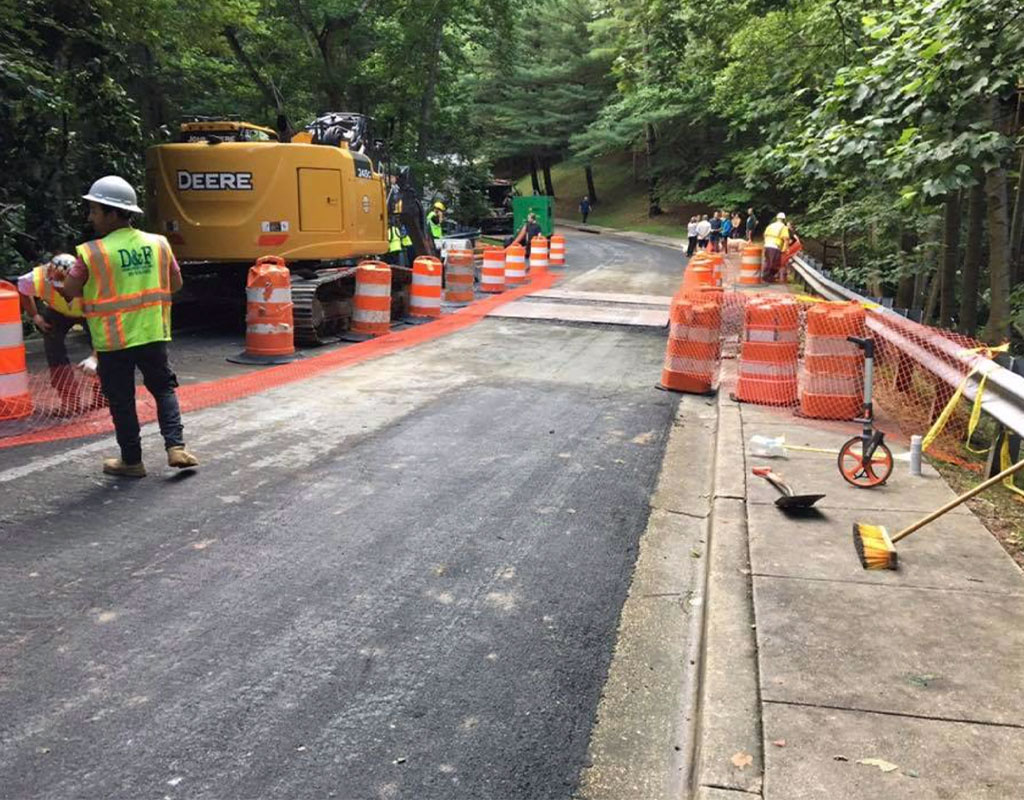 Belfast Road Closes Thursday for Sinkhole Repair
Montgomery County Department of Transportation (MCDOT) announced Tuesday plans to permanently restore the section of Belfast Road in Potomac that washed out during the heavy rains Monday morning, July 8.
About 11 a.m. on Monday, both lanes of Belfast Road became impassable between Laurel Leaf Drive and Whiterim Terrace just east of MacArthur Boulevard. A stream runs beneath Belfast Road, which led to the failure. A path approximately 10 feet wide was washed away across both lanes. MCDOT made temporary repairs that had both lanes passable by 6:30 p.m. Monday evening.
More than 70 families rely on this stretch of Belfast Road to reach their homes.
The road will be closed at 10 a.m. Thursday morning for permanent repairs which will take approximately 48 hours. While the road is closed, shuttle service will take residents to nearby stores, to public transportation or to their vehicles if left at specific locations. The affected families have been notified about the repair process, the need to close the road and how the shuttle operation will work.
Since trash collection was missed on Monday, collections will be made prior to the road closure on Thursday. Residents should put their trash out on Wednesday evening.
No home deliveries of mail will be made on Thursday or Friday. The U.S. Postal Service will hold all mail addressed to the affected homes for pickup at its Post Office at 10221 River Road in Potomac. Any mail not picked up will be delivered on the next possible delivery date.
The shuttle will run on a loop route around the close while the road is closed. To access the shuttle from the neighborhood, residents should proceed to the intersection of Belfast Road and Laurel Leaf Drive. From that point, a County employee will lead them on a path to the shuttle pickup point at Kingsgate Road. Residents are encouraged to leave their cars at one of three points that will be serviced by the shuttle: the parking lot on MacArthur Boulevard across from Old Angler's Inn (Montgomery County Police and the National Park Services Police will increase patrols of the parking location); the Potomac Village Shopping Center; or the Bethesda Metro Station.
Previous Posts