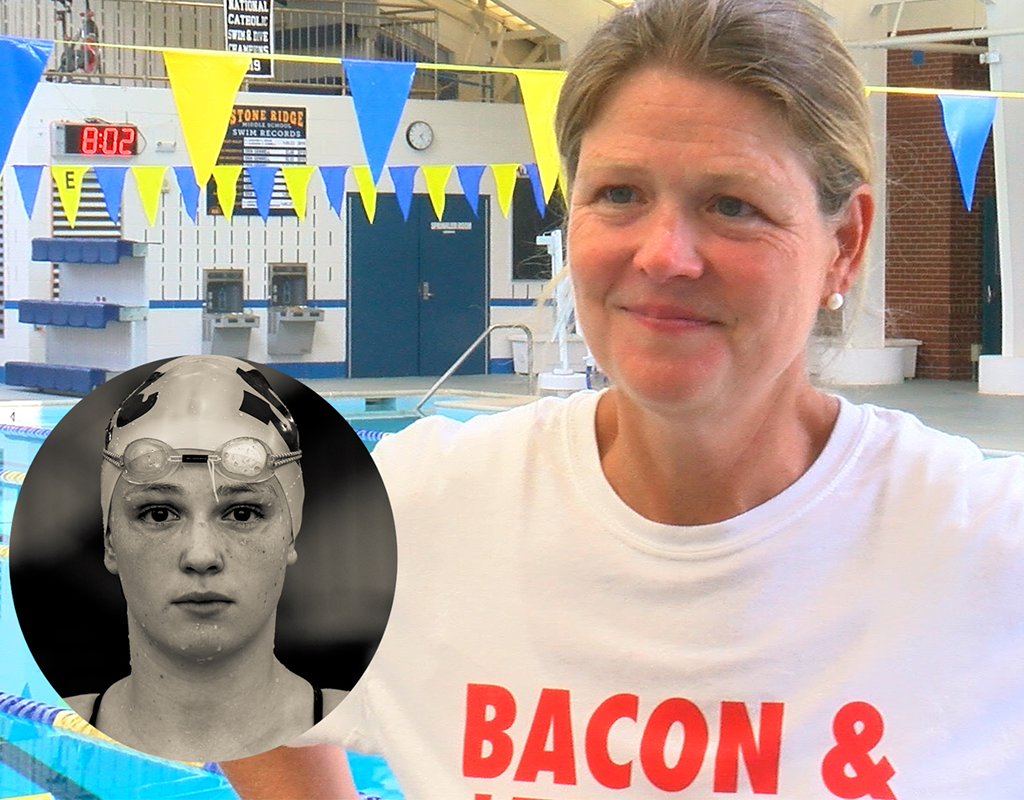 Phoebe Bacon's Family Excited to Cheer Her on in 200M Backstroke From Montgomery County
Phoebe Bacon of Chevy Chase makes her Olympic debut Thursday, swimming in the Women's 200-meter backstroke.
Bacon, 18, graduated from Stone Ridge School of the Sacred Heart in Bethesda in 2020 and now studies at the University of Wisconsin. Along with Katie Ledecky, she's the second Stone Ridge alumna to compete in the Olympics for Team USA.
Bacon's family was not allowed to watch in person at this year's Olympics, but her parents and three siblings will be cheering her on in Tokyo from their home in Montgomery County.
Philippa Bacon, mother of Phoebe Bacon, told MyMCM that she's proud to see all of her daughter's hard work pay off.
"It still doesn't quite seem real, but we're super thrilled and I just hope that you know, the games go well for all the athletes, especially with no spectators there, but it'll be exciting to see," Philippa Bacon said.
Phoebe Bacon started swimming with the help of her father at 3 years-old. Philippa Bacon said she started getting fast in the sport when she was around 9 or 10 years old, but the family never predicted she would have been competing in the Olympics a decade later.
Phoebe Bacon Looked Up to Ledecky Since Childhood
Perhaps there was something in the water when Phoebe Bacon attended Little Flower, a Catholic grade school in Bethesda. When Bacon was in pre-kindergarten, the school paired her with then-fourth grader Ledecky as her "Big Buddy."
The majority of USA swimmers in this Olympics are teenagers, so Philippa Bacon feels confident knowing Phoebe Bacon and her teammates can look up to a veteran swimmer like Ledecky, especially since Bacon attended the same schools as Ledecky growing up.
Although Ledecky attended Stanford, a different college than Bacon, the coincidences between the two continues. At the University of Wisconsin, Bacon is coached by Yuri Suguiyama, who coached Ledecky at the Nation's Capital Swim Club. Ledecky was coached by Suguiyama around the time she won her first Olympic gold medal in London in 2012.
"I think they have a good support system for each other," Philippa Bacon said. She added, she's sure Ledecky and Bacon will be cheering each other on in the pool.
Philippa Bacon Prepares for Daughters Return with All the 'Favorites'
Phoebe Bacon will swim heat 2 for the women's 200-meter backstroke prelims Thursday morning, 7:09 a.m., Eastern Standard Time. If Bacon does well, she will compete in the semifinals for the event, which takes place Thursday at 10:35 p.m., EST.
WHAT a finish!

Rhyan White and 18-year-old Phoebe Bacon are going to the Olympics in the women's 200m back.@USASwimming | #SwimTrials21 x #TokyoOlympics

📺 NBC pic.twitter.com/9U7IQyLGOj

— #TokyoOlympics (@NBCOlympics) June 20, 2021
The finals for the 200-meter backstroke take place Friday at 9:37 p.m., EST. To qualify, Bacon needs to place at least eight in the semifinals.
Once Bacon returns to the states, Philippa Bacon plans to have all of her daughter's favorite foods at the ready. Additionally, Philippa Bacon said she will get Phoebe Bacon's room in order because, unbeknownst to Phoebe, her younger brother has been staying in her room while she's been out of the country.