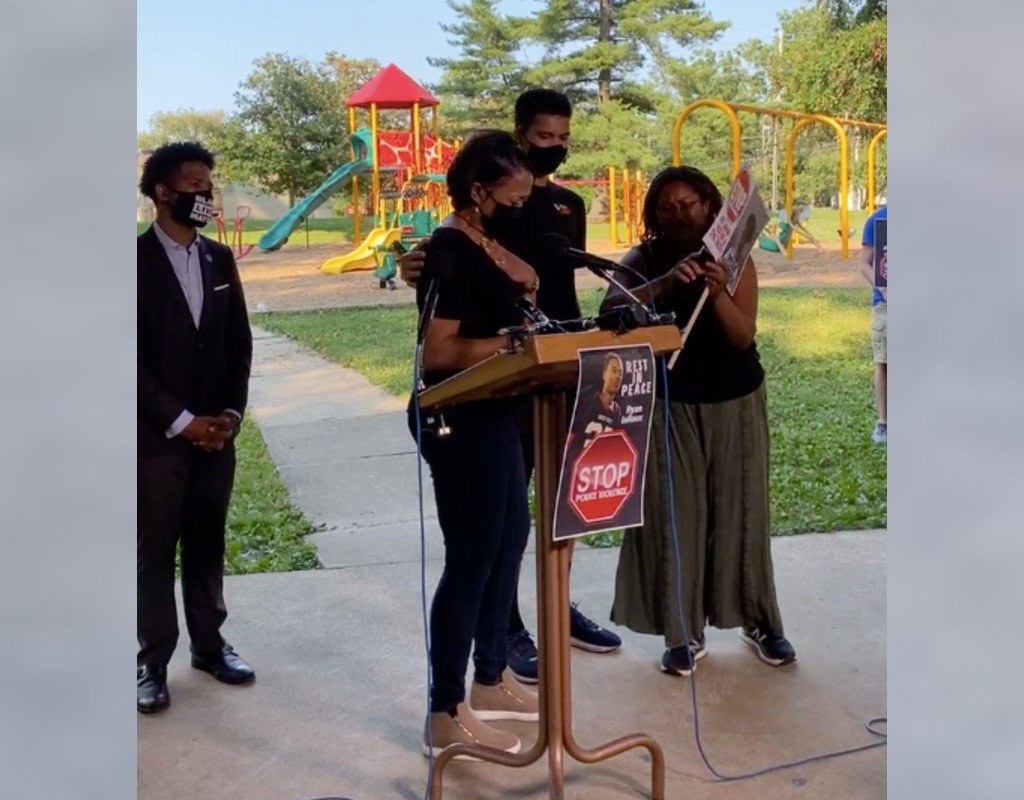 Mother of 21-Year-Old Killed by Police Speaks Out
Rhonda LeRoux says Montgomery County Police failed to de-escalate the situation that ended in officers fatally shooting her son, 21-year-old Ryan LeRoux.
LeRoux was killed by Montgomery County Police (MCPD) officers July 16. Police said they were called to a Gaithersburg McDonald's for a report that LeRoux was in the drive-thru refusing to pay for his food or leave. Police said a responding officer approached his car and immediately saw a handgun in the passenger seat next to LeRoux.
Additional officers arrived, evacuated McDonald's staff and secured the area. Police said a crisis negotiator was called in and was in route. However use of force resulted in officers shooting LeRoux before the negotiator arrived. A loaded Glock handgun was recovered from LeRoux's person, according to police.
MCPD said officers negotiated with LeRoux for about 30 minutes trying to de-escalate the situation.
"If this is true, then why wasn't there a crisis response unit with a trained mental health specialist on the scene?" Rhonda LeRoux said during a press conference with the Silver Spring Justice Coalition (SSJC) Tuesday afternoon.
She has no doubt her son suffered from depression. He was drinking and experimenting with marijuana, she said. He lost his job and had broken up with his long-time girlfriend. His grandmother , with whom he was very close, died last month. She said Ryan was living out of his car and felt he needed to purchase a handgun for his own protection.
During a press conference last week, Police Chief Marcus Jones said emergency communications received the report at about 9:15 p.m. July 16. Police did not respond until 10:28 p.m. "due to other priority calls for service."
"Ryan was sitting in his car for over an hour. Clearly the Montgomery County Police failed to de-escalate the situation," LeRoux said.
"It appears to us, the family, that Montgomery County Police clearly do not have the knowledge base, nor the skills to de-escalate this type of mental health crisis situation," LeRoux said. She said this loss has been devastating.
"We can't sleep, we can't eat, nor rest."
"When Ryan would visit us, he would come over and before he would leave the house he would always hug me, and I'm going to deeply miss that, and the inability to text message him," she said.
"I wouldn't wish this pain on any parent. It's the worst pain I've ever had to endure in my life."
LeRoux said her family has not been provided all police camera footage, including video from a cruiser parked in front of her son's car. She said they also have not seen footage that shows their son raising his arm while holding a gun.
Police footage released publicly Tuesday includes portions of body camera video from several officers at the scene as well as video from a body camera placed inside the McDonald's drive-thru window where LeRoux was parked. Viewer discretion is advised.
Footage from inside the drive-thru window shows LeRoux pulling his seat forward from being in a reclining position. Officers begin shooting about 10 seconds later.
Jones said all video will be released after the investigation is complete.
The Howard County State's Attorney's Office is reviewing the incident. Per an agreement between the Montgomery County State's Attorney's Office and Howard County State's Attorney's Office, when there is an officer-involved shooting in one county, the other county's office will review it.
In a statement Tuesday, County Executive Marc Elrich announced that the non-profit consultant Effective Law Enforcement For All, Inc. (ELE4A), which is conducting an audit of the police department, will conduct an "after-action" review of LeRoux's shooting and other lethal force incidents. The reviews will offer policy and training recommendations.
"This will not be a separate investigation into this incident but a set of "case studies" in how we respond to these situations and whether our tactics and procedures before, during, and after incidents can be improved," Elrich said.
The county council also issued a statement Tuesday.
Previous Posts
Police Release Body Camera Footage from July 16 Fatal Shooting of Gaithersburg Man 
Police Identify Gaithersburg Resident Fatally Shot by Officers
Police: Montgomery County Officers Shoot, Kill Man Following 'Armed Standoff' at McDonald's