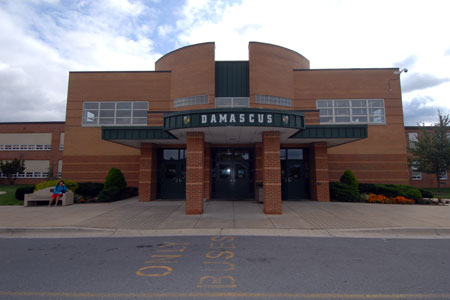 More Fallout at Damascus: Athletic Director Placed on Leave
Joe Doody, the athletic director at Damascus High School, was placed on administrative leave on Tuesday.
In an email to Damascus coaches, the systemwide athletics director at Montgomery County Public Schools, Jeff Sullivan confirmed that the leave is due to the ongoing investigation into the supervision of the boys' locker room on the afternoon of October 31, 2018 — the day four junior varsity football players were allegedly raped with broomsticks.
While on leave, Doody won't be allowed to work with students or fulfill his responsibilities as the Damascus athletic director. Sullivan said that Kathy Green will assume the "leadership responsibilities of the Damascus athletic department" on Thursday.
According to The Washington Post, Doody was one of four adults to learn about the alleged rapes on Halloween night. The other adults who learned about the allegations were Vincent Colbert, a JV football coach; Eric Wallich, the varsity head coach; and Casey Crouse, the now former Damascus principal.
The Post says that none of the adults called the police after hearing the allegations. Since the investigation launched, Colbert has also been placed on administrative leave, and Crouse announced her immediate resignation on Tuesday.
According to Sullivan, Doody's administrative leave is not intended to serve as a punishment, but rather it's meant to "ensure investigations can proceed efficiently and without the appearance of prejudice."