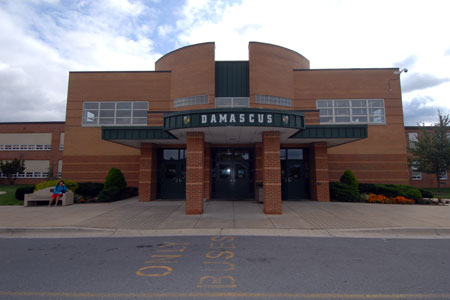 MCPS Hires External Firm to Investigate Damascus Sexual Assault Case
Montgomery County Public Schools published a letter that Superintendent Jack Smith emailed to the Damascus high school community on Sunday.
The letter is about how MCPS is cooperating with law enforcement's investigation into alleged rapes and violent assaults at Damascus, and they've also hired an external firm to internally investigate the school and football team culture.
Superintendent Jack Smith briefly referenced the letter published at this monthly press briefing Monday at College Gardens Elementary School.
"Our hearts and thoughts are with all of the students at Damascus and the students who reported the victimization, and that's an issue we take very seriously," said Smith.
Because of the sexual assault case at Damascus, Smith said in the letter to parents that all students who participate "in athletics and after-school activities are consistently supervised while participating in school activities."
Smith also said that all adults who oversee afterschool and extracurricular activities are now required to submit a "formalized supervision plan for every team and club every year." Smith said he's "directed all coaches, athletic directors and extracurricular sponsors to meet with students at the beginning of every season and activity to discuss expectations around hazing, bullying and assaultive behavior and what role students should play in preventing and reporting this behavior."
Smith said that any counselors are available to support students who feel anxious about the internal investigation.
MCPS Launches Internal Investigation into Damascus Supervision
In his letter to the school community, Smith said that in March the State's Attorney's Office approved MCPS's request to begin their "internal investigation of the supervision of the boys' locker room on the afternoon of October 31, 2018." Smith said that he expects the investigation to be completed "in the coming weeks."
MCPS is hiring an "expert" from "an external firm" to look at the "reporting practices and supervision of athletics and other extracurricular activities more broadly at Damascus High School."
MCPS Says They've Been Subpoenaed for Student Documents 
Smith said in the letter to parents that the Montgomery County State's Attorney's Office has "subpoenaed student records regarding [..] students who participated in athletics at Damascus High School from 2013 to present." These records are subpoenaed for the State's Attorney's Office's investigation into other "allegations of a culture of assaultive behavior, bullying or hazing at Damascus High School."
Smith said that MCPS "intends to comply with this subpoena" and is obliged to contact parents "before providing documents from student records in response to such a subpoena." Parents of students who are affected have already been contacted, Smith said.
Context: The Washington Post Raises Questions About Damascus' Internal Handling of Sexual Assault Case
This announcement comes more than two weeks after The Washington Post published their own damning investigation into the incident.
The Post's piece claims a father of one of the sexual assault victims called Coach Vincent Colbert the night of the attack after he found his son crying on his bed. Colbert contacted players, other coaches, and the school principal to get to the bottom of the incident, The Post said.
The Post obtained a copy of a group text that detailed an exchange between Eric Wallich, the varsity football head coach and Casey Crouse, principal of Damascus:
"What is the football consequence?" she texted next.
"Everyone will Be out of the program immediately," Wallich texted. "The crazy thing is today was their last practice of the year and tomorrow is their last game."
"End of the season hmmm…." Crouse replied. "Can they be "suspended"at the start of next season???"
"I'm thinking removed from the program for good," Wallich said.
"Ohhh….." Crouse responded.
After hearing credible allegations about violent rapes that occurred in the men's locker room during football practice, The Post claims that school officials didn't send victims — who were 14 and 15 years old — to medical care. It took 12 hours for school officials to notify police about the incident, says The Post.
The Post claims that school officials tried to launch their own investigation on November 1 by questioning students they pulled from the classroom.
A football locker room, a broomstick and a sex assault case roil a school https://t.co/86Ctg0nroz

— The Washington Post (@washingtonpost) March 29, 2019
The Post says that "as many as 10 JV players watched through a window into the freshman area of the locker room as the attacks unfolded and victims screamed as their attackers laughed." These bystanders didn't help the victims, a source told The Post.
Details in The Post's article suggests that there is a culture of abuse on the Damascus football team. The Post says that a freshman at the school said that freshmen football players were familiar with "the broom" and would worry "the sophomores were about to attack."
The Post quoted the freshmen telling detectives, "[The sophomores] just took it too far with like the pants thing and stuff. Usually they don't pull down their pants and do it."
Court filings reviewed by The Post reveal "at least three broomstick assaults in the Damascus locker room during the 2017 football season." Although the assaults weren't described as violently as the assault that occurred in 2018,