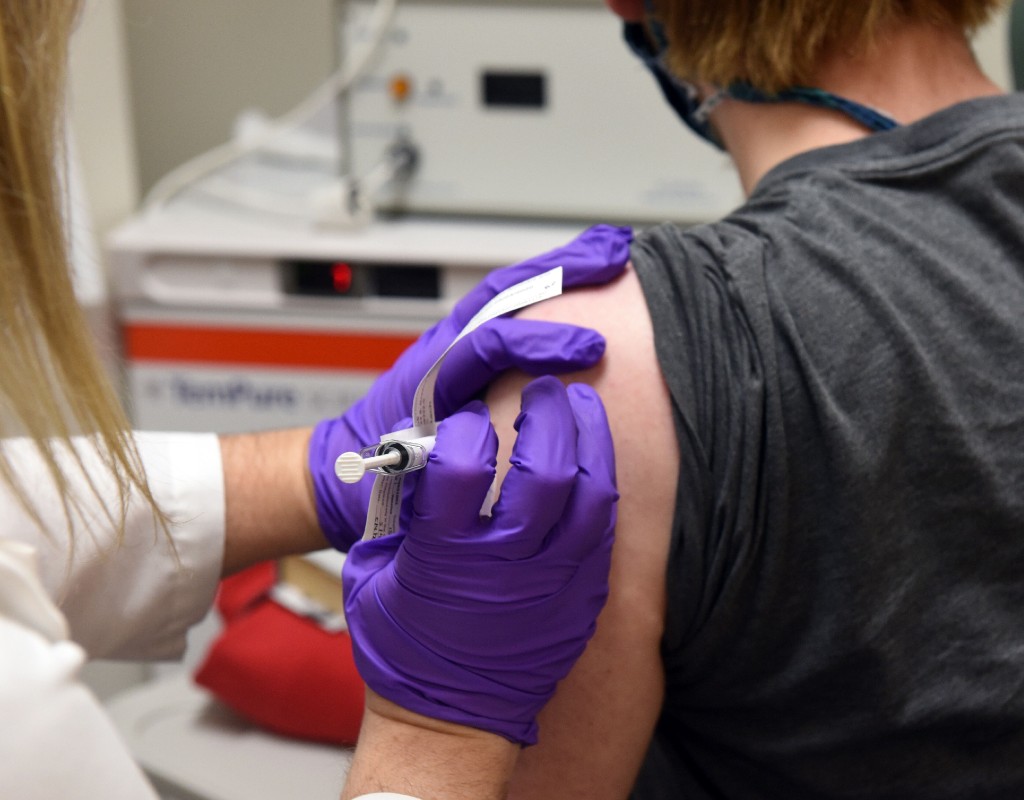 State Officials Explain What's in Pfizer's COVID-19 Vaccine
What's in Pfizer's COVID-19 vaccine?
Dr. David Marcozzi, COVID-19 Incident Commander for the University of Maryland Medical System, explained the answer to Marylanders at a press conference with Gov. Larry Hogan on Tuesday.
Pfizer's vaccine was granted emergency use authorization (EUA) by the FDA last Friday. Marcozzi said there are four components that make it up: mRNA, fats, salts and sugar. The mRNA molecule helps your body create a spike protein of the coronavirus, Marcozzi said. The CDC says this protein is found on the surface of the virus that causes COVID-19, but emphasizes that it is harmless. The CDC made clear that the vaccine does not contain the live virus that causes COVID-19, and Marcozzi also emphasized that there is no way to contract the illness from the Pfizer vaccine. He said your body will react to the protein and will eventually leave you immunized. Dr. Jinlene Chan, Acting Deputy Secretary for Public Health Services, reminded residents that immunization could take time because the Pfizer vaccine requires two doses, 21 days apart.
Dr. David Marcozzi, COVID-19 Incident Commander for the UMD Medical System, makes it clear that there is no way to contract COVID-19 from the FDA-approved Pfizer vaccine. @mymcmedia

— Maryam Shahzad (@maryam_mcm) December 15, 2020
The fats protect the mRNA and the salts buffer the acidity of the vaccine, Marcozzi said. The sugar helps the fats from sticking together while the vaccine is stored in ultra-cold freezers. Maryland's vaccination plan is divided into three phases; healthcare workers and long-term care residents and staff are scheduled to receive it first.
The state will get an initial allocation of about 155,000 doses from Pfizer and Moderna; about 50,000 and 104,000 respectively. An FDA committee is scheduled to make a recommendation for approval or disapproval of Moderna's vaccine candidate on Thursday, and the state anticipates the FDA could grant emergency use as early as Friday, with Moderna's vaccine distribution beginning next week.
The vaccine is currently only recommended for those ages 16 and older. Chan said clinical trials will be conducted for children under 16 to determine efficacy. The CDC says pregnant women can choose to take the vaccine, however clinical trials did not include pregnant women. However, it's unlikely to pose a risk based on how mRNA vaccines usually work, the CDC said. The health institute said pregnant women can speak to their healthcare providers prior to taking the vaccine, but it isn't required. Studies will be conducted for pregnant women.
The CDC says that anyone with a history of severe allergic reaction, like anaphylaxis, to any component of the Pfizer vaccine should not get it. However, if you have a history of severe allergic reaction to a different vaccine or to an injectable therapy, then you may still be able to get the Pfizer vaccine. Chan recommends that people with these circumstances speak with their healthcare provider before getting the vaccine, and they should be under an observation period if they get it.
"For the most part, most people should be able to receive the vaccine without any risk of severe reaction," she said.
As with any vaccination, Marcozzi said, people may experience mild side effects like pain or swelling at the point of injection, mild fever, chills, tiredness and headaches. Allergic reactions to the vaccine are rare, he said, but they would be treated. Chan said these symptoms are more common in those ages 55 and younger, and are more common after the second vaccine dose. But, she said symptoms are a sign it's working.
"The important thing to note here is that these symptoms show that the vaccine is working, that the person's immune system is actually responding to the vaccine, which is what's causing some of these mild to moderate symptoms," she said.
During a news conference Wednesday, County Health Officer Dr. Travis Gayles said all hospitals in the county will receive vaccine doses by Thursday. 
Gayles says all of the hospitals in Montgomery County are either getting the Pfizer vaccine today or tomorrow and will start the clinic process to get them out to workers. @mymcmedia

— Deirdre Byrne (@DeirdreByrneMCM) December 16, 2020
This week, Adventist HealthCare Shady Grove Medical Center and Adventist Health Care White Oak Medical Center are expected to receive 975 doses each of Pfizer's vaccine. MedStar Health, which includes Montgomery Medical Center in Olney, is also preparing to receive doses this week and has purchased several ultra-cold freezers to store them.
On Tuesday, Marcozzi urged Marylanders to get their information about the vaccine from reliable sources and experts. He said public health experts are concerned about COVID-19 misinformation online.
"Simply stated, online misinformation is a threat to our health and it hinders our ability to end COVID-19 and reopen our economy," he said.