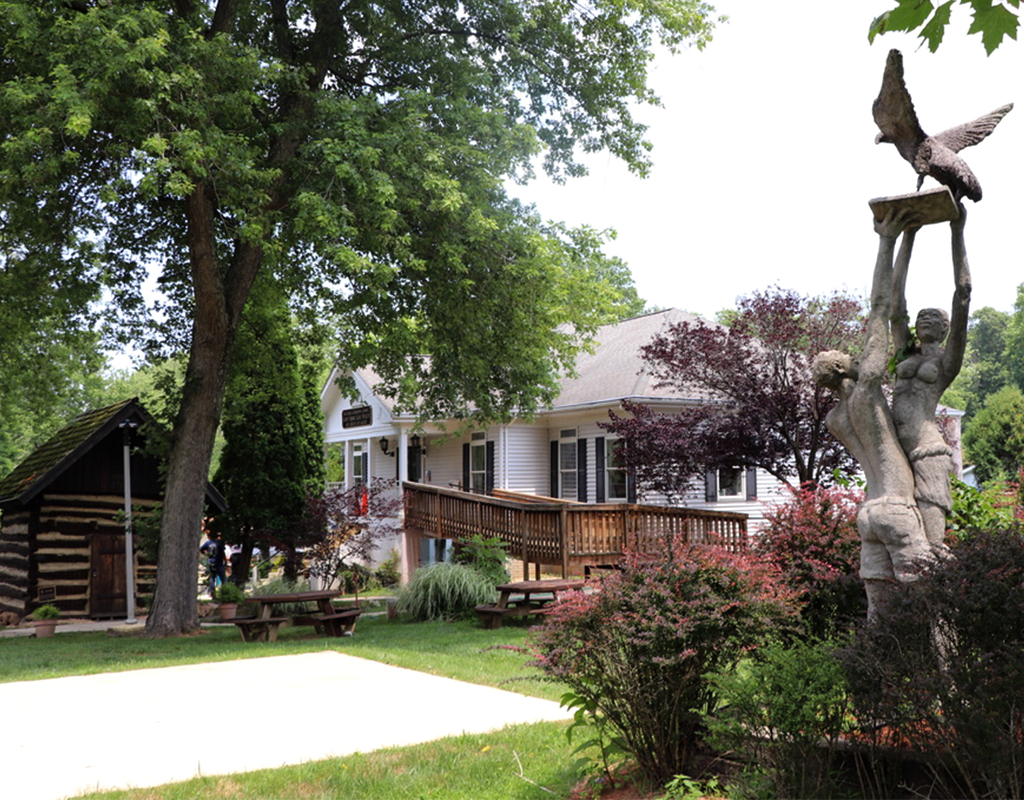 Olney Man Launches GoFundMe for Antiracist Causes After Home Vandalized
After his home was vandalized multiple times, Aaron Eisenbarth of Olney is making the best of a bad situation. He is raising money for two organizations that support antiracist causes and education—the Sandy Spring Slave Museum and Black Lives Matter.
As of Wednesday evening, Eisenbarth has raised nearly $1,000 on his GoFundMe page and he intends to split the funds between the Sandy Spring Slave Museum and the D.C. Chapter of the Black Lives Matter movement.
Eisenbarth told MyMCM that the goal of his fundraiser is to "send a louder message back" after his home was vandalized multiple times since October. He has chosen to give to two antiracist organizations because the vandal had a pattern of stealing and defacing Black Lives Matter signs, Eisenbarth said.
"We wanted [to send] a community message that says, 'We don't stand for this thing,'" Eisenbarth said.
The vandalism started in October. Eisenbarth said he had two signs in his yard—a Black Lives Matter sign and a campaign sign in support of Joe Biden—which were defaced and stolen. Following this incident, Eisenbarth says the same vandal was caught on home surveillance video in the middle of the night spraypainting derogatory phrases like "I Hate America" and "Terrorist" on his garage.
Montgomery County Police Department launched an investigation into the matter, shared the surveillance video with the public, noting that the graffiti incidents occurred on Oct. 28 and Nov. 13.
After his yard signs were defaced and stolen, Eisenbarth hung an American flag and a Black Lives Matter flag outside of his home, which he believes may have further triggered the vandal. Eisenbarth's Nov. 28 home surveillance footage caught the vandal—the same man from the graffiti surveillance footage captured Oct. 28 and Nov. 13— using a long pole with a blade attachment to remove the Black Lives Matter flag. MCPD released Eisenbarth's surveillance footage and called on community members to send tips if they recognized the vandal.
Eventually, police identified the man from the footage as William Love, 63, of Olney. An MCPD police statement says Love was charged with three acts of vandalism and theft.
Turning a negative into a positive. https://t.co/I4dEbp4aBR

— Sandy Spring Slave Museum (@MuseumSandy) December 11, 2020
Eisenbarth is thankful to the community for helping identify the man.
"If there was a 'best part' of this, it would be the outpouring of support that the local community has shown [my family]," Eisenbarth said, adding that the support he's received has far outweighed the hateful act of a single person.
He said he ultimately decided to raise money for Black Lives Matter's D.C. Chapter and the Sandy Spring Slave Museum, as a response to the vandal defacing his BLM sign and stealing his flag, and also to support a museum which "has education at its center." Eisenbarth said he's excited that the Sandy Spring Slave Museum has an upcoming virtual exhibit that explores the American journey from the Civil Rights movement to the Black Lives Matter movement. The exhibit is a collaboration between the museum, the MCPD Chief Marcus Jones, and mental health professionals from the Montgomery County Crisis Center.
Sandi Williams, co-director of Sandy Spring Slave Museum, wrote in an email to MyMCM that the museum's team is thankful for Eisenbarth's outreach.
"In light of the coronavirus Aaron [Eisenbarth]'s idea of a fundraiser is so welcome due to the museum having to shut down again mid-October due to the increase in positivity rates.  As I said to Aaron, 'Every little bit helps,'" Williams said. "We are appreciative to Aaron and his family and the greater Olney-Sandy Spring Community for their continued support."
Related Post:
Suspect Charged for Vandalizing the Same Olney House Three Times
Sandy Spring Slave Museum Takes Financial Hit As County Wrestles with Racist History