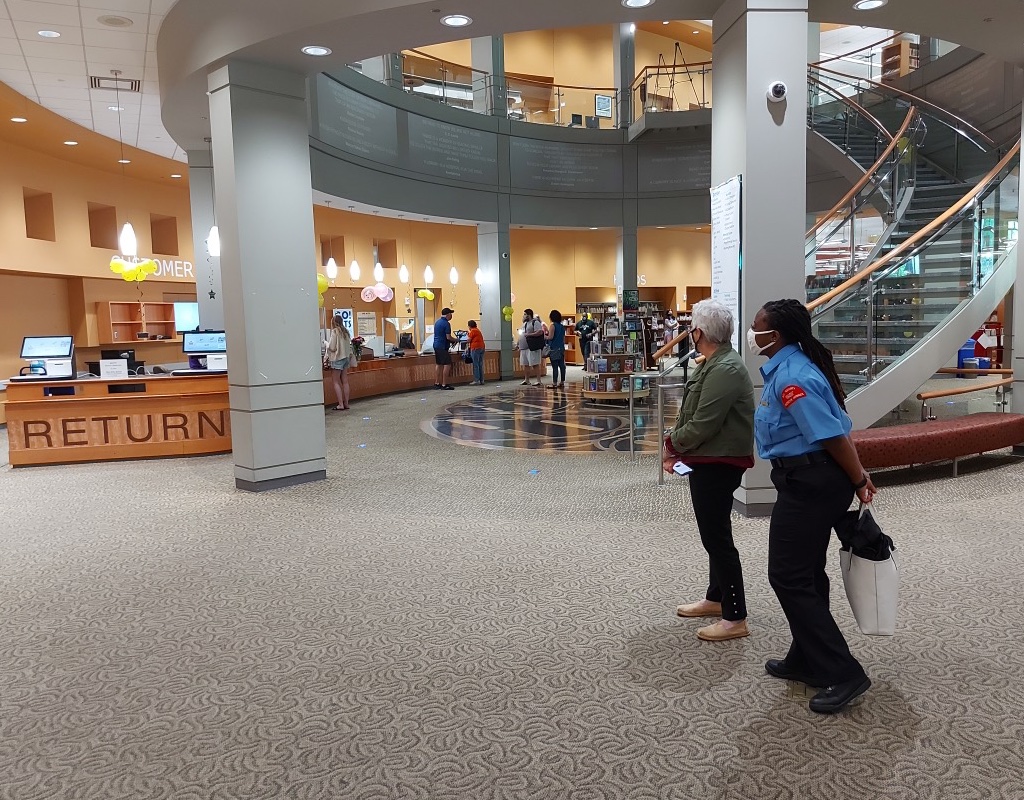 Six County Libraries Reopen Tuesday, Seven More in Two Weeks
Six county libraries opened their doors Tuesday at noon after almost 15 months of either being totally closed or opened only for hold pickups. Library users were greeted with welcome back signs and balloons.
"Today is the start. It is so exciting," said Library Director Anita Vassallo. "We are very pumped up."
Patrons are allowed to enter the Gaithersburg, Connie Morella (Bethesda), Rockville Memorial, Silver Spring, Olney, and Marilyn Praisner (Burtonsville) libraries without an appointment and stay as long as they like. They still must wear face coverings.
The library staff was depleted partially during the pandemic, and Vassallo noted, "We are definitely down some staff." However, she did not expect that to affect the reopenings. She hopes to be able to hire new staff although the county remains under a hiring freeze.
On June 14, seven more libraries will swing open theirs doors. They are Aspen Hill, 4407 Aspen Hill Rd., Rockville; Damascus, 9701 Main Street, Damascus; Davis, 6400 Democracy Blvd., Bethesda; Little Falls, 5501 Massachusetts Ave., Bethesda; Long Branch, 8800 Garland Ave., Silver Spring; Potomac, 10101 Glenolden Drive, Potomac and Quince Orchard, 15831 Quince Orchard Rd., Gaithersburg.
Then on July 6, all other library branches will reopen except for Germantown, which is having work done.
It's June 1st, which means six @MCPL_Libraries branches are reopening today! Gaithersburg, Connie Morella, Rockville Memorial, Silver Spring, Olney and Praisner.

See this link for safety precautions before you visit: https://t.co/plGX5n3cAQ pic.twitter.com/JhyY69gSto

— FriendsoftheLibrary (@FOLMC) June 1, 2021
Librarians at Connie Morella, Gaithersburg, Marilyn J. Praisner, Olney, Rockville Memorial & Silver Spring can't wait to welcome you back into the buildings TOMORROW! Want the June MCPL news right in your inbox tomorrow? Sign up for our newsletter at https://t.co/Qs28iC2ylt pic.twitter.com/s7bNwNj5mY

— mcpl_Libraries (@MCPL_Libraries) May 31, 2021