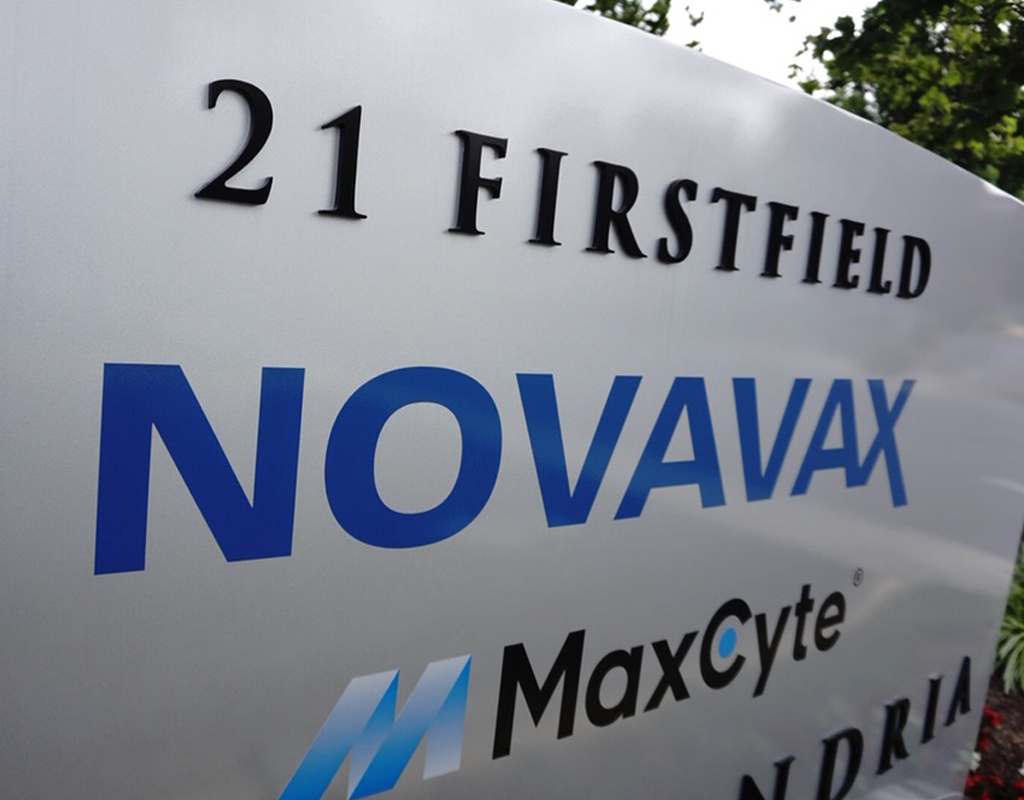 Novavax Says Its COVID-19 Vaccine Shows 90% Efficacy Rate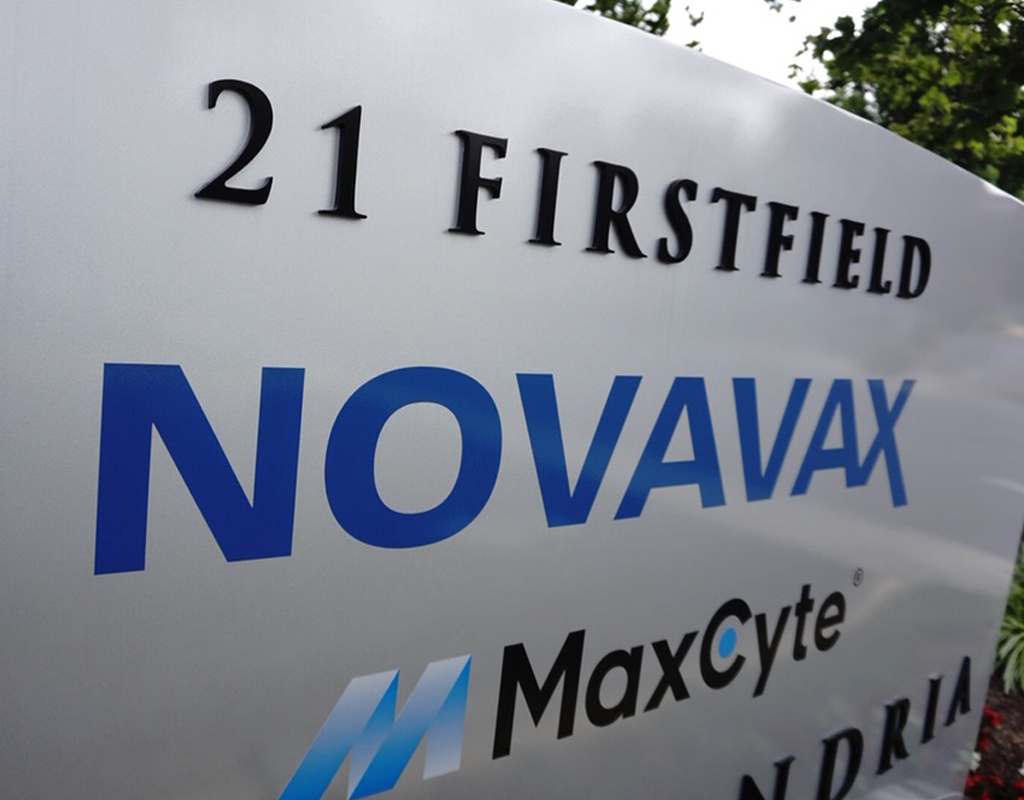 The Gaithersburg biotechnology company, Novavax, announced Monday morning data from phase 3 of its COVID-19 vaccine trials which were conducted in the United States and Mexico. Novavax found that the trial, which began in December and enrolled 29,960 participants, had an overall efficacy rate of 90.04%.
Last year, Novavax was awarded $1.6 billion from the Trump Administration's "Operation Warp Speed" program with the aim of producing safe vaccines quickly amid the public health crisis caused by the coronavirus pandemic.
"You know our vaccine, why is it so good? It's a mimic of a virus," Dr. Greg Glenn, the president of Novavax said in Gaithersburg on Thursday. "We make a protein that looks just like it does in an infection, of course there's nothing live and to get an immune response that is extremely effective it has to be in the right structure…so we make this in a very complex process."
Novavax says its vaccine is 93% effective against concerning variants circulating worldwide, 91% effective in "high risk populations," and 100% effective against variants not considered as concerning.
"Today, Novavax is one step closer to addressing the critical and persistent global public health need for additional COVID-19 vaccines. These clinical results reinforce that NVX-CoV2373 is extremely effective and offers complete protection against both moderate and severe COVID-19 infection," Stanley Erck, president and CEO of Novavax, said in a statement. "Novavax continues to work with a sense of urgency to complete our regulatory submissions and deliver this vaccine, built on a well understood and proven platform, to a world that is still in great need of vaccines."
On Thursday, John Trizzino, the chief commercial and business officer for Novavax, spoke to MyMCM and said Novavax's vaccine is a two dose vaccine, and is stored in refrigerators.
Montgomery County Economic Development Corporation (MCEDC) released a statement congratulating Novavax. In the statement, MCEDC President and CEO Benjamin Wu says, "Novavax's steadfast commitment and hard work to create a coronavirus vaccine began at the start of the pandemic and is now coming to fruition. We celebrate not only their local growth with 700 new jobs and a manufacturing presence, but also the life-saving impact this new Novavax vaccine will have around the globe."
According to MCEDC, "[Novavax] is expected to file for authorization with the Food and Drug Administration in the third quarter of 2021. Following FDA authorization, Novavax is planning to reach manufacturing capacity of 100 million doses per month by the end of the third quarter and 150 million doses per month by the end of the fourth quarter of 2021."
This news from Novavax comes as the United States has fully vaccinated 43.4% of its population, according to data from the Centers for Disease Control and Prevention. According to the CDC, 62.9% of Montgomery County residents have been fully vaccinated. Novavax is continuing to expand in Montgomery County and will soon open its 180,000 square foot Vaccine Innovation Campus and Global Headquarters in Gaithersburg at 14 Firstfield Road
Former CDC Director Robert Redfield said after touring the site of the future headquarters in Gaithersburg on Thursday, "I continue to be of the point of view and maintain that the vaccine that's being developed here is going to be one of the most important vaccines in our global fight against COVID-19." Redfield currently serves as a health advisor to Gov. Larry Hogan and will serve as a strategic adviser to Novavax.
Good news from @MontgomeryCoMD-based @Novavax this Monday morning. https://t.co/eXlavXIzjF

— County Exec Marc Elrich (@MontCoExec) June 14, 2021
Many leaders in Montgomery County have taken to social media to express their excitement about the latest development.
State Sen. Cheryl Kagan of District 17 (D) tweeted, ".@Novavax continues to make advances as part of the solution to #COVID19 and its variants. Thrilled that you're expanding & adding 500 jobs in @GburgMD!"
Gaithersburg Mayor Jud Ashman cheered on the company, tweeting, "Go @Novavax! Go Gaithersburg!"
Go @Novavax! Go Gaithersburg! https://t.co/S4vQclE6Xy

— Jud Ashman (@judashman) June 14, 2021
Novavax has already completed another phase 3 trial for its COVID-19 vaccine in the United Kingdom, which also had promising results, with an overall efficacy rate of 89.3%. Trials are required in the United States before authorization from the FDA can move forward so these results move Novavax closure to that approval process.
Novavax Explains Its Vaccine Trial Results
Novavax shared this thread on Twitter further explaining data from its latest vaccine trials:
PREVENT-19 follows successful trials of NVX-CoV2373 in the UK (Phase 3) and South Africa (Phase 2b). Read about the results from those #clinicaltrials here: https://t.co/HKNeqxW4jw

— Novavax (@Novavax) June 14, 2021
PREVENT-19 enrolled 29,960 participants across 113 sites in the US & 6 sites in Mexico. 2:1 randomization of active vaccine to placebo groups meant that participants had a 2-in-3 chance of receiving active vaccine.

— Novavax (@Novavax) June 14, 2021
NVX-CoV2373 demonstrated overall efficacy of 90.4% (95% CI: 82.9, 94.6), achieving its primary endpoint. 77 cases were observed: 63 in the placebo group & 14 in the vaccine group. All cases in the vaccine group were mild. pic.twitter.com/B8mNsoOJ9Y

— Novavax (@Novavax) June 14, 2021
NVX-CoV2373 was also successful among "high-risk" populations: vaccine efficacy was 91.0% (95% CI: 83.6, 95.0), with 62 COVID-19 cases in the placebo group and 13 COVID-19 cases in the vaccine group.

— Novavax (@Novavax) June 14, 2021
"54 of 77 cases were sequenced. 35 (65%) were Variants of Concern (VoC), 9 (17%) were Variants of Interest (VoI) & 10 (19%) were
variants not considered VoC/VoI, as defined by @CDCgov: https://t.co/M37O1mkAM5 pic.twitter.com/0weWYHAcJo

— Novavax (@Novavax) June 14, 2021
Preliminary safety data from PREVENT-19 showed the vaccine to be generally well-tolerated. pic.twitter.com/kmD79GG6T9

— Novavax (@Novavax) June 14, 2021
No single adverse event term was reported by more than 1% of participants. This includes evaluation in a highly diverse and at-risk study population.

— Novavax (@Novavax) June 14, 2021
We also thank the US Government for their support of this Phase 3 trial, along with the UK Vaccine Task Force (VTF) and Coalition for Epidemic Preparedness Innovations @CEPI for their overall support.

— Novavax (@Novavax) June 14, 2021
Learn about our investigational vaccine candidate, Novavax #vaccine technology, our #COVID19 #clinicaltrial results and more at: https://t.co/GOBsIgkYCv

— Novavax (@Novavax) June 14, 2021
Related Posts:
Hogan Tours Future Site of Novavax Global HQ in Gaithersburg; 500 Jobs to be Added
Novavax Expected to Make Announcement About Data from Vaccine Trials Soon