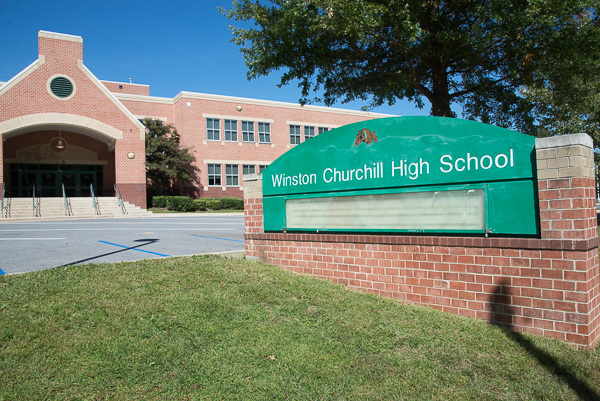 Churchill Student Hospitalized After Vaping THC
A student at Winston Churchill High School in Potomac was hospitalized Tuesday after ingesting "THC through a vaping device," according to a letter emailed home from Principal Brandice Heckert.
The National Institute of Drug Abuse says that "[t]he main psychoactive (mind-altering) chemical in marijuana, responsible for most of the intoxicating effects that people seek, is delta-9-tetrahydrocannabinol," or THC.
Heckert said that at the end of Tuesday's school day, the student came forward to school officials, admitting to being "under the influence." The student was then transported to a local hospital for treatment, said Heckert.
Gboyinde, a supervisor for the department of communications at Montgomery County Public Schools, said in an email to MCM that students are transported to the hospital "if they are experiencing some sort of medical emergency."
Because emergency personnel was tending to the student, Heckert said that "dismissal was delayed five minutes."
Third Churchill Student Hospitalized in Less Than a Month
This is the third Churchill student in less than a month to be hospitalized for getting high on THC.
Heckert also emailed parents on March 27 notifying them that "three students were under the influence and ingested THC, an illegal drug, through a vaping device." Two of those three students were sent to the hospital, Heckert said.
In the letter emailed home to parents Tuesday, Heckert reminded the community that Montgomery County Public Schools prohibits students from bringing vaping devices to school.
"Last week, I hosted a community meeting to talk to students and parents about the truths and dangers of vaping. The recorded panel presentation and Q&A session will be shared with the community as soon as possible," said Heckert.
Heckert encouraged parents to reach out to their child's counselor if they need additional resources.
Earlier on Tuesday, Montgomery County health officials announced that they "are suggesting increased education and awareness surrounding vaping to confront the rising use of e-cigarettes among teenagers and young adults."
Related Post: