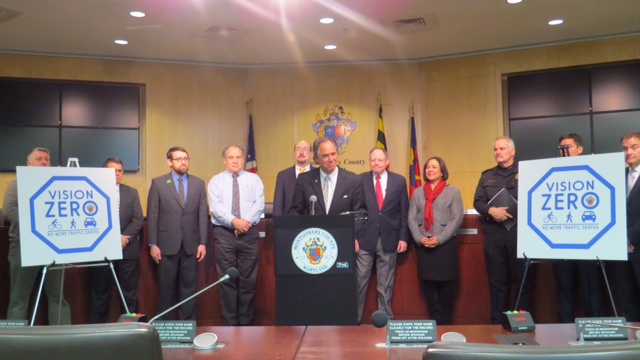 Council Plans to Join "Vision Zero" Program to Eliminate Traffic Deaths (VIDEO)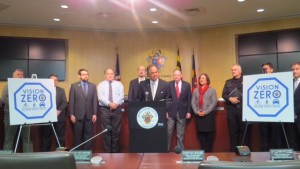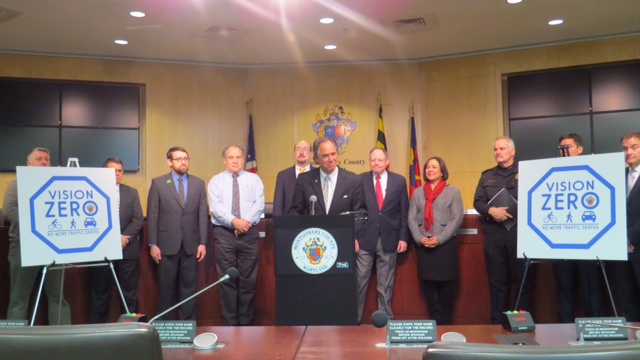 Local leaders and community activists gathered at the Montgomery County Council chambers today to announce the Council's effort to eliminate traffic deaths on Montgomery County roads by joining the national Vision Zero program. The Vision Zero initiative actually began in Sweden.
Montgomery County Councilmember Roger Berliner is spearheading the local effort, with the support of all eight of his colleagues on the Council as well as the backing of community members and other area leaders.
"What Vision Zero says in effect is that it is time to stop thinking of these fatalities as accidents," said Berliner. "These are crashes that we can and must act to prevent."
There have been 44 traffic deaths on Montgomery County roadways over the past year, according to Police Chief Tom Manger. Berliner pointed out that four of them occurred within the last two months.
"Zero is our goal," said Berliner, who noted that data would be used to drive changes in policy at the local and state level to bring about the zero result.
Also at today's briefing was Raymond Holden whose brother, Tim Holden, a Navy seal, was killed last August when he was hit by a vehicle while riding his bike on Massachusetts Avenue in Bethesda. Holden said it was important for him to be at the briefing to support the Council's effort because, he stressed, every life on the roads matters.
"If there was some way to relay the impact a tragedy like this has on a family, a neighborhood and a community – I don't think we would have to have meetings like this," said Holden.
You can watch the entire briefing with local leaders and community members, below:
Among those at the Jan. 19th event to announce support of the initiative were Councilmembers Marc Elrich, Sidney Katz, Nancy Navarro and Hans Riemer as well as Gaithersburg Councilmembers Neil Harris and Robert Wu.
Chief Manger discussed efforts by @mcpnews to end pedestrian & bicyclist fatalities in MoCo. #VisionZero pic.twitter.com/STVlvVv8vc

— Montgomery Council (@MoCoCouncilMD) January 19, 2016
.@actfortransit supports @MoCoCouncilMD's efforts 2 end pedestrian & bicyclist fatalities in MoCo #VisionZero pic.twitter.com/t90dVZbROz

— Montgomery Council (@MoCoCouncilMD) January 19, 2016
.@WABADC supports push by @MoCoCouncilMD 2 end traffic deaths #VisionZero pic.twitter.com/alll6gB8Eu

— Montgomery Council (@MoCoCouncilMD) January 19, 2016
.@MC_Council_Katz explains how important pedestrian safety efforts are in MoCo & in local municipalities #VisionZero pic.twitter.com/7M01g37HYE

— Montgomery Council (@MoCoCouncilMD) January 19, 2016
.@nancy_navarro says "MoCo needs 2 end piecemeal approach 2 pedestrian safety." #VisionZero pic.twitter.com/hbJLnunhkc

— Montgomery Council (@MoCoCouncilMD) January 19, 2016
.@hansriemer explains "Need a culture change & roadway design changes" 2 help end pedestrian fatalities #VisionZero pic.twitter.com/Hy3r8MDpbB

— Montgomery Council (@MoCoCouncilMD) January 19, 2016
.@Marc_Elrich tells audience that "Every single pedestrian accident is preventable."#VisionZero pic.twitter.com/hOYmczPzP9

— Montgomery Council (@MoCoCouncilMD) January 19, 2016