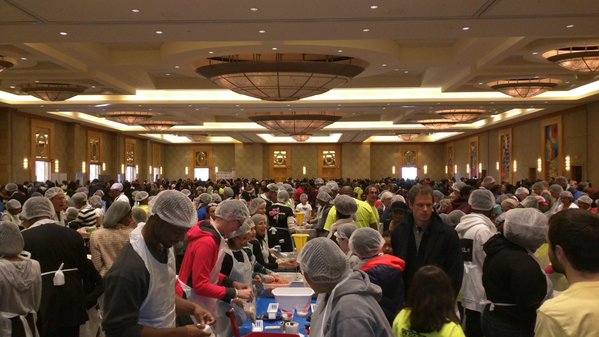 Thousands of Volunteers Pitch In for the 2016 MLK, Jr. Day of Service (VIDEO & PHOTOS)
More than 3,000 volunteers across Montgomery County pitched in to help make their community a better place on Martin Luther King Jr. Day. In this MyMCMedia video, Willie James Inman reports on the 2016 MLK Day of Service events in Silver Spring and North Bethesda.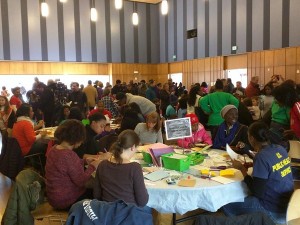 Volunteers participated in over 40 activities that benefited more than 40 nonprofits in the County. One of the main service projects, "100K in a Day," set a goal for packaging 100,000 meals for area food banks and assemble snow day boxes for Meals on Wheels.
LaTonyia Wade is president of the Montgomery County Alumnae Chapter of Delta Sigma Theta Sorority which hosted the Silver Spring event.
"We have 19 projects where the community are coming in and making this a day on versus a day off….Those projects include anything from making cards for veterans to making pillows that we'll be donating to the elderly in nursing homes," Wade said.
Montgomery County Executive Ike Leggett touched on the legacy of Dr. King as he visited with volunteers throughout the County.
"It is befitting that we stress community service and work to help others, that is in the tradition of Dr. King," Leggett said.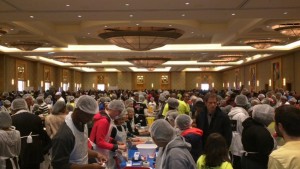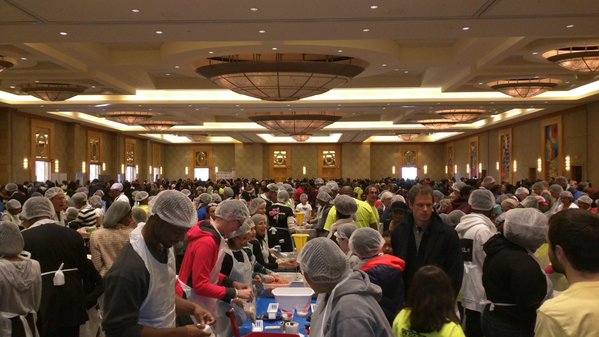 Over 1,500 people volunteered at the main event which took place at the Bethesda North Marriott Hotel located on 5701 Marinelli Road.  Gretchen Zekiel is the RSVP Manager for the Montgomery County Volunteer Center which helped coordinate the MLK Day of Service events.
"Our objective in Montgomery County is to really expose people, particularly younger people, to volunteerism and get them excited about it. This is kind of a jumping off point, a beginning point for volunteering. This is not just something they want them to do for one day a year, [then] go away and forget about it," said Zekiel.
Mike Pilone is a resident of Silver Spring and spent the day volunteering with his daughter.
"This is a great activity and she loves doing the crafts and it benefits a lot of people…When we tried to get in, parking was full and everybody has been so helpful and great. It's great to see people turn out for such a good thing," said Pilone.
To learn more about the 2016 MLK Day of Service and future volunteer opportunities you can visit the Montgomery County Volunteer Center's website.
Pics from today's #MLKDayOfService in Silver Spring & North Bethesda. 100K meals in a day goal reached! @mymcmedia pic.twitter.com/TViczsDn6d

— Willie James Inman (@imwilljames) January 18, 2016
80K meals in Bethesda, 20K in Silver Spring. 100K meals in a day goal reached for #MLKDayOfService @mymcmedia pic.twitter.com/a9YyI8ANHm

— Willie James Inman (@imwilljames) January 18, 2016
Over 1,500 people volunteering in Bethesda for #MLKDayOfService @mymcmedia pic.twitter.com/6RYra6pVGE

— Willie James Inman (@imwilljames) January 18, 2016
Executive Leggett says #MLKDayOfService is a day on not a day off. @MontgomeryCoMD @mymcmedia pic.twitter.com/TF0ewpLgQ5

— Willie James Inman (@imwilljames) January 18, 2016
Over 1,000 people turned out for #MLKDayOfService in Silver Spring @mymcmedia pic.twitter.com/3tiRGUlpZ9

— Willie James Inman (@imwilljames) January 18, 2016