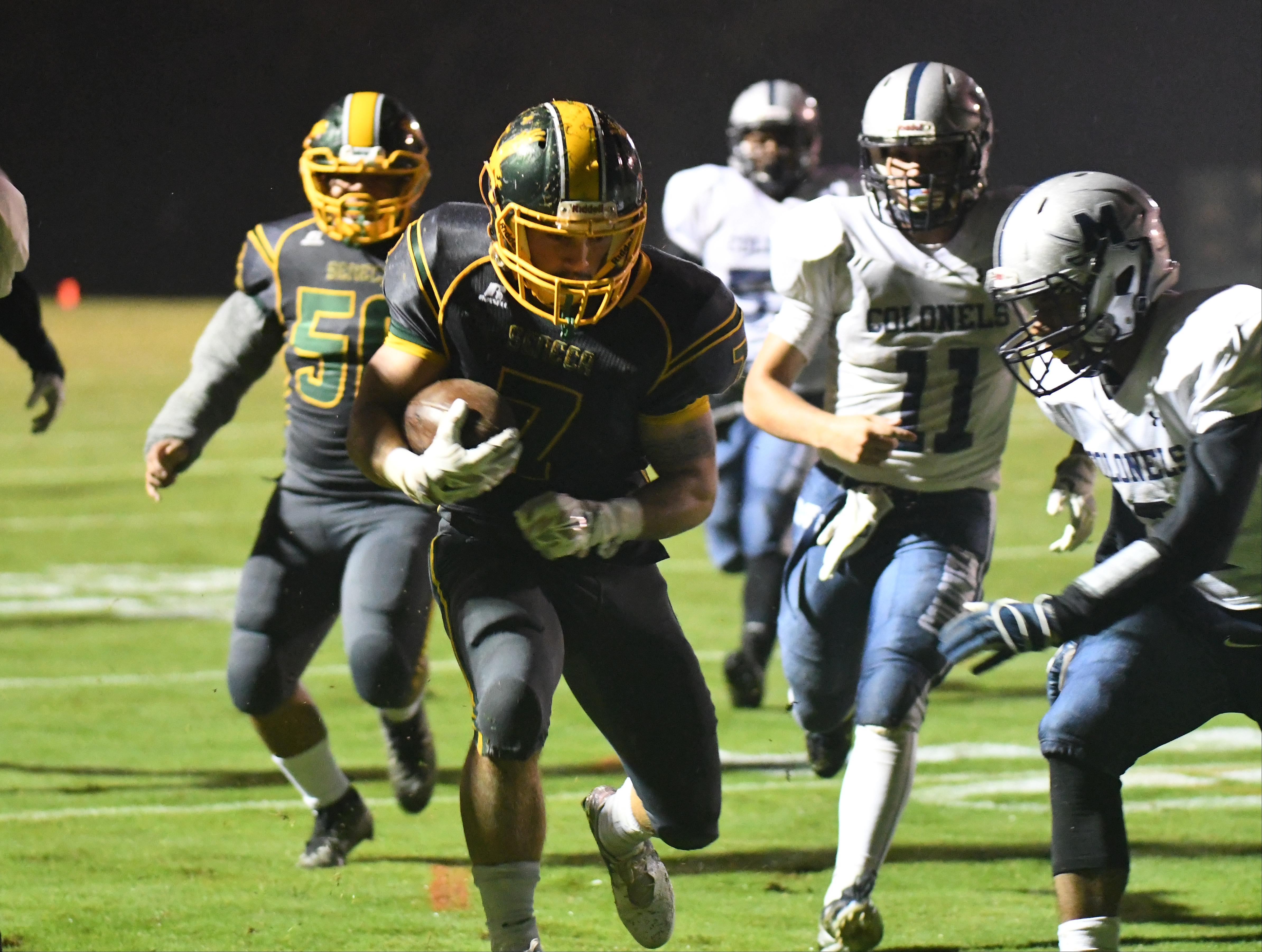 When eight is not enough
Seneca Valley's football Coach Fred Kim cajoled his team huddled under the home field goal post before taking the field against Magruder. Under the posts Kim told the Screaming Eagles to "dispatch this team and make quick work of it". He continued telling them that for tonight Seneca was the better team on the field. He may not have fully expected that the "dispatching" would happen as quickly as it did and in such a record-breaking manner.
I along with 300 rain soaked attendees would be witness to perhaps the most memorable athletic feat of this new school year in Montgomery County. It was Seneca's running back Adrian Platt who took on his coach's message and dispatched Magruder. By halftime the score was Seneca Valley 63 and Magruder 0. Platt had at that time accounted for 48 points, eight touchdowns.
In the process of 24 minutes of play Platt broke Seneca's record of six touchdowns and by the end of the half had tied the Maryland state record at eight. So three football records were being rewritten – Seneca's, then by default Montgomery County's and then the Maryland Public Secondary School Athletic Association (MPSSAA) – the Maryland state record.
In the second half with a running clock Platt was given that once in a high school lifetime opportunity by Seneca's coaching staff to set the new state record. His ninth touchdown pushed Seneca to 69 points. I don't know if he ever set foot back on the field for the remainder of that game for I was three miles away covering the 2nd half of a slugfest between Sherwood and Northwest at Northwest.
It was not just the play, or lack of play by Magruder last Friday that set things in motion. Magruder tried but they saw that Platt was just on that night. Platt's efforts were infectious for the entire Seneca Valley team. They made blocks, opened up holes allowing Platt to take perfectly timed hand-offs for scores.
Perhaps most notable was Platt's 5th score with 1.9 seconds left in the first quarter when all a Magruder defensive lineman had to do was wrap up Platt in the backfield. But Platt found a second chance avenue by bouncing off a great block by teammate Olawale Layeni to rumble some 50 yards to make it 42-0 at the end of the 1st quarter.
I thought Platt was done by halftime predicting that Coach Kim would sit Platt. I left Seneca Valley for Northwest during the break and shortly thereafter learned that Platt scored for the ninth time and the record. You might think that last score was adding it on Magruder but in the reality of high school football there are not many opportunities to write history like this, so don't bottle it up, let it flow. Besides it was not the ninth touchdown that put Magruder firmly in the viewers seat that evening rather it was the eight others that happened before.
Seneca Valley never scored again. The game ended 69-14 on a night when a running second half clock mercifully drained time for Magruder and when all who remained in the stands were staff, friends and family. There on that rain soaked field in Germantown, Adrian Platt had a marvelous night on which eight was not enough.
Here are all of Platt's eight first half touchdown runs as I photographed them last Friday night, September 30, 2016.
© Fabrizio | 2016 | PhotoLoaf® for MCM
Photos follow