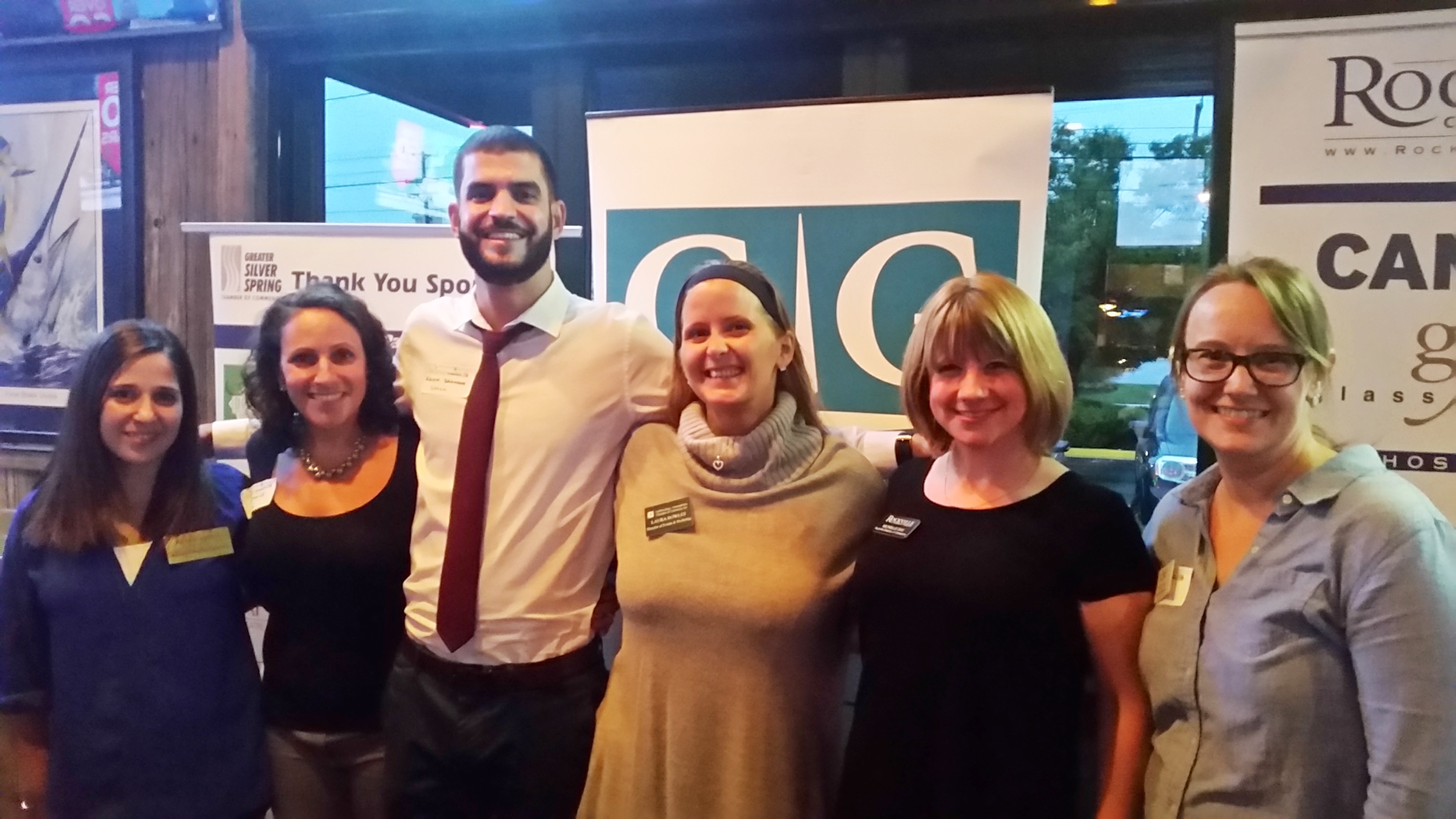 Regional Young Professional Group Happy Hour Held
The Greater Bethesda, Gaithersburg-Germantown (GGCC), Greater Silver Spring (GSSCC), and Rockville Chambers of Commerce along with Leadership Montgomery's Emerging Leaders said goodbye to summer and hello to football season at its 3rd Annual "Regional Young Professional Group Happy Hour" at Miller's Ale House Rockville on Thursday, September 29, 2016.
Nearly 200 emerging leaders attended the exclusive event in the hopes to make new connections or strengthen their existing ones.
In a report released by Nielsen it stated 92 percent of millennials believe that today's professional groups provide great opportunities to network. Stemming from this report, GGCC Director of Events & Marketing, Laura Rowles, developed this event in an effort to bring five distinguished County organizations together, so emerging leaders of the professional community could gather for an evening of networking to further their career, strengthen their professional image, or just to meet fellow young professionals. And it worked; the number of attendees continues to strengthen every time the event is held.
"Young professionals develop leadership, communication and organizational skills through practical experience, so it only makes sense for the Rockville Chamber to partner on this event. We may have a lot of similar opportunities and share a strong customer base, but engaging and empowering young professionals & developing the leaders of tomorrow is for the greater good of all the organizations involved. Besides it is great fun, great food, and great people," said Michelle Day, Rockville Chamber of Commerce President & CEO.
A person goes into business for many reasons, primarily to make money sure. However, with more attention being placed on corporate giving and social activism, there has been a push for businesses of all sizes to give back. Giving back is good for business.
Due to the generosity of the attendees, half of the sales of the evening's 50/50 drawing was donated to A Wider Circle. For 15 years, A Wider Circle has been helping adults and children challenged by homelessness, poverty, & substance abuse. A Wider Circle's Founder, President and CEO Mark Bergel accepted the donation and had the opportunity to address the crowd on the needs and opportunities A Wider Circle offers. Learn more about them at: awidercircle.org.
Learn more about the GGCC, at: www.ggchamber.org
Learn more about the GSSCC, at: http://www.gsscc.org
Learn more about the Rockville Chamber, at: www.rockvillechamber.org
Learn more about the Leadership Montgomery, at: www.leadershipmontgomerymd.org
Learn more about the Greater Bethesda Chamber, at: www.greaterbethesdachamber.org
#