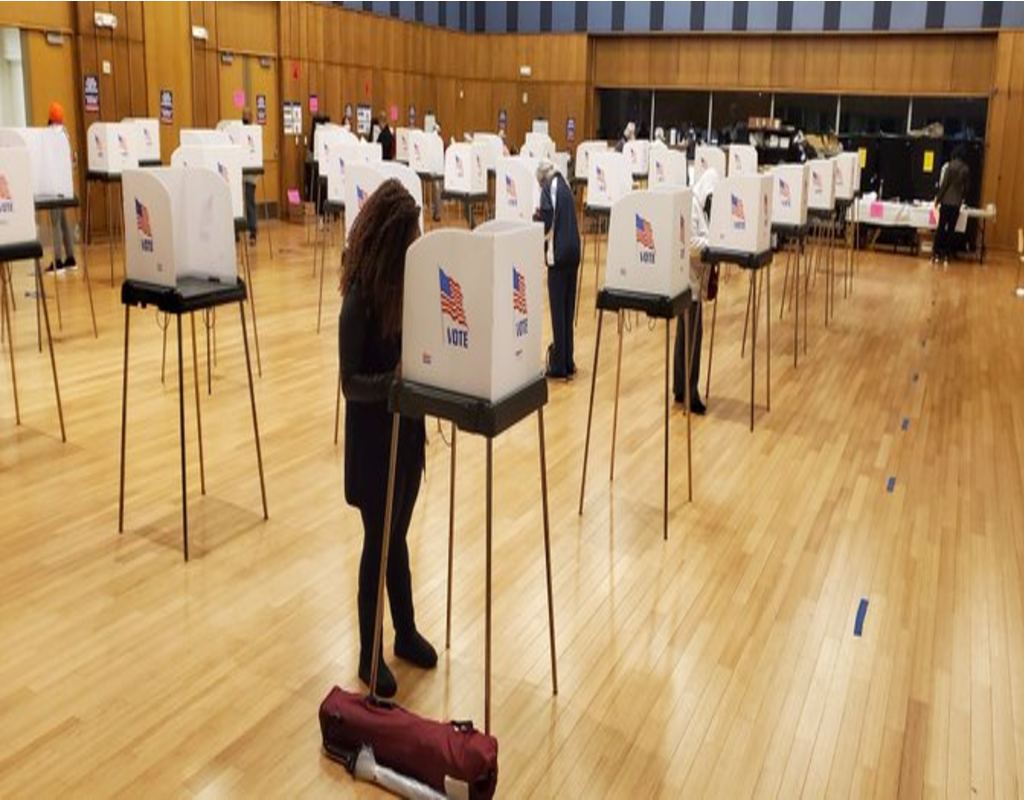 Where to Vote in Montgomery County on Election Day
Montgomery County voters have several options where they can cast their ballot on election day. Any registered voters can cast their ballot at any one of Montgomery County's 28 Election Day voting centers and 11 early voting centers.
The hours of operation for each voting center is 7 a.m. to 8 p.m.
Where to Vote on Election Day in Montgomery County
Albert Einstein High School, 11135 Newport Mill Rd, Kensington, 20895
Bethesda-Chevy Chase High School (Cafeteria and Gym), 4301 East-West Hwy, Bethesda, 20814
Clarksburg Highschool, 22500 Wims Rd, Clarksburg, 20871
Col. Zadok Magruder High School, 5939 Muncaster Mill Rd, Rockville, 20855
Damascus High School, 25921 Ridge Rd, Damascus, 20872
Gaithersburg High School, 101 Education Blvd, Gaithersburg, 20877
James Hubert Blake High School, 300 Norwood Rd, Silver Spring, 20905
John F. Kennedy High School, 1901 Randolph Rd, Silver Spring, 20902
Montgomery Blair High School, 51 University Blvd East, Silver Spring, 20901
Montgomery Co. Conference Ctr at Marriott Bethesda North, 5967 Executive Blvd, North Bethesda, 20852
Nancy H. Dacek N. Potomac Community Recreation Center, 13850 Travilah Rd, Rockville, 20850
Northwest High School, 13501 Richter Farm Rd, Germantown, 20874
Northwood High School, 919 University Blvd West, Silver Spring, 20901
Paint Branch High School, 14121 Old Columbia Pike, Burtonsville, 20866
Poolesville High School, 17501 West Willard Rd, Poolesville, 20837
Quince Orchard High School, 15800 Quince Orchard Rd, Gaithersburg, 20878
Richard Montgomery High School, 250 Richard Montgomery Dr, Rockville, 20852
Rockville High School, 2100 Baltimore Rd, Rockville, 20851
Seneca Valley High School, 19401 Crystal Rock Dr, Germantown, 20874
Sherwood High School, 300 Olney-Sandy Spring Rd, Sandy Spring, 20860
Springbrook High School, 201 Valley Brook Dr, Silver Spring, 20904
Thomas S. Wootton High School, 2100 Wootton Pkwy, Rockville, 20850
Walt Whitman High School, 7100 Whittier Blvd, Bethesda, 20817
Walter Johnson High School, 6400 Rock Spring Dr, Bethesda, 20814
Watkins Mill High School, 10301 Apple Ridge Rd, Gaithersburg, 20879
Wheaton High School, 12401 Dalewood Dr, Silver Spring, 20906
White Oak Community Recreation Center, 1700 April Ln, Silver Spring, 20904
Winston Churchill High School, 11300 Gainsborough Rd, Potomac, 20854
Montgomery County voters can also mail in their ballots or drop off their mail-in ballots at any drop box locations by Nov. 3, 2020 by 8 p.m. If you mail your ballot, it must be postmarked on or prior to November 3, 2020 to be counted. For location updates, go to elections.maryland.gov/2020.
Visit the Montgomery County Board of Elections website to view more information on early voting, including wait times for each center, updated hourly during voting hours.
Related Posts:
Ballot Drop Boxes Available in Montgomery County for 2020 General Election
Early Voting Centers Open Oct. 26 to Nov. 2 in Montgomery County