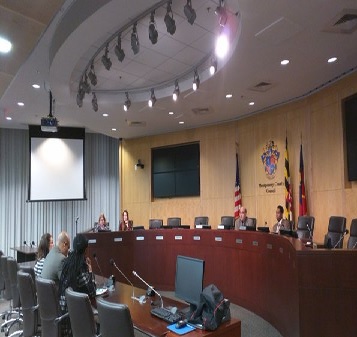 Refugee Advocates Brief HHS Committee on Resettlement Programs (PHOTO)
The Montgomery County Council Health and Human Services Committee held a meeting on Thursday to discuss resettlement programs for refugees and asylum seekers. The meeting took place in the third floor conference room at the Council office building in Rockville.
According to data from the Maryland Office for Refugees and Asylees, 2,256 refugees and 2,181 asylees resettled in Montgomery County between fiscal years 2010 and 2014 . The majority of refugees are from Iraq while most asylees are from Ethiopia.
An eight member panel updated Committee Chair George Leventhal and Councilmember Craig Rice on relocation programs and different types of assistance.  The top issues discussed include affordable housing, work placement, childcare, food assistance, and education programs. The panel included representatives from the Ethiopian Community Development Council, the International Rescue Committee, Lutheran Services Center, the County's Department of Health and Human Services (DHHS), Gilchrist Center for Cultural Diversity, and the International Cultural Center.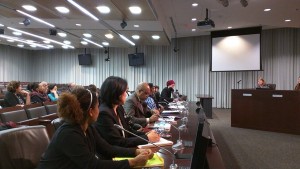 Kaori Hirakawa is the Program Manager at the Gilchrist Center for Cultural Diversity.
"We welcome everyone and we do our best to help them. We provide English classes, [information about] citizenship and we also have a legal clinic. All these things would help immigrants survive and then hopefully resettle in this country….We do hear [about] a lot of housing issues because its so expensive to live in Montgomery County. If you're starting your life over with a minimum wage job, how can you afford to pay $1,300 a month for rent, and feed yourself, get clean clothes and all the other things," Hirakawa said.
Nouf Bazaz is the Crossroads Program Director for the International Cultural Center in Gaithersburg.
A lot of the people that we work with, youth and adults, the thing that they're struggling with is that they're placed in very distressing environments. Any of us placed in their situation would find it very troubling and distressing. Whether it's issues [with] their families, employment, language or housing. These are all things that take a considerable toll on them," Bazaz said.
#refugee advocates at HHS Committee meeting say more funding from @MontgomeryCoMD for housing would be helpful @mymcmedia

— Willie James Inman (@imwilljames) February 4, 2016
46% of asylum seekers in Maryland live in Montgomery County per @MoCoDHHS officials @mymcmedia

— Willie James Inman (@imwilljames) February 4, 2016
Full panel of witnesses for today's @MoCoCouncilMD HHS Committee meeting on #refugees pic.twitter.com/bOJBsWCLwG

— Willie James Inman (@imwilljames) February 4, 2016
Related: