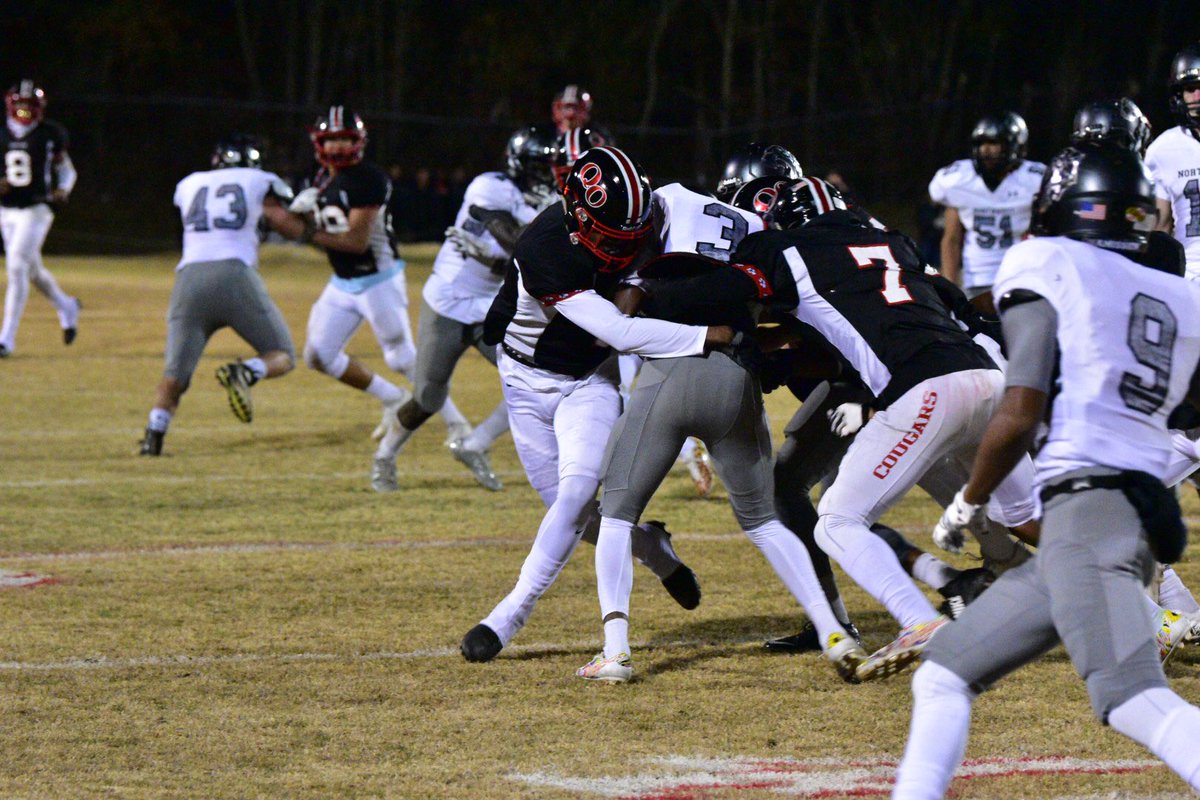 QO Cougars Advance in 4A State Playoffs with Win Against Northwest Jaguars, 31-20 (PHOTOS)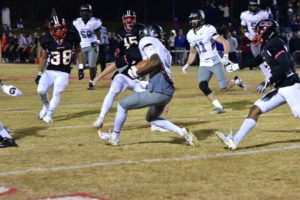 The Quince Orchard high School varsity football team hosts the Northwest Jaguars in the Cougar Dome in Gaithersburg for the 4A West regional championship game Friday night, Nov. 17.
Northwest scores first with minutes left in the first quarter, making the score 0-7, Northwest. Northwest stops QO's ground game and at the end of the first quarter the score is QO 0 – Northwest 7.
Northwest strikes again on a 47-yard pass for a touchdown but are unable to make the extra point. With under six minutes left in the first half, Northwest keeps the lead 0-13.
Quince Orchard scores on fake end around quarterback, QO's Seckret Murphy scampers up the middle for a 50-yard touchdown. With less than four minutes in the first half, the score is Quince Orchard 7 – Northwest 13.
Northwest quarterback Chris Craddock injures left leg and has to leave the game. Quince Orchard intercepts and scores touchdown with just 10 seconds left in the half. At half time, score is 13-14, Quince Orchard.
Quince Orchard moves the ball down the field with a 24-yard pass play and scores on a 35-yard field goal. With 8:30 left in 3rd quarter, score 14-17, QO.
With 2nd and 24 yards to go, Northwest completes a 75-yard pass play to put the ball on the QO 8-yard line. On the next play, Northwest scores and regains the lead. Score Northwest 20 – Quince Orchard 17.
Quince Orchard scores a touchdown in the fourth quarter with just 8:14 minutes remaining in the game, making the score 20-24, Quince Orchard.
With under four minutes in the game, Northwest fumbles deep in their territory and Quince Orchard recovers and scores another touch down, streching their lead to 20-31.
With this win, Quince Orchard advances to the state semifinals as the 4A West Regional Champions.
PHOTOS | Daryl Schultz
NW fumbles deep in their territory QO recovers and scores 31-20 with 3:56 remaining in game

— BayCountryPhoto (@SurfFishOBX) November 18, 2017
QO scores with 8:14 remaining in game now leads NW 24-20 pic.twitter.com/hC9KXDY5wQ

— BayCountryPhoto (@SurfFishOBX) November 18, 2017
NW had 2nd and 24 yards to go and completed a 75 yard pass play to put the ball on the QO 8 yard line then scored on the next play 20-17 NW over QO

— BayCountryPhoto (@SurfFishOBX) November 18, 2017
QO moves the ball down the field with a 24 yard pass play and scores on a 35 yard field goal 17-14 QO over NW. 8:30 left in 3rd QT pic.twitter.com/T6y24ARfYD

— BayCountryPhoto (@SurfFishOBX) November 18, 2017
NW starting QB out of the game with a knee injury NW backup QB throws interception QO scores on possession 14-13 QO half is winding down 10 sec left

— BayCountryPhoto (@SurfFishOBX) November 18, 2017
QO scores on fake end around quarterback #8 up the middle untouched for 50 yard scamper 13-7 3:08 remains in first half

— BayCountryPhoto (@SurfFishOBX) November 18, 2017
Northwest strikes again on a 47 yard pass for a TD point after fails 13-0 over QO 5:56 remain in first half pic.twitter.com/lmdVaPQ2wu

— BayCountryPhoto (@SurfFishOBX) November 18, 2017
#FNL Northwest scores first with 3:41 left in first quarter 7-0 pic.twitter.com/a5j2BQMKLt

— BayCountryPhoto (@SurfFishOBX) November 18, 2017