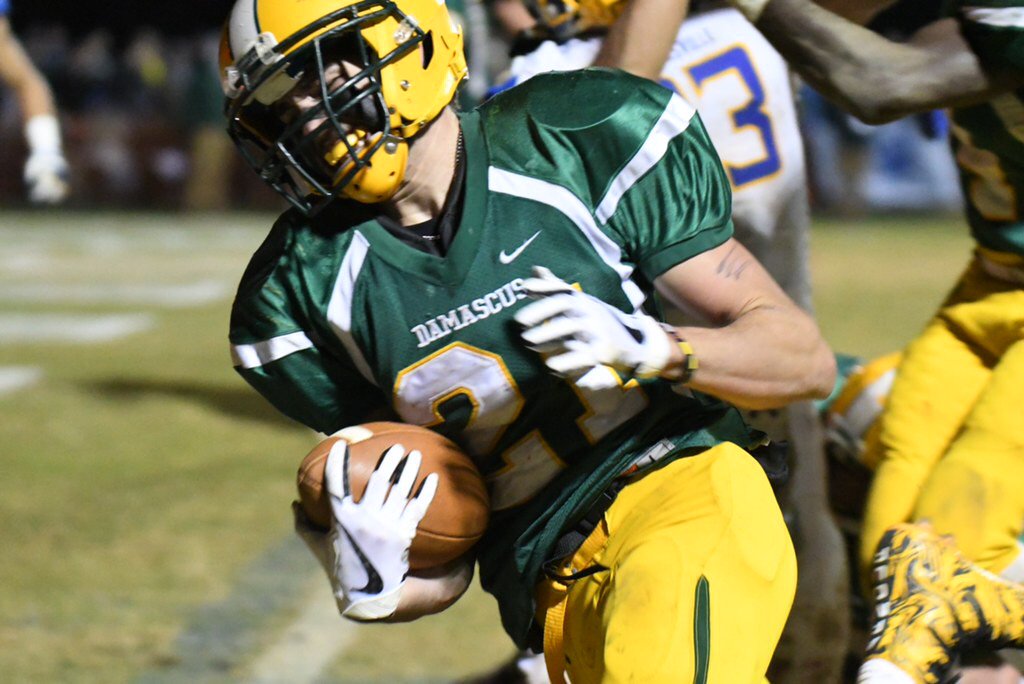 Damascus Swarmin Hornets 2A West Regional Champions with 7-3 Win Over Walkersville (PHOTOS)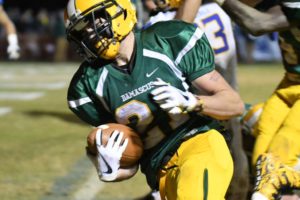 Congratulations to the Damascus Swarmin Hornets on their 40th straight win making them the 2017 2A West Regional Champions.
The 2A West playoff game between the Walkersville Lions and the Damascus Swarmin Hornets took place in Damascus. It was standing room only as all the bleachers were filled with supporters of both teams.
At the half, neither team had put any points on the board, so the score was 0-0.
Then in the 3rd quarter, the Lions scored first with a field goal. At the end of the 3rd quarter the score was 3-0, Walkersville.
Damascus scored a touch down in the 4th quarter, making the score 7-3, Damascus.
The final score was 7-3, Damascus.
PHOTOS | Phil Fabrizio

Play of the game was Furgeson's 60 yd run from scrimmage to set up winning drive. Final Damascus 7 Walkersville 3. pic.twitter.com/3BCvvBEWCD

— MyMCMedia (@mymcmedia) November 18, 2017
#85 intercepts for Damascus. Walkersville turns over the ball with 5:05 left in the game. @Photoloaf

— MyMCMedia (@mymcmedia) November 18, 2017
Touchdown Damascus. 7-3 in the 4th quarter. 10:41 remains.@Photoloaf pic.twitter.com/v9OGVkcXGc

— MyMCMedia (@mymcmedia) November 18, 2017
End of 3rd quarter Walkersville 3 Damascus 0. @Photoloaf pic.twitter.com/QLLVYV9QRq

— MyMCMedia (@mymcmedia) November 18, 2017
FG @walkersvillefb makes it 3-0 in the 3rd @mymcmedia pic.twitter.com/lAhitB1Gno

— Phil Fabrizio (@Photoloaf) November 18, 2017
No score at halftime as Walkersville and Damascus slug it out @mymcmedia pic.twitter.com/zZeAttJWYc

— Phil Fabrizio (@Photoloaf) November 18, 2017
FG attempt wide left. Still no score in Damascus @mymcmedia pic.twitter.com/rgF8fCy3vJ

— Phil Fabrizio (@Photoloaf) November 18, 2017
FUMBLE! Dmass fumbles at the 14 and Walkersville recovers. 10:24 in the 2nd Qtr @mymcmedia pic.twitter.com/s0kZ9CIy2w

— Phil Fabrizio (@Photoloaf) November 18, 2017
National Anthemis up next ad teams leave the field from warm ups @mymcmedia pic.twitter.com/fdsTIIJc7p

— Phil Fabrizio (@Photoloaf) November 17, 2017
Game time 36 min away. Crowd is here Traffic jams all over Damascus @mymcmedia @WalkersvilleFB @DmassFootball pic.twitter.com/MBtQEnrnkf

— Phil Fabrizio (@Photoloaf) November 17, 2017
This Playoff football, country music blaring, two small towns, big football hearts, cold weather and a SRO crowd. @mymcmedia Hometown Dmass pic.twitter.com/cYTBa6aSlK

— Phil Fabrizio (@Photoloaf) November 17, 2017
2AW MPSSAA Playoffs – 2nite in Damascus for a #BattleBTWUnbeatens as defending MD 2A Champs @WalkersvilleFB meets MD 3A Champ @DmassFootball. A Hornets Swarm in the #BigD at 7PM. Best #mocogameday of the year as @mymcmedia will B there.. @DHS_Hornets pic.twitter.com/UL1d2u2iWO

— Phil Fabrizio (@Photoloaf) November 17, 2017