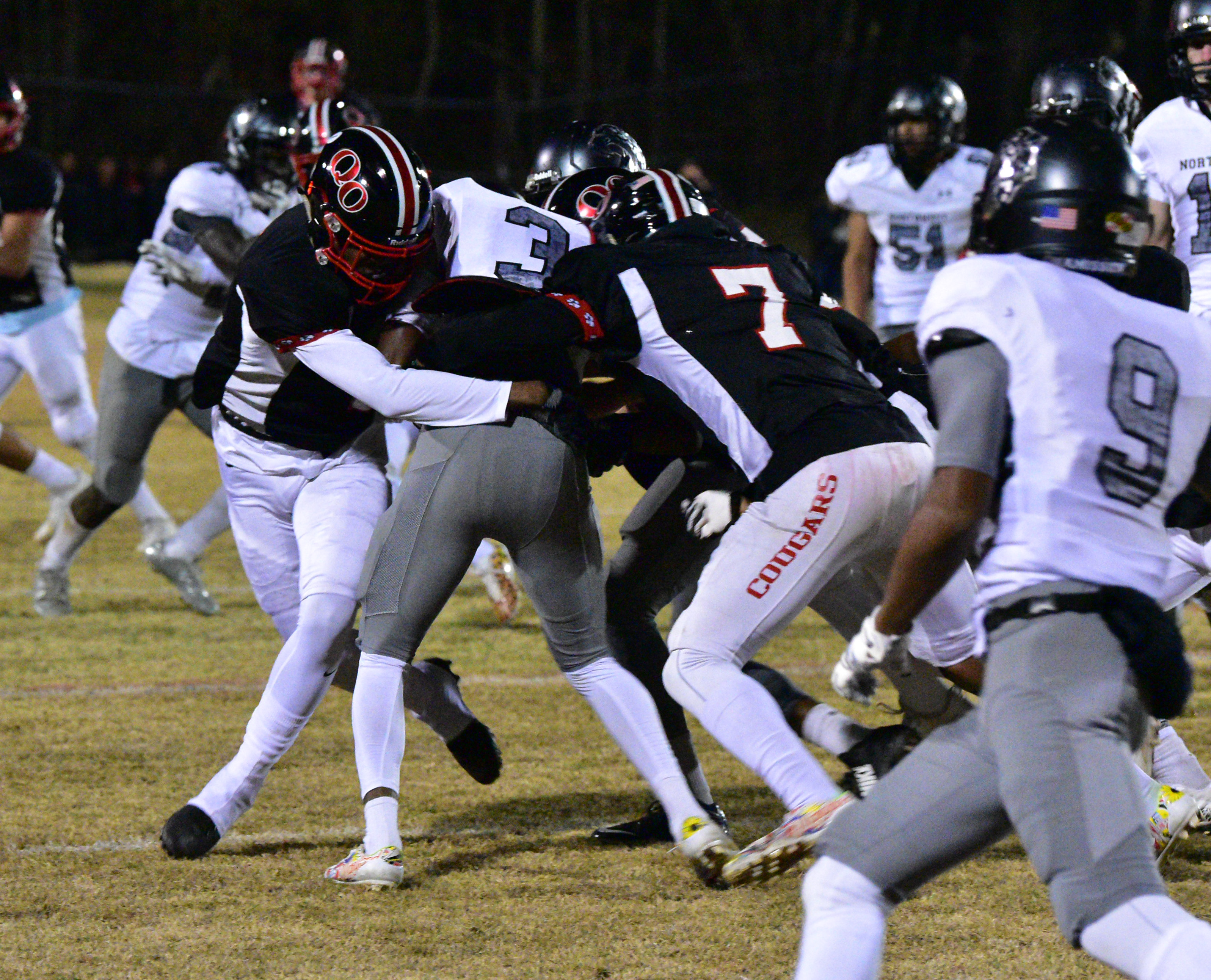 Quince Orchard Defeats Visiting Rival Northwest 31-20 Before Near Sell Out Crowd
Gaithersburg, Maryland Quince Orchard High School MSPPAA Regional Championship 11-17-17
The rivalry between Quince Orchard and Northwest is well known among Montgomery County football fans.  Northwest has been able to defeat QO in previous playoff meetings in past seasons.  At the beginning of the game it seemed the pattern of previous meetings was going to continue.
Northwest took the early lead scoring a touchdown with 3:41 remaining in the first quarter.  The Cougars ground game was being stopped by the Jaguar defense as the quarter ends 7-0.
The second quarter again had Northwest scoring again on a 47 heard touchdown pass making it 13-0 after a missed point after with 5:56 remaining in the half.
Quince Orchard needed a spark to change the momentum.  The spark came with 3:08 in the half open a fake end around and the QO quarterback running nearly untouched to the end zone for the touchdown.  The momentum had shifted.
Northwest's starting quarterback was knocked out of the game with a knee injury and would not return to the contest.  The backup Northwest QB threw an interception and QO was able to score on the change of possession to make the score 14-13 at the half.
Quince Orchard's momentum continued in the second half during their first possession moving the ball deep into Northwest territory with a 24 yard pass.  That drive stalled but with the strong foot of senior Evan Judge a 35 yard field goal made it 17-13 Cougars four minutes into the third quarter.
Northwest was not done and with a 2 and 24 yards to go launched a 75 yard pass play to put the ball on the QO eight yard line.  The Jaguars scored obj the next play and the quarter ended 20-17 with Northwest on top.
The Cougars scored again with 3:56 remaining in the game and the Jaguars fumbled on their next possession and QO recovered the ball and ran it in the end zone for their final touchdown with time running out on NW.
The final score was 31-20 with Northwest falling to Quince Orchard in a game that began with the Jaguars in complete control.
Good luck to the QO Cougars as they move on to the MSPPAA State semi finals November 24 – 25
Daryl Schultz
Pictures to follow…