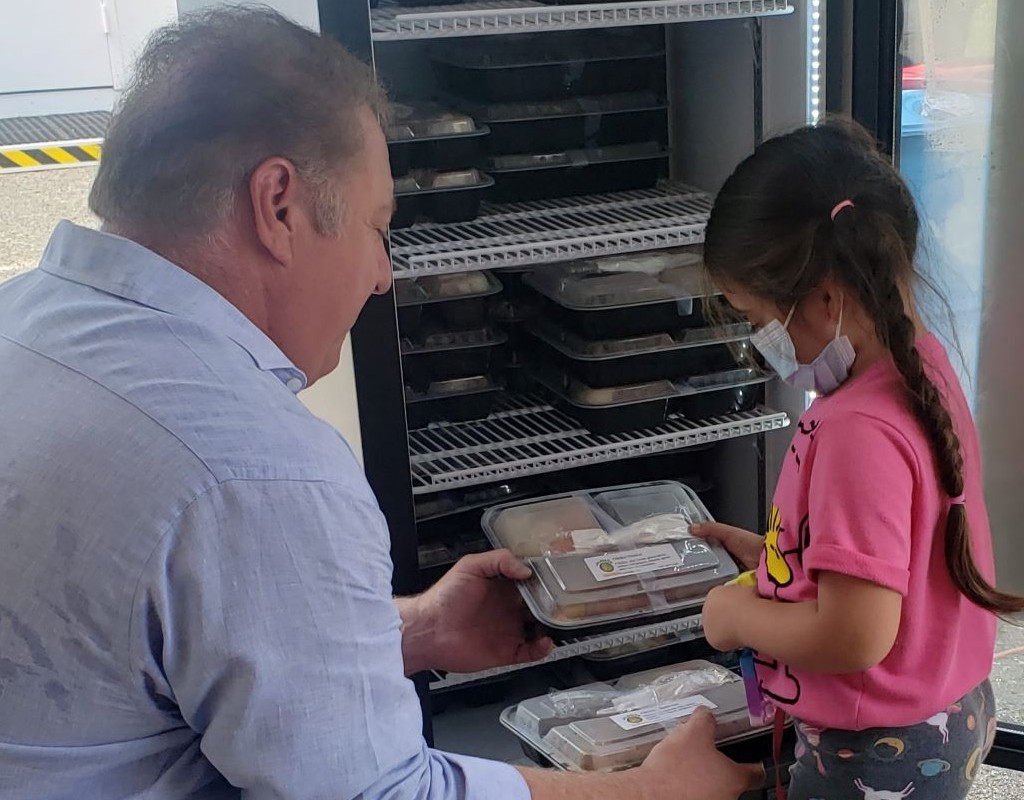 Programa 'Feed the Fridge' en Clínica Mary's Center de Silver Spring Busca Erradicar el Hambre
Un refrigerador lleno de comidas saludables con calidad de restaurante ahora está disponible en la Clínica Mary's Center de University Boulevard, en Silver Spring. Este programa piloto surgió a través de una inversión inicial de Food for Montgomery, la iniciativa público-privada dirigida por la Greater Washington Community Foundation, el condado de Montgomery y el Consejo de alimentos del condado de Montgomery.
— FeedTheFridge | Nourishment With Dignity (@FeedFridge) July 21, 2021
Feed the Fridge coloca refrigeradores en centros de recreación, escuelas y cerca de centros para personas mayores en todo el área metropolitana de Washington, D.C. Cualquiera es bienvenido a recoger una comida. No es necesario presentar comprobante de ingresos.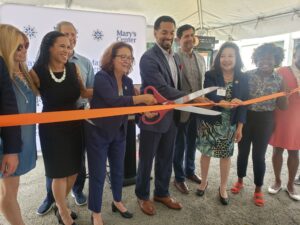 "Esto siempre fue un sueño", dijo Mark Bucher, fundador de Feed the Fridge. "Esto es una prueba. Vamos a resolver y erradicar el hambre en el condado de Montgomery. Ese es nuestro objetivo. Este es el primer paso de un recorrido que llevará algún tiempo. Quiero que nos vayamos en 20 años". expresó, imaginando el día en que nadie pasará hambre.
María Gómez, presidenta y directora ejecutiva de la Clínica Mary's Center, enfatizó que no sólo era importante asegurarse de que nadie pasara hambre, sino hacerlo de una manera que les dé a las personas dignidad y sientan que están recibiendo un regalo, no una limosna.
En las últimas cinco semanas desde que se colocó el refrigerador en Mary's Center, se han distribuido 1.500 comidas. Durante la ceremonia de apertura, dos personas pasaron a recoger su comida.
Gómez dijo que creció con hambre. "Podría haber tenido más sueños, pero no pude, porque tenía demasiada hambre".
Anna Hargrave, directora ejecutiva de la Fundación Comunitaria Greater Washington para el condado de Montgomery, recordó a todos que "por un giro del destino, cualquiera de nosotros podría tener hambre".
Si bien el condado está volviendo a la normalidad después de la pandemia, Hargrave señaló que muchos todavía no tienen trabajo y no pueden pagar el cuidado de los niños. "No existe una vacuna para el hambre", agregó.
La senadora de Maryland, Susan Lee, elogió a todas las organizaciones involucradas, y señaló que a nivel estatal, "tenemos su espalda, frente y costado", y agregó: "No deberíamos tener que tener a nadie, ningún niño, pasando hambre".
Según la delegada de Maryland, Pamela Queen, hay 74.000 residentes del condado que viven en la pobreza. "Eso es más que la población total de nueve condados en este estado". El concejal Gabe Albornoz señaló que 230.000 residentes del condado solicitaron el beneficio por desempleo durante la pandemia.
"Covid no causó hambre. No piense ni por un minuto que lo hizo. Covid nos enseñó cuán ineficiente es nuestro sistema de apoyo", dijo Bucher.
El refrigerador está adornado con los lemas "porque importas", "porque eres nuestro futuro" y "porque trabajas duro".
#FeedTheFridge has installed 22 refrigerators across the #DMV, and the newest one is right here in D20 at @MarysCenter! Anyone is welcome to walk up and grab meals from the fridge – no questions asked. #NourishmentWithDignity #MealSecurity @feedfridge pic.twitter.com/OIcn8wiq9R

— Jheanelle Wilkins (@JheanelleW) July 21, 2021
.@FeedFridge has a new fridge full of free, quality meals for anyone facing food insecurity at @MarysCenter in Silver Spring, an awesome provider of community health services. We enthusiastically support Feed the Fridge!

Consider helping if you can: https://t.co/LvuV48zqrz pic.twitter.com/nz9z6L28Im

— Councilmember Andrew Friedson (@Andrew_Friedson) July 21, 2021
It's official: Feed the Fridge's Mary's Center fridge is open and filled with nourishing meals from Jalapeno Mexican Grill! Thank you to today's speakers, @MarysCenter, @communityfndn, @CrossroadsNtwk & @MoCoCouncilMD for your support as we fight to irradicate hunger in #MoCo. pic.twitter.com/rW9E5Uu9ov

— FeedTheFridge | Nourishment With Dignity (@FeedFridge) July 21, 2021