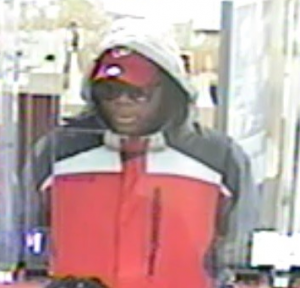 Police Need Your Help to Identify Bank Robbery Suspect (PHOTOS)
Montgomery County police officers are investigating a bank robbery that occurred on April 9 at a bank in the Layhill area and they they are hoping you can help identify the suspect.
According to a police account, on April 9 at approximately 10:45 a.m., 4th District officers responded to the Sandy Spring Bank located at 14241 Layhill Road for a report of a bank robbery.
Police say the investigation indicates that the suspect entered the bank, passed a note that demanded money, and implied that he had a weapon. The suspect obtained an undisclosed amount of cash and fled from the bank, police said.
Detectives are releasing photographs of the bank robbery suspect in hopes you may be able to identify him.
Anyone with information about the suspect's identity is asked to contact the Montgomery County Police Department – Major Crimes Division at 240.773.5070. To be eligible for a reward, tipsters may call Crime Solvers of Montgomery County toll-free at 1.866.411.TIPS (8477). Crime Solvers will pay a cash reward of up to $10,000 for information provided to them that leads to the arrest and/or indictment of this suspect. Tipsters will remain anonymous.