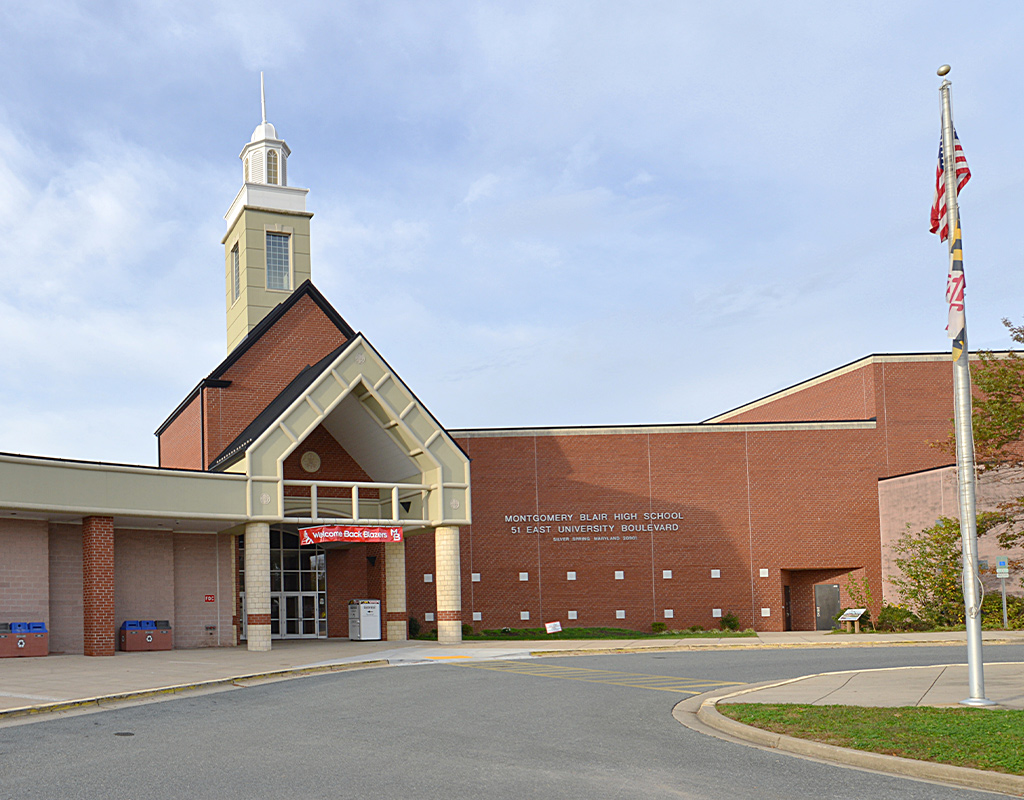 Police: Blair High School Student Stabbed in School Parking Lot
Update (5:45 p.m.): The suspect is a juvenile male, per a release from police Monday evening. He is a student at Montgomery Blair High School and charges are pending. He was taken into custody without incident, police said.
Update (2 p.m.): A suspect is in police custody, Montgomery County Police Chief Marcus Jones said on Twitter at 1:23 p.m.
The suspect from this morning's Blair HS incident is in police custody. Thanks to our officers for their quick work.

— Marcus Jones (@mcpdChief) November 8, 2021
Original (1:32 p.m.): A Montgomery Blair High School student was taken to a hospital with non-life threatening injuries after being stabbed by another student Monday morning, according to the Montgomery County Police Department (MCPD).
Police were called at 10:01 a.m. for a student who was stabbed in the school's parking lot, according to a statement sent to MyMCM by MCPD Public Information Director Shiera Goff. As of 11:53 a.m., police said the suspect is not in custody.
Both the student and suspect are Blair High school students and both are juveniles, police said.
Police said they are not releasing ages or genders at this time.
The high school temporarily went under lockdown before moving into a shelter-in-place, according to Blair Principal Renay Johnson on Twitter. She said students had lunch inside the building with police still present. Doors are being monitored, Johnson said.
Police said there is no active threat to the school and "everything is contained to this one incident."
"I am aware of, and also monitoring, this disturbing situation. I am in close contact with @mcpnews' @mcpdChief Jones [Montgomery County Police Chief Marcus Jones]," County Executive Marc Elrich wrote on Twitter.
"We are keeping the student who sustained non-life threatening injuries in our thoughts and prayers and wishing them a full and speedy recovery," County Council President Tom Hucker said during a virtual media briefing Monday. "This is heartbreaking news and we are awaiting more information from MCPD and MCPS [Montgomery County Public Schools]."
"Deeply saddened by reports of a stabbing in Blair High School's parking lot this morning," U.S. Rep. Jamie Raskin (D-Md. 8) wrote on Twitter. "I know the MCPS community will come together during this horrible trauma. My thoughts are with students, family, faculty and staff at this difficult time."
This story will be updated.
Montgomery Blair High School is in a lockdown. Students and staff are safe in the building. There was a serious incident in our parking lot. MC police and school security are working with me on this issue. I will send a letter to the school community as soon as possible.

— Renay Johnson (@blairprincipal) November 8, 2021
We have moved to a Shelter-in-Place. Students are having lunch inside the building. MC Police are still in our building. Our doors are being monitored by personnel. I will update you as more information becomes available.

— Renay Johnson (@blairprincipal) November 8, 2021