Redskins Blitz with Mike Richman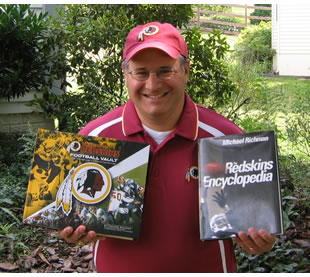 Mike Richman, a long-time Redskins fanatic who grew up in Montgomery County, is Mr. Multimedia when it comes to the Redskins.  He's also no stranger to fans of the burgundy and gold.  His web site is redskinshistorian.com.
Mike is the foremost authority on Redskins history. He authored the most comprehensive journalistic account of the franchise, The Redskins Encyclopedia, and the most unique book ever compiled on the team, the Washington Redskins Football Vault, which consists of text and Redskins memorabilia that one can touch and examine. Nearly 15,000 copies of the encyclopedia have been sold, and the vault sold out at 6,000 copies in its only print run.
In addition to authoring books, Mike is entering his fifth season as the producer and host of the TV show, Burgundy & Gold Magazine. He has garnered a series of awards for his work on the show. Most recently, he won first place for sports coverage in the nationally recognized 2013 Hometown Media Awards sponsored by the Alliance for Community Media. Mike has also hosted a radio show-podcast called Burgundy & Gold Flashback.
Mike has been interviewed extensively by print and broadcast media on Redskins history.