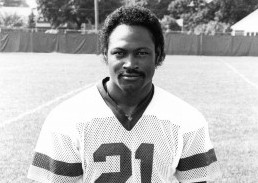 2013 Kickoff of "Burgundy & Gold Magazine"
Are you ready for a preview of the Redskins' 2013 season?
That's the theme for this season's debut of my show, "Burgundy & Gold Magazine."  The cameras will start rolling at 7:30 pm on Monday, Aug. 26 at Branded `72 Pit Barbecue on 387 Gude Drive in Rockville.
What a solid lineup!  I'll lead a panel discussion that features Mike Nelms, a 3-time Pro Bowl kick returner for the Redskins during the glory years in the 1980s.  He's a member of the NFL 1980's All-Decade team and has a ring from the Redskins' win in Super Bowl XVII.  Also with me will be Chris Russell, ESPN 980's ace Redskins beat reporter.
Fantasy football expert Carla Babb will fill us in on the top players to pick for your lineup, as well as the ones to avoid.  And of course, famous Redskins fanatic SuperSkin will be back to pump up the audience with his enthusiasm and charisma.
We'll cap the show with predictions.  The Redskins are coming off a dramatic 10-6 playoff season.  Can they ride that momentum to something bigger and better — maybe the Super Bowl?  Find out what my panel thinks on Aug. 26.
For more information, check out my web site, redskinshistorian.com, or go to Branded 72's site.
Look forward to seeing you there!