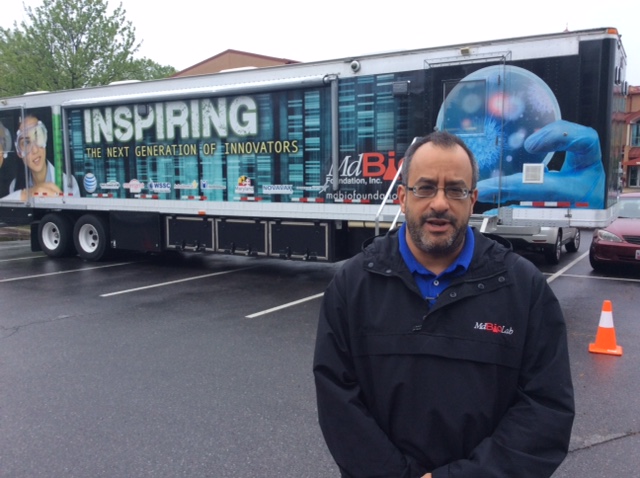 Mobile MdBioLab Visits Germantown (PHOTOS & VIDEO)
The MdBioLab made a stop at the Upcounty Regional Services Center in Germantown on Monday.
"We are here today to actually introduce job seekers here in Montgomery County to opportunities and careers in biotechnology, life sciences and health sciences," said Brian Gaines, CEO, MdBio Foundation.
According to Gaines, Montgomery County is the epicenter for biotechnology in the state of Maryland.
"In Maryland, there are over 500 companies that are engaged in biotech, life sciences, health sciences, healthcare information technology, so it is a wide range of companies," Gaines said. "There are literally thousands of jobs right here in Montgomery County as well as across the state of Maryland."
The idea of the visit was so job seekers at the county's One Stop Career Center could learn firsthand about this growing industry. For one, you don't have to have a college degree in science to land a job in the biotech industry.
"These companies are hiring all different types of folks, from human resources to marketing to regulatory affairs in addition to science backgrounds. Of course, if you have a science background that always helps but that is not necessarily required for these positions," said Gaines.
Inside the Career Center at this BioTrain event, job seekers could learn about the companies and opportunities in Montgomery County. Inside the mobile lab, visitors could take part in hands on experiments and activities that mirror what may be going on at a typical life science of biotech company.
"The average salary for a STEM [science, technology, engineering, math] worker in the state of Maryland is $82,000," said Gaines.
"Our goal is to increase the awareness and the opportunities for people to go into biotechnology in Montgomery County," said Shawn Huntley, vice president of community services for WorkSource Montgomery, Inc. "We believe it is one of the top career growth fields in the area, so we are out promoting it. Our goal is by bringing the lab on location is to do outreach so people can come in and sample a little bit of what it feels like to be in a lab."
Huntley said this is event was more about education and not recruitment. She said it is the second time the MdBioLab has visited, and she hopes to host it at the center's Wheaton location in the fall.
Biotech is a great career option for those who want to make their home in Montgomery County, Huntley said, because there are so many jobs in this area and because the industry is continuing to grow.
She added that there are lots of resources and support for those interested in entering the biotech sector.
According to Huntley, Montgomery College offers an 18-month certification program and a two-year degree program.
For more information, visit biotrain.org.