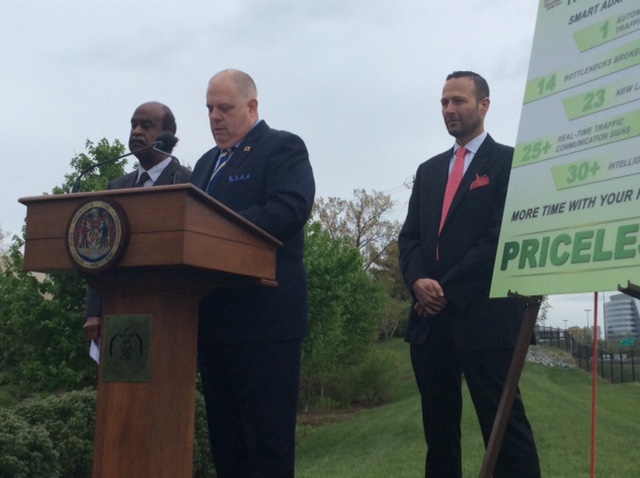 Maryland Governor Larry Hogan Announces $100 Million Project to Reduce Traffic Congestion on I-270 (VIDEO)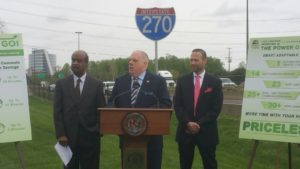 At a news conference in Potomac today, Maryland Governor Larry Hogan announced a $100 million project to reduce traffic congestion on I-270. According to the governor, I-270 is the most congested traffic corridor in the state of Maryland.
His plan includes restructuring existing pavement for additional lanes, automated smart traffic flow management and messaging signs to provide real time communication for drivers.
Hogan said when the system is implemented later this year, some commuters will save up to 30 minutes on their morning commute.
And there was more. Hogan said work would soon begin on the Watkins Mill Road intersection and other road projects in Montgomery County.
"We are investing more than $450 million in state highway projects just here in Montgomery County, that's more than any jurisdiction in the state of Maryland, " Hogan said.
Watch the governor's comments, below:
Montgomery County Executive Ike Leggett said he wanted to thank the governor for his commitment to easing traffic congestion in Montgomery County.  Leggett said the investment would pay off for the entire region.
"Easing congestion won't only improve the quality of life of so many in Montgomery County but it will also spur economic development by making our region more attractive for new and expanding businesses to locate here," said Leggett. "I simply want to applaud the governor's efforts to provide fast track congestion relief. I look forward to working with him, his administration, to implement this plan for innovative traffic management solutions on the busiest and the most important roadway in the entire state of Maryland, right here in Montgomery County."
Montgomery County Council President Roger Berliner also thanked the governor for his investment in Montgomery County. "My hope, and the hope of my colleagues, is that this is the beginning of the story, not the end of the story," said Berliner, who stressed the need for robust improvements to I-270 all the way to the American Legion Bridge.
"We hope to work in partnership with you on transit as well as road improvements in the years ahead," said Berliner.
Also at the news conference on Wednesday, Bethesda resident Judith Vandegriff who said she wanted to learn more about the improvements because she drives on I-270 regularly to get to and from work.
"The exits and entrances need to be fixed, and traffic needs to be better controlled," said Vandegriff.
Bethesda resident Judith Vandegriff said she attended @LarryHogan news conference to learn more about improvements coming to I-270. pic.twitter.com/S23Mr4r1ZP

— Sonya Burke (@SonyaNBurke) April 19, 2017
BY THE NUMBERS:
I-270 corridor is 34.4 miles long.
I-270 carries 79,400 to 261,2022 vehicles each day.
By 2030, I-270 daily volumes expect to increase to 107,000 to 290,000 vehicles each day.
Smart Traffic System
Project breaks 14 bottlenecks and adds 23 new lane miles, 25+ real time traffic communication signs and 30+ intelligent signals to work together for traffic management.
Extended merge lanes at MD 80 southbound, MD 109 southbound, MD 121 to Comus Road Bridge.
Additional exit lane at I-270 southbound at I-370 exit.
Continuous flow lane at I-270 southbound HOV to I-495 westbound.
New third local lane at:  MD 124 to new Watkins Mill Road Interchange (northbound); New Watkins Mill Road interchange to Middlebrook Road northbound; Shady Grove Road to south of Gude Drive (southbound); MD 28 to MD 189 (northbound and southbound); MD 189 to Montrose Road (southbound).
Shoulder becomes HOV lane.
New express lane: Montrose Road to Democracy Boulevard (northbound and sountbound).
Automated smart traffic flow management with cameras and sensors to communicate traffic density.
Real time communication traffic management with messaging signs.
In Potomac, @LarryHogan announces project to reduce traffic congestion on I-270, may save some commuters up to 30 minutes a day. @mymcmedia pic.twitter.com/hxtypwxeTI

— Sonya Burke (@SonyaNBurke) April 19, 2017
County Executive Leggett thanks @LarryHogan for his attention to the I-270 corridor. @mymcmedia pic.twitter.com/pIFXpQ1oNF

— Sonya Burke (@SonyaNBurke) April 19, 2017
.@LarryHogan announces $100 million project to reduce congestion on I-270. @mymcmedia pic.twitter.com/MovILG9Hyf

— Sonya Burke (@SonyaNBurke) April 19, 2017
In Potomac for @LarryHogan news conference about I-270 as this vehicle arrives. @mymcmedia pic.twitter.com/i5F5jzTntY

— Sonya Burke (@SonyaNBurke) April 19, 2017
Gov. Larry Hogan & SHA Admin Gregory Slater doing interviews after the I-270 announcement. Watch here: https://t.co/Debkwm5Ncw sf #mdotnews pic.twitter.com/cMcoz9n5Rr

— MD State Highway Adm (@MDSHA) April 19, 2017
.@LarryHogan addresses media about "innovative" changes planned for terminally congested I-270 in Montgomery Co. #mdotnews pic.twitter.com/93LbQAXMos

— MDTransportationDept (@MDOTNews) April 19, 2017