Long Branch Pool Opening Delayed A Second Time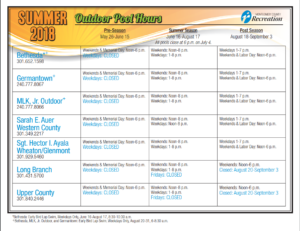 The opening of Long Branch Pool had been delayed a second time due to the need for additional repairs.
The pool was initially kept closed so contractors could refinish the watertight white coat layer of the pool and replace lane marker tiles.
During this work, contractors found an unusually high number of holes and cracks in the pool surface, county spokesperson Carmen Berrios said. In addition, the base for the new tile was not setting properly.
The unusually large amount of rainfall this year increased ground water pressure underneath the pool, causing it to shift and the existing white coat layers to break apart, Berrios said.
This is the first renovation of the pool to involve more than just a new layer of white coat since it was built in 1970.
Montgomery Recreation expects repairs to be completed later this month, weather permitting.
Updates will be posted on the Recreation department's website, Twitter @MoCoRec and Montgomery County Recreation's Facebook page.
The county's other outdoor pools are open.