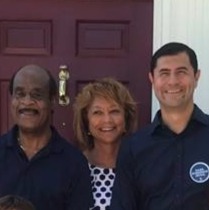 Leggett Endorses Albornoz in County Council Race
County Executive Ike Leggett endorsed his recreation director's campaign to become an at-large County Council member Saturday.
Leggett's announcement came via Gabe Albornoz's Facebook page.
Albornoz, 41, of Kensington is running in the Democratic primary for one of four at-large seats on the council.
"I think he sees the big picture for the entire county," Leggett said Monday. "He understands how issues are interconnected."
Albornoz understands all facets of state and local government.
"And he's an extremely nice guy who listens," Leggett said.
Leggett said Albornoz is one of the "top tier candidates" running.
Leggett said he has also endorsed Councilmember Hans Riemer, the only incumbent at-large member running in the 2018 elections.
The county executive said he would endorse other council candidates as the election season progresses.
He also said Prince George's County Executive Rushern Baker should be governor. Baker is Leggett's former law student at Howard University.
Previous Posts: