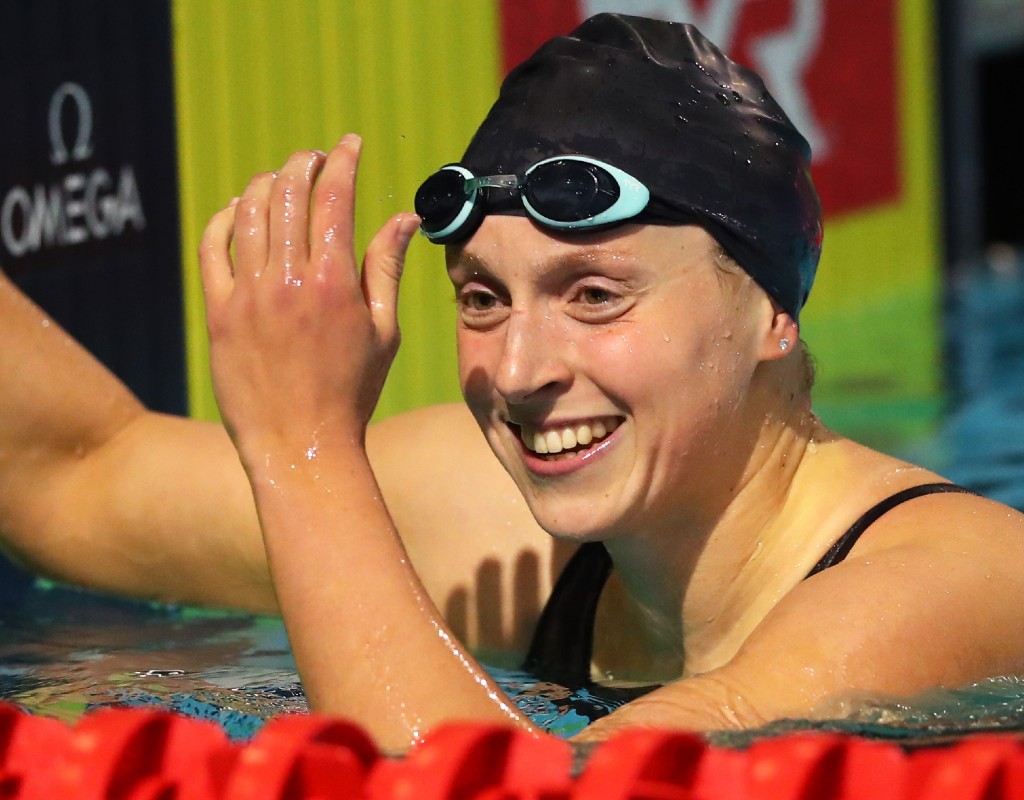 Ledecky Caps Tokyo Games with 7th Career Gold Medal
One of the greatest swimmers in Olympic history added to her legend in her final swim at the Tokyo Olympic Games. Katie Ledecky, the Bethesda native and Stone Ridge School graduate, will be bringing yet one more gold medal back home with her.
Ledecky led from start to finish in the women's 800-meter freestyle and was never challenged as she won her fifth medal (second gold) of the Games. She finished in 8 minutes 12.57 seconds, a comfortable 1.26 seconds ahead of second-place Ariarne Titmus of Australia, who had beaten Ledecky in the 400 freestyle earlier in Tokyo.
So what you're saying is…#TokyoOlympics x @TeamUSA

📺: NBC
💻: https://t.co/Hne9Yk1CKr
📱: NBC Sports App pic.twitter.com/4TbBR55NZQ

— #TokyoOlympics (@NBCOlympics) July 31, 2021
It was Ledecky's 10th Olympic medal – seven gold and three silver. It also was her sixth individual gold medal, the most of any female swimmer ever. And it was her third consecutive gold medal in the 800 freestyle, making Ledecky just the fourth swimmer ever to win the same individual event in three consecutive Olympics.
Reminder that Ledecky's winning streak in the 800 remains intact stretching to 2010, when she was 13 and her cap came off during the race. https://t.co/uuXOUU7M1L

— Pat Forde (@ByPatForde) July 31, 2021
"It's awesome," Ledecky said in a poolside interview with NBC. "I just wanted to finish on a really good note. I'm so happy – in a lot of pain too."
Ledecky burst onto the swimming scene when she won gold for her first Olympic medal in the 800 freestyle at the London 2012 Olympic Games. At Rio 2016, Ledecky won four gold medals and one silver. In Tokyo, she won two more gold and two silver, cementing her place in the sport.
𝐆𝐨𝐥𝐝𝐞𝐧 𝐠𝐢𝐫𝐥 🥇✨

With this 800m free win, @katieledecky earns her 10th Olympic medal! #TokyoOlympics x @TeamUSA pic.twitter.com/bgfNCdXPBR

— USA Swimming (@USASwimming) July 31, 2021
It remains to be seen if Ledecky will continue swimming, with an eye on the Paris 2024 and Los Angeles 2028 Olympics. She was asked about her future and responded emphatically before leaving the door open to make a decision at a later time.
"That was not my last swim," Ledecky said. "I'm at least going to '24, maybe '28. We'll see. No, I just knew it was my last swim here. You never take anything for granted. You don't know if you're going to be back the next Olympics. So just try to soak it all in."
Just minutes before Ledecky's gold-medal swim, another Stone Ridge graduate narrowly missed making the podium in her first Olympic competition.
Phoebe Bacon, Stone Ridge Class of 2020 and a rising sophomore at the University of Wisconsin, was in third place for much of the 200-meter backstroke competition. But the field surged down the stretch and Bacon – who was 0.01 seconds off the best time in the semifinals — was outtouched at the final wall to finish fifth.
Bacon's time of 2 minutes 6.40 seconds was just .23 seconds from making the podium. Australian Kaylee McKeown, the 100 backstroke champion, took the gold in 2:04.68, followed by Canadian Kylie Masse (2:05.42) and Australian Emily Seebohm (2:06.17).
Related posts:
After Missing Medal in 200 Free, Ledecky Wins Gold in Debut of Women's 1500 Free
Phoebe Bacon Advances to 200 Backstroke Final; Katie Ledecky Advances to 800 Freestyle Final (Updated)