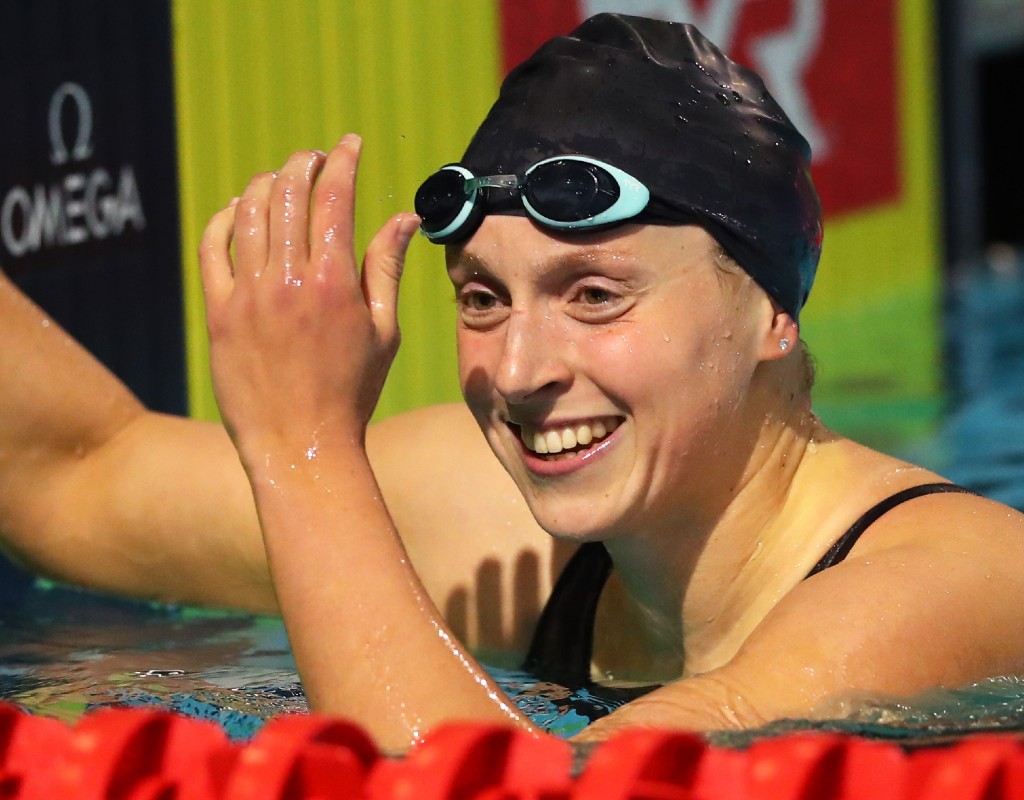 After Missing Medal in 200 Free, Ledecky Wins Gold in Debut of Women's 1500 Free
One of the greatest Olympians of all time endured perhaps the most trying moments of her incredible career.
Katie Ledecky, the Bethesda native and Stone Ridge School graduate, had never known anything other than Olympic gold in individual races until this week. But she was caught from behind and won silver in the 400-meter freestyle on Monday morning. And then in Wednesday morning's 200-meter freestyle, Ledecky was never in contention, finishing fifth as Australia's Ariarne Titmus again claimed gold.
Ledecky had little more than an hour to recover and prepare for her next race: the first-ever Olympic women's 1,500-meter freestyle.
But if Ledecky was affected by her previous results this week, it did not show. She bolted to an early lead, was ahead by a body length after just the fourth of 30 laps and pulled away from the field for the sixth gold medal of her career – the most individual gold medals ever for an American female swimmer.
PURE. DOMINANCE.

Katie Ledecky is the first Olympic champion in the women's 1500m freestyle! #TokyoOlympics #OlympicHERstory pic.twitter.com/3LzAdPOsT8

— #TokyoOlympics (@NBCOlympics) July 28, 2021
"Just wanted to get the job done tonight," Ledecky said in an NBC poolside interview as she congratulated fellow American and silver medalist Erica Sullivan, who finished four seconds behind Ledecky's winning time of 15 minutes 37.34 seconds. "It was tough after the 200. I really just put the page forward and moved on."
After the race, Ledecky leaned over to embrace Sullivan before emphatically pumping her fist and yelling in a show of emotion. She appeared to tear up before pulling on her goggles.
Ledecky's six gold medals are tied for the second-most ever for an American woman. Only swimmer Jenny Thompson, who won eight relay gold medals, has won more. Ledecky was expected to dominate the debut of the women's 1,500 and she did.
She went the distance. 🇺🇸@katieledecky is the first Olympic women's 1500m gold medalist in history. #TokyoOlympics pic.twitter.com/E77mcwSKuH

— Team USA (@TeamUSA) July 28, 2021
"I just think of all the great female swimmers the U.S. had had that haven't had that opportunity to swim the event," Ledecky said.
"So many people I looked up to. Still look up to. I'm so glad we could do it in the best way possible" of going 1-2.
Next up for Ledecky: On Wednesday night in Tokyo (Wednesday morning in Montgomery County), she could swim in the 4×200 freestyle relay preliminaries. The final for that event is on Thursday morning (Wednesday night in Montgomery County) and she also will swim in the 800 freestyle, with preliminary heats on Thursday night (Thursday morning in Montgomery County) and the finals on Saturday morning (Friday night in Montgomery County).
Ledecky in tears after this race. The last couple days after been an incredible grind for her. Gotta respect the effort of even trying this schedule.

— Pat Forde (@ByPatForde) July 28, 2021
Related posts: