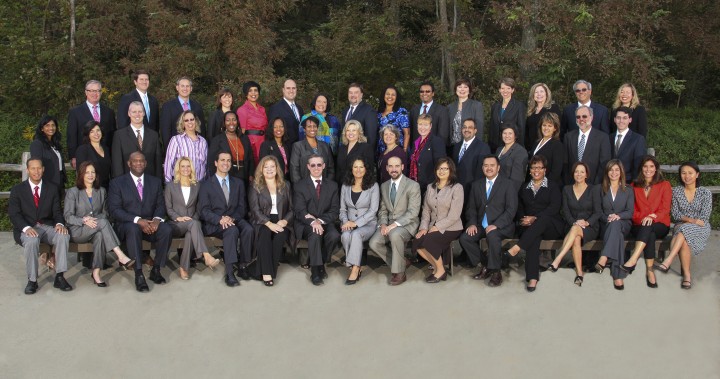 Leadership Montgomery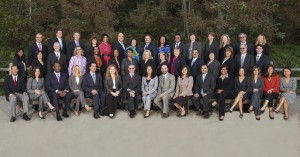 Leadership Montgomery is proud to announce its Core Class of 2013, a group of 48 senior executives of large and small businesses, county and state officials, and executive directors of nonprofit organizations, as well as community volunteers.
Leadership Montgomery brings together current and emerging leaders in its Core program and offers a unique opportunity to increase their understanding of the complex social and economic issues of Montgomery County. Through an intensive, interactive program – which runs from September 2012 through May 2013 – members of the Core class will increase their knowledge and get a close-up look at the inner workings of Montgomery County and the greater community.
The quality of the LM program is reflected in the more than 1,000 graduates of the core program – and more than 1,800 overall – who have achieved a mark of excellence in county-wide service, since the program's inception in 1989. Leadership Montgomery programming also includes Senior Leadership Montgomery, Youth Leadership Montgomery, and the one-day Inside Montgomery Executive Program.
Participants in the Leadership Montgomery Core Class of 2013 will include:
· Joseph L. Askew, Vice President, State Government Affairs – Maryland and Washington, D.C., Verizon.
· Ann C. Bevans-Selig, Principal/Chief Smarty Pants, Ann Bevans Collective / Bevans Group, LLC.
· Shaina E. Bindeman, Marketing Manager, Geppetto Catering, Inc.
· Shirley Brandman, President, Montgomery County Board of Education.
· Judy Brubaker, Principal – Spark Matsunaga Elementary/Longview School, Montgomery County Public School.
· Kelly G. Caplan, Community Outreach Manager, Washington Gas.
· Lisa R. Cohen, President and Owner, Pots and Pansies.
· Jillian F. Copeland, Founder and Director, The Diener School.
· Mariana C. Cordier, Senior Partner, Cordier Law Offices, LLC.
· Sterling Crockett, Principal, Full Gamut Professional Services, LLC.
· Dona B. Deutsch, Principal, Deutsch & Associates, LLC.
· Robyn Dinicola-Wagle, Director, Student & Academic Services, The Universities at Shady Grove.
· Jose R. Dominguez, Executive Director, Pyramid Atlantic Art Center.
· Amanda H. Farnum, Grants Manager, The J. Willard & Alice S. Marriott Foundation.
· Miti Figueredo, Director, East County Regional Center, Montgomery County Government.
· Denise S. Fredericks, Executive Director, Stepping Stones Shelter.
· Mark A. Freedman, Business Manager, Covanta Montgomery, Inc.
· Brian R. Gaines, Executive Director, Washington Redskins Charitable Foundation & Community Relations Washington Redskins.
· Felecia L. Greer, Director and Customer Advocate, Pepco Holdings, Inc.
· Laurie S. Halverson, Community Leader.
· Michelle G. Hicks, Principal, ICF International.
· Daniel C. Hoffman, Civic Activist.
· Suzan E. Jenkins, Chief Executive Officer, Arts & Humanities Council of Montgomery County.
· Marc A. Korman, Associate, Sidley Austin, LLP
· Lawrence W. Kotchek, Sales Manager, Print 1.
· My Y. Le, Realtor/Assistant Vice President, Long & Foster Real Estate, Inc.
· Judy A. Lichty-Hess, Regional Director, Health and Wellness, Adventist HealthCare, Inc.
· Pamela F. Luckett, Executive Director, HOPE Worldwide, Mid-Atlantic.
· Lisa Mandel-Trupp, Chief of Staff, Councilmember Phil Andrews, Montgomery County Council.
· Gerard M. McLoughlin, Senior Vice President, Maryland Commercial Market Leader, Bank of Georgetown.
· Raul Medrano, Campus Director, Ana G. Menendez University System-Capital Area Campus.
· Aruna Miller, State Delegate, District 15, Maryland House of Delegates.
· Debra K. Mugge, President, Montgomery County Association of Administrators and Principals
· Aryani A. Ong, Nonprofit Consultant, Ong Consulting.
· Adam J. Raskin, Senior Rabbi, Congregation Har Shalom.
· Stephen F. Riley, Executive Director, Potomac Community Resources, Inc.
· Monique L. Sanfuentes, Director, Community Health and Wellness, Suburban Hospital.
· Eric L. Siegel, Executive Vice President/Legal Counsel/LEED AP, The Cohen Companies.
· Karla I. Silvestre, Latino Liaison and Gilchrist Center for Cultural Diversity Manager, Montgomery County Office of Community Partnerships.
· Joshua P. Starr, Superintendent of Schools, Montgomery County Public Schools.
· Michelle R. Taylor, President and CEO, BETAH Associates, Inc.
· Jerry N. Therrien, President, Therrien Waddell
· Sean V. Timms, Administrative Vice President and Senior Commercial Group Manager, M&T Bank.
· Kristin C. Trible, President, Montgomery County Council of Parent-Teacher Associations.
· Hemant V. Virkar, President and CEO, Digital Infuzion, Inc.
· Beverly Walker-Griffea, Senior Vice President for Student Services, Montgomery College.
· Marc Wilensky, Vice President of Marketing, Mid-Atlantic Federal Credit Union.
· Michael Zhuang, Principal, MZ Capital Management.
For more information about Leadership Montgomery, visit www.leadershipmontgomerymd.org.