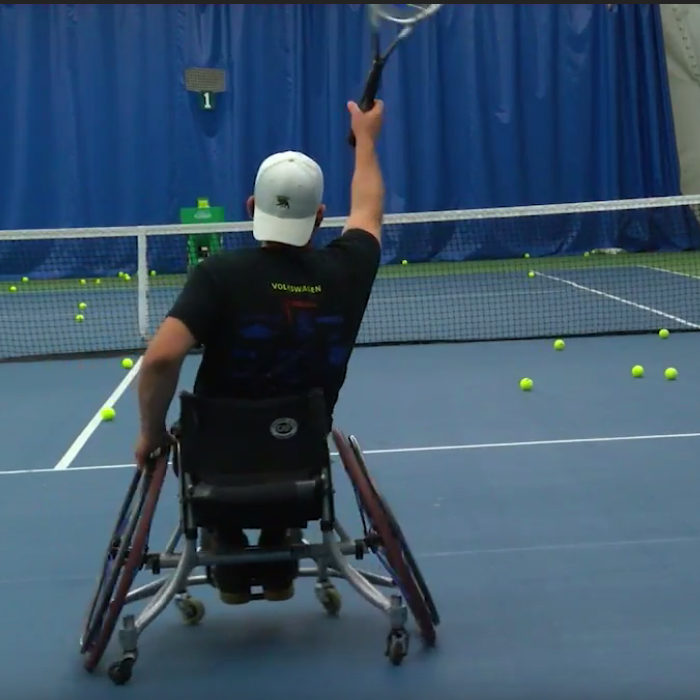 Inaugural Wheelchair Tennis Championship Takes Place in Wheaton Aug. 4-5
The inaugural Medstar NRH Wheelchair Tennis Championships take place August 4-5 at the Wheaton Indoor Tennis Center. The tournament is sanctioned by the United States Tennis Association. First-round matches begin the morning of August 4th with Championship matches starting at noon on Sunday, August 5th. Spectators are welcome to watch the tournament throughout the competition on Court 1.
The USTA, the national governing body for the sport of tennis, sanctions wheelchair tennis tournaments throughout the country, creating play opportunities for all skill levels. In addition, wheelchair tennis players can earn a national ranking, and there are opportunities for players to represent the U.S. in international competitions, from the Paralympics to the Parapan Am Games.
If you ever play or watch tennis, you know it takes lots of energy, endurance and effort to chase a ball and get it across the net. Players hitting the ball from a wheelchair bring a different level of skill to the game. The Inaugural Medstar NRH Wheelchair Tennis Championships on August 4th and 5th will bring together athletes from Montgomery County and out of state to compete for trophies in Wheaton.
More information, including tournament draws and player listings, can be found on the tournament website.
The Wheaton Indoor Tennis Center is located at 11715 Orebaugh Avenue in Wheaton-Glenmont.