'I Can Play With More Friends': Kids Line Up for COVID-19 Vaccines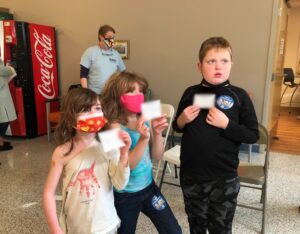 Last week, COVID-19 vaccinations started for 5-11 year olds in Montgomery County.
On Friday, young residents received their first doses at the Dennis Avenue Health Center in Silver Spring.
"I'm excited to get the second vaccine, then I can do sleepovers," said 7-year-old Asa Feinstein of Potomac.
"It feels like the beginning of the end. We're not quite there, but we're so close to the finish line," said PJ Feinstein, Asa's mother.
"Now I can play with more friends," said 5-year-old Lillian Obletz of Silver Spring.
"We have been waiting for the 5-11 results to come through for a long time," said Louise Obletz, Lillian's mother. "And we were just so thrilled when they announced that it was time to go. We were waiting at the computer booking right away."
"The more of this population that we can get vaccinated — we're doing great with the adults — if we can get this population, that's really going to help us," County Councilmember Will Jawando said. His three daughters, 11-year-old Alia, 9-year-old Addison and 7-year-old Ava, are now eligible for the vaccine and received their first doses Friday.
Due to a limited vaccine supply, all county clinics require appointments. Appointments can be found on the county's online COVID-19 portal, which also lists local providers offering the vaccine for 5-11 year olds. Pharmacies and private physicians also offer the vaccine.
Currently, only Pfizer's COVID-19 vaccine is approved for 5-11 year olds.