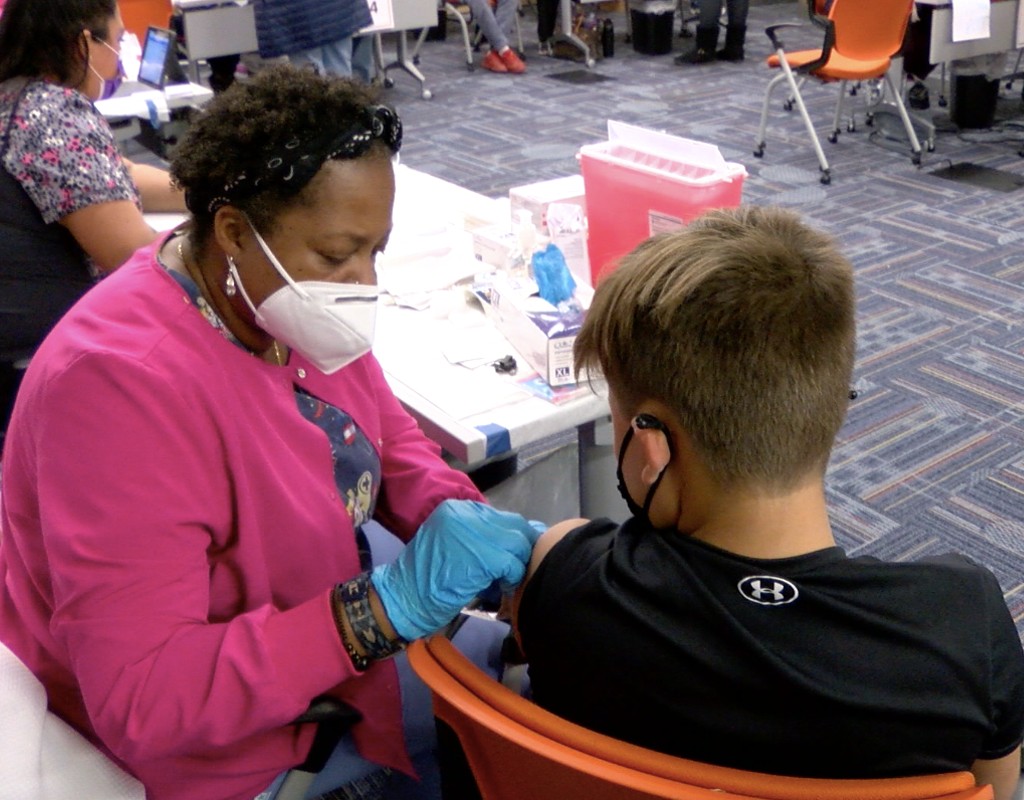 COVID-19 Vaccinations Underway for 5-11 Year Olds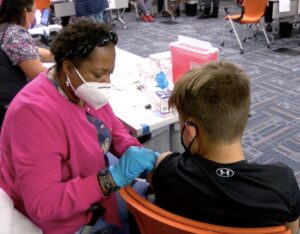 COVID-19 vaccinations for 5-11 year olds started Thursday in Montgomery County.
On Friday, young residents waited to get their first dose at the Dennis Avenue Health Center in Silver Spring.
"I feel happy to get my vaccine," 5-year-old Lillian Obletz of Silver Spring said.
"Now I can play with more friends."
"We were really excited to be here and get this done," Louise Obletz, Lillian's mother, said. "We have been waiting for the 5-11 results to come through for a long time. And we were just so thrilled when they announced that it was time to go. We were waiting at the computer booking right away."
"We are extremely relieved," said Jill Palmer of Silver Spring. Her 6-year-old daughter, Charlotte Huff, said she was excited. Palmer said the vaccine means her daughter and Obletz can have a sleepover in a couple of weeks.
Due to a limited vaccine supply, all county clinics require appointments, County Public Health Emergency Preparedness Manager Sean O'Donnell said during a virtual briefing Wednesday.
Appointments at county clinics can be found on the county's online COVID-19 portal, which also lists local providers offering the vaccine for 5-11 year olds. County clinic sites include the East County Recreation Center, Montgomery College Germantown, the Dennis Avenue Health Center and the Silver Spring Civic Building, as well as sites based in Montgomery County Public Schools (MCPS).
County Health and Human Services said appointments are filled for this weekend's clinics with MCPS, but clinics will be available next week and on several upcoming weekends.
Pharmacies, private physicians and retailers like CVS and Walgreens also offer the vaccine, per a release from the county. The county health department has initially received about 13,000 doses, which accounts for about one-third of overall doses distributed in the county in this round. About two-thirds of overall doses went to pediatric/family practices, O'Donnell said. He recommended families check for appointments with their child's pediatrician if they have one.
Currently, only Pfizer's COVID-19 vaccine is approved for 5-11 year olds.
Young residents received their first COVID-19 vaccine dose today at the Dennis Ave. Health Center in Silver Spring. Vaccinations for 5-11 year olds started yesterday in Montgomery County. @mymcmedia pic.twitter.com/oBJygcnWMH

— Maryam Shahzad (@maryam_mcm) November 6, 2021