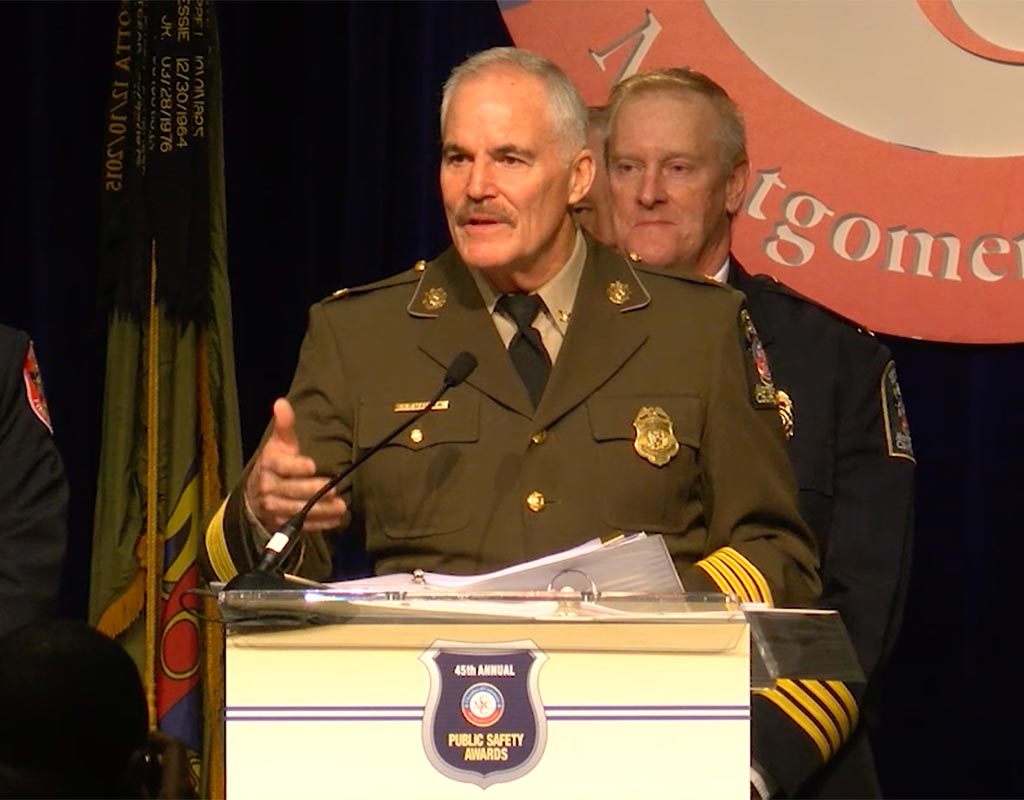 'Humbled and Honored' Tom Manger Leads U.S. Capitol Police
Former Montgomery County Police Chief Tom Manger took the helm of the United States Capitol Police Friday. He heads up a force in which two officers died and nearly 150 officers were injured following the Jan. 6 attack on the U.S. Capitol.
"I am humbled and honored to join the men and women of the U.S. Capitol Police Department in their mission to protect the Congress, the Capitol and the federal legislative process.  The challenges in protecting the Capitol campus, and everyone who works or visits there, have never been more complex.  The courage and dedication of the men and women of this agency were on great display on Jan. 6th.  It is now my job to ensure that they have the resources and support to continue to fulfill their mission in an ever increasingly difficult job," Manger said in a news release.
A nationwide recruitment process led by an executive search firm chose Manger to lead the force that protects Congress, its members, employees, visitors and facilities. The force has more than 2,300 officers and civilian employees. Its annual budget tops nearly $460 million.
Manger has 42 years of police experience, including service as police chief in Montgomery County from 2004 to 2019. He also served as chief in Fairfax County, Va., from 1998 to 2004.
An alumnus of Montgomery Blair High School, he began his career after graduating from the University of Maryland as a Fairfax County police officer. He rose through the ranks there and earned the Silver Medal of Valor in 1993.
He then took the reins in Montgomery County, where he received many awards, including the 2007 Law Enforcement Award from the Brady Campaign to Prevent Gun Violence, the 2016 Gorowitz Institute Service Award from the Anti-Defamation League and the 2018 FBI National Executive Institute Associates Penrith Award. Manger was inducted into the Montgomery County Human Rights Hall of Fame in 2012.
He served from 2014 to 2018 as President of the Major Cities Chiefs Association (MCCA) and as Vice President of the Police Executive Research Forum (PERF) from 2013 to 2017.
U.S. Sen. Chris Van Hollen praised Manger. "Tom served Marylanders with distinction – protecting our communities and leading by example in his efforts to improve trust and accountability. Through his work in Montgomery and Fairfax counties, he has been closely involved with the security of the National Capital Region," he wrote in a news release.
"His experience leveraging federal and regional resources to meet emerging threats stands to benefit our preparedness, but also the safety of the Capitol complex and those on the front lines," Van Hollen said. He further noted that Manger takes over a police force that currently faces "a time of great difficulty and transition.
In 2017, Manger spoke with former Montgomery County College President DeRionne Pollard about race, diversity and community policing.
The Capitol Police began in 1800 when the U.S. Congress moved from Philadelphia to Washington, D.C. and one man was hired to protect the Capitol building.
Related Post
Chief Tom Manger Announces Retirement from Montgomery Police