Free Range Parenting Couple Cleared of Neglect
UPDATED: The county's Child Protective Services has dropped neglect charges in one case against a Silver Spring couple at the center of the "free range parenting case, but the couple now is planning a civil suit against the agency and the Montgomery County Police in the case.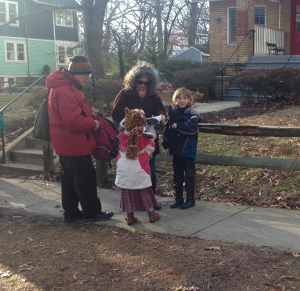 Danielle and Alexander Meitiv have been notified that charges of child neglect have been "ruled out" in one of the investigations against the family, according to a release from the couple's attorneys.
Child Protective Services (CPS) of Montgomery County has changed its initial decision—from "unsubstantiated neglect" to "ruled out"—in an investigation stemming from a December 20 incident in which the couple's 10-year-old son and 6-year-old daughter were returning home from a local park but were detained by police.
Meitiv attorney Matthew Dowd told MyMCMedia, CPS violated the couple's constitutional rights.
"We are moving forward with a civil action to make sure that this type of thing doesn't occur again. There is strong Supreme Court court case law that a government agency can't interfere with parenting responsibilities unless there is actual harm shown," Dowd said.
Dowd said the civil case would be filed against CPS and Montgomery County Police. He would not disclose the amount of damages he expects to claim in the case.
Danielle Meitiv told MyMCMedia, the case has launched an international parenting conversation.
"It seems this is a conversation people have been desperate to have –  one, about government intrusion and two, about how parents have become so paranoid and hyper-involved," she said.
The December incident was the second time CPS investigated the Meitivs for allowing their children to walk in their neighborhood by themselves. The first investigation was prompted in October 2014 when the children were playing together in the park. In April of this year, CPS instituted a third investigation after the children were seized by the police while walking home, only three blocks from their house, and detained for several hours before being returned to their parents. The third CPS investigation remains pending.
Dowd told MyMCMedia he believes the couple will be cleared in the third investigation.
"We are hard pressed to see how CPS could logically come to a diff conclusion. It is rare for CPS to change a finding like that but more importantly this is a shift in the right direction in terms of the discussion in the rights of parents to decide how to raise their children," Dowd said.
The couple's other Rockville Attorney Thomas DeGonia added, "We are glad that the agency has reconsidered its decision and agreed with us that there was no child neglect. This conclusion was clear from the start. We trust that CPS will apply the law in a constitutional and consistent manner going forward, and quickly resolve its current investigation, which remains pending,"
Danielle Meitiv said is still in "shock" about the entire case.
"I am amazed this was ever considered bad parenting. That shock has never gone away. We should never have been in the CPS quagmire in the first place," she said.
In fact over the Memorial Day holiday weekend, Meitiv said the children spent their time playing outside, without organized activities and without parental supervision.
"Our kids are safer today in the U.S. than any time in human history. The fact that we shield them like they are in a war zone creates fearful children and that is not something I want to do for my children," she said.
Related: