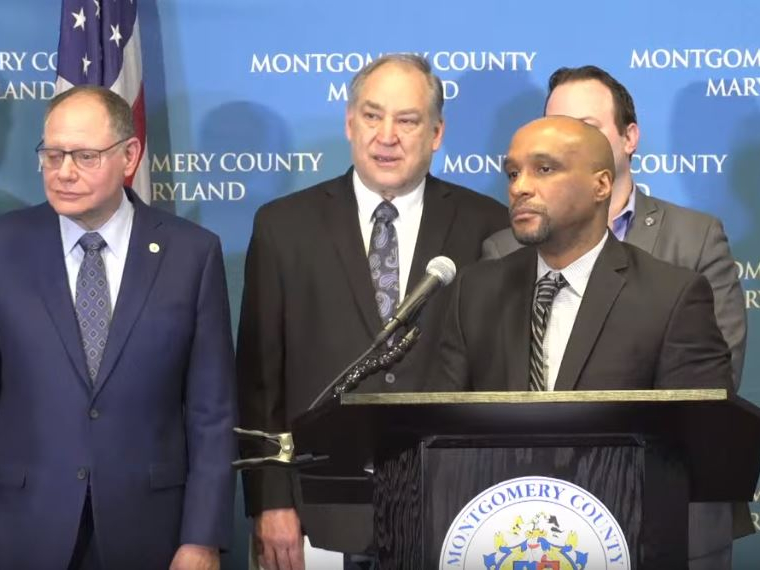 Elrich on Coronavirus Cases: 'There is No Reason to Panic'
The three Montgomery County residents who tested positive for COVID-19 are recovering and most of their symptoms have abated although they remain in quarantine in their own homes, according to Dr. Travis Gayles, the county health officer and chief of public health services.
During a 40-minute press conference this morning, Gayles and County Executive Marc Elrich strove to relieve fears while at the same time stressing that everyone should remain vigilant, washing their hands regularly and staying home if they feel ill.
"We want to make it clear, this is not a crisis," said Council President Sidney Katz.
"As of now, we are not recommending any large scale closing" of schools or offices, Gayles said.
However, added Gayles, the situation is fluid. "All this is subject to change" he said.
Despite promises of being transparent and keeping everyone aware, the county officials would not give specifics about the three patients, except to say they include a couple in their seventies and a female in her fifties.
The couple and the woman did not travel together and don't know each other, but were on the same cruise, which did not sail out of Baltimore, Travis said.
It is important to keep their privacy, Travis said as he refused to say where they lived, worked or traveled in the county since returning home.
The three individuals returned from their cruise on Feb. 20.
Then, on the evening of March 3, Maryland officials were told by the Centers for Disease Control in Atlanta that a fellow passenger had tested positive for COVID-19 and that the three Maryland residents should also be tested, which they were on March 4.
The reason for the delay in testing was that the then-CDC guidelines said a person had to be in direct contact with someone with COVID-19 or have traveled to a country with a large number of people with the virus.
As of this week, the CDC relaxed its requirements, and more people are being tested, Gayles said.
State officials are taking the lead and are following up on anyone the three individuals came in contact with, Gayles said, adding he was not aware of any contact with students.
The three people went to the hospital for testing, and in a controlled environment, gave excretions from their mouth and nose.
The hospital, which Gayles did not identify, took precautions to keep its workers safe, he said.
At the time, the three people did not feel great, but not sickly enough to go to the hospital, Gayles noted. Therefore, he said, they didn't go to a lot of places before they learned they had COVID-19 and agreed to be isolated.
During the press conference, which eight of the nine county council members attended, Elrich, Gayles and Earl Stoddard, director of the county's office of emergency management, all stated that county officials have been meeting together and preparing since January to a situation such as this.
"There is no reason to panic, and life as you know it should continue," Elrich said, adding that people should take the same precautions that pertain to anyone with the flu and cold.
"The truth is, there is not a lot you can do, because there is no cure" or vaccine, Elrich said. "There is not a lot we can do proactively."
Elrich said he understood that many people are anxious. However, he said, "We believe life does not need to be radically altered."
The county is keeping in touch with the staffs of nursing homes, long-term care facilities and those who work with the homeless to make sure they have all the information and supplies they need, Gayles said.
While the Montgomery County Public Schools have not seen a significant drop in attendance that could change when more people realize the importance of staying home if they do not feel well, Superintendent Jack Smith said.
He noted that all the schools are getting a thorough cleaning, as directed by protocol. Employees are making sure all soap dispensers are full, he added.
"It's about being vigilant."