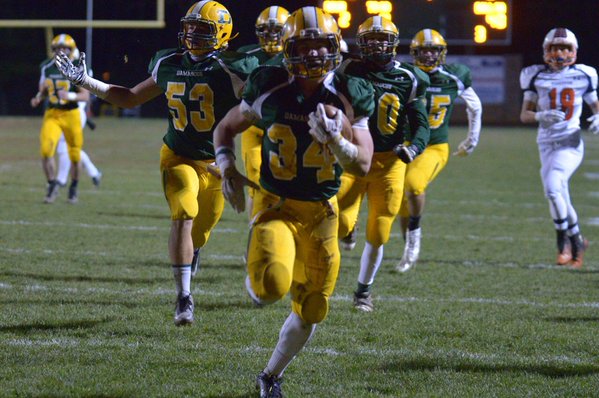 Damascus Hornets Return to State Finals With 48-7 Win Over Reservoir (PHOTOS)
The Damascus Swarmin' Hornets are moving onto the class 3A state finals after a win against the Reservoir Gators Friday night. The final score 48-7.
This is the second year in a row the Hornets made it to the final game of the playoffs at M&T Bank Stadium in Baltimore.
Damascus took an early 7-0 lead in the first quarter with a TD run by senior Jake Funk. By halftime the game was 41-7, Damascus. The Gators seemed unable to stop the Hornets in their bid for the Class 3A state championship.
The Class 3A state final will be played Dec. 3 at the M&T Bank Stadium in Baltimore. Tickets are on sale at the Maryland Public Secondary Schools Athletic Association website.
Football FINAL. BACK TO THE BANK!!!! pic.twitter.com/ODmjquruHK

— Athletic Director (@DHS_Hornets) November 28, 2015
Straight to States. 4:37 remain between the Hornets and M&T stadium. @mymcmedia @gdpoze @allmetsports @DHS_Principal pic.twitter.com/kd0RqzHUVe

— Phil Fabrizio (@Photoloaf) November 28, 2015
Reservoir scores at the end of the 3rd to make it 48-7 Damascus

— Phil Fabrizio (@Photoloaf) November 28, 2015
Vinson on a 70 yd pick6. Makes 41-0 at half time @mymcmedia @gdpoze @allmetsports @DHS_Hornets @DHS_Swarm pic.twitter.com/I0fsZtrCVt

— Phil Fabrizio (@Photoloaf) November 28, 2015
On a direct snap Funk scores to tie? State record for TDs. 28-0 with 4:57 left in the half. @mymcmedia @DHS_Hornets pic.twitter.com/kWu96Ydjd3

— Phil Fabrizio (@Photoloaf) November 28, 2015
73 yards. A new Damascus record broken. Funks 43 TD for the season. 21-0. @mymcmedia@allmetsports @DHS_Hornets pic.twitter.com/vhr3JGE7r5

— Phil Fabrizio (@Photoloaf) November 28, 2015
End of 1st QTR in Damascus. 14-0 Hornets. @mymcmedia @gdpoze @cszscores @DHS_Hornets @DHS_Swarm @DHS_Principal pic.twitter.com/LxuI6bLqPK

— Phil Fabrizio (@Photoloaf) November 28, 2015
More Turkey please. Funk on a 56 yd TD run 14-0. @mymcmedia @allmetsports @DHS_Hornets @DHS_Principal @cszscores pic.twitter.com/7fvVrycOnV

— Phil Fabrizio (@Photoloaf) November 28, 2015
Bradshaw on the tackle for a loss. 7-0. Dmass. @mymcmedia @gdpoze @DHS_Hornets @DHS_Swarm pic.twitter.com/mb5gCLXdEa

— Phil Fabrizio (@Photoloaf) November 28, 2015
44 yd score by Funk on Hornets 2nd play. @mymcmedia @cszscores @gdpoze @allmetsports 7-0 Dmass. pic.twitter.com/W2qzowxo63

— Phil Fabrizio (@Photoloaf) November 28, 2015
Standing at attention for the National Anthem. Game time is next. @mymcmedia @gdpoze @DHS_Hornets @MCPSAthletics pic.twitter.com/xJO2VMwkBv

— Phil Fabrizio (@Photoloaf) November 27, 2015
PHOTOS | Phil Fabrizio