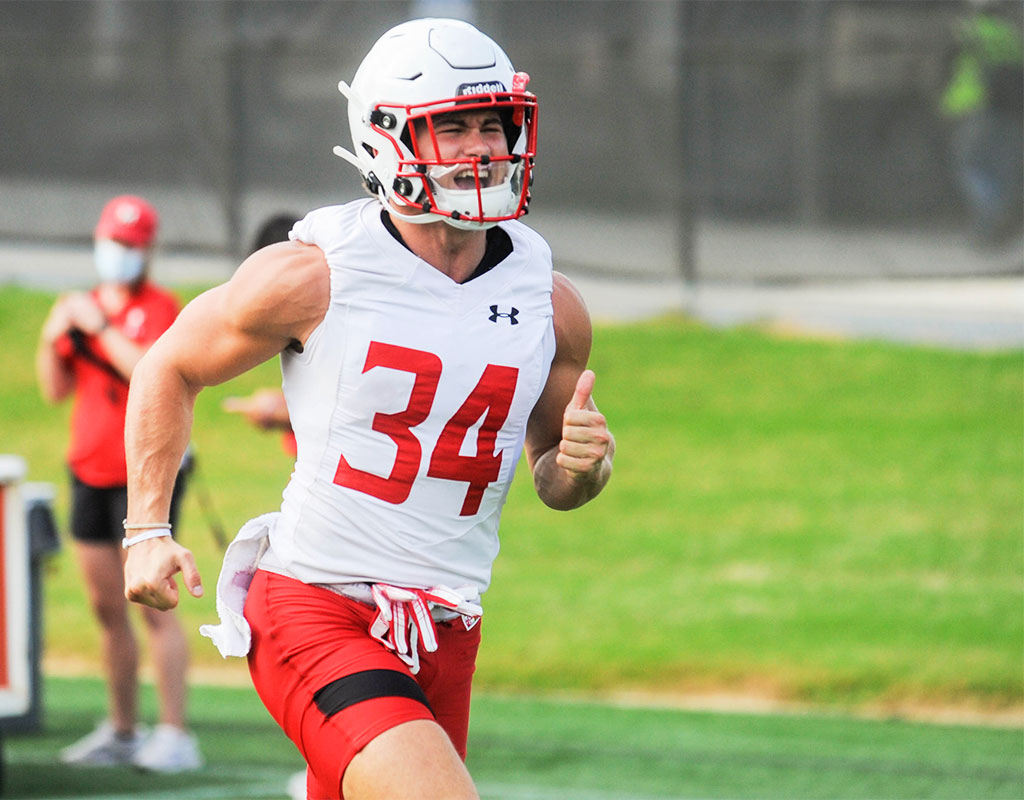 After 'Long Two Years,' Damascus Alum Funk Returns from Injuries to Lead Terps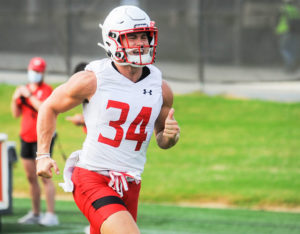 "There are very, very, very few people that really understand what the last two to two and a half years have been like for me. From a physical standpoint to a mental standpoint."
Jake Funk missed nearly all of the past two seasons with two torn ACL injuries. But now, as the Maryland Terrapins get set to kick off an unprecedented 2020 football season, the redshirt senior is back healthy and ready to be a leader.
In 2015, Funk led Damascus High School to a perfect 14-0 record as a senior, with 50 touchdowns–a state record in a single season. In the Hornets' Maryland 3A State Championship win, the running back rushed for a record seven touchdowns.
Following a storied high school career, Funk made his way to College Park to play football for his state school. As a freshman in 2016, he played in all 13 games for the Terrapins, rushing for 136 yards and a touchdown.
While Funk's Maryland career got off to a successful start, the past two seasons have been plagued by injury, tearing his ACL twice. He has fought his way back to health both times, but the road hasn't always been easy.
"It's been a long two years, to say the least," Funk said.
But throughout those two long years, Funk's older brother has been with him the whole way. Josh, a former Ohio State lacrosse player and Poolesville High School graduate, has owned his own physical therapy company since 2014.
"I wouldn't be here if it wasn't for him," Funk said about his older brother. "He has been a vital part of my rehab process."
The bulk of Funk's most recent rehabilitation process occurred during the COVID-19 quarantine period. In addition to weight lifting, Funk was working with his older brother five days a week.
"He's my brother, and he's been somebody that's been there for me since I was a little kid," Funk said. "He has always pushed me to be the best, and [he] knows my limits and knows when to pull off. I'm truly blessed to have him."
Despite two season-ending, life-changing injuries, Funk never once considered hanging up the helmet.
"I was never going to let an injury define me as a football player," he said. "I love the game too much to step away because of an injury."
When the Maryland Terrapins kick off their season on Saturday against the Northwestern Wildcats, Jake Funk will return to the lineup for the first time since Sept. 14, 2019.
"Jake has been really steady-Eddie," said Maryland head coach Mike Locksley. "He's one of the leaders of our team, both on and off the field."
Not only is Funk now the elder statesman of the team, but he enters his final season at the top of the depth chart.
"He is that lead running back and he's very capable," Locksley said. "There's no doubt that he is one of our primary guys."
Even though Saturday will mark an undoubtedly emotional return to the field for the Damascus graduate, his sights are set on making the best of his final year as a Terrapin.
"I'm just extremely thankful and blessed," Funk said, "to be able to go back out there, wear the uniform again, and play for my teammates."
The Maryland Terrapins kick off against the Northwestern Wildcats on Saturday at 7:30 p.m. ET on the Big Ten Network.
Previous Post
MoCo's Most Famous: Maryland Running Back and Damascus Alum Jake Funk