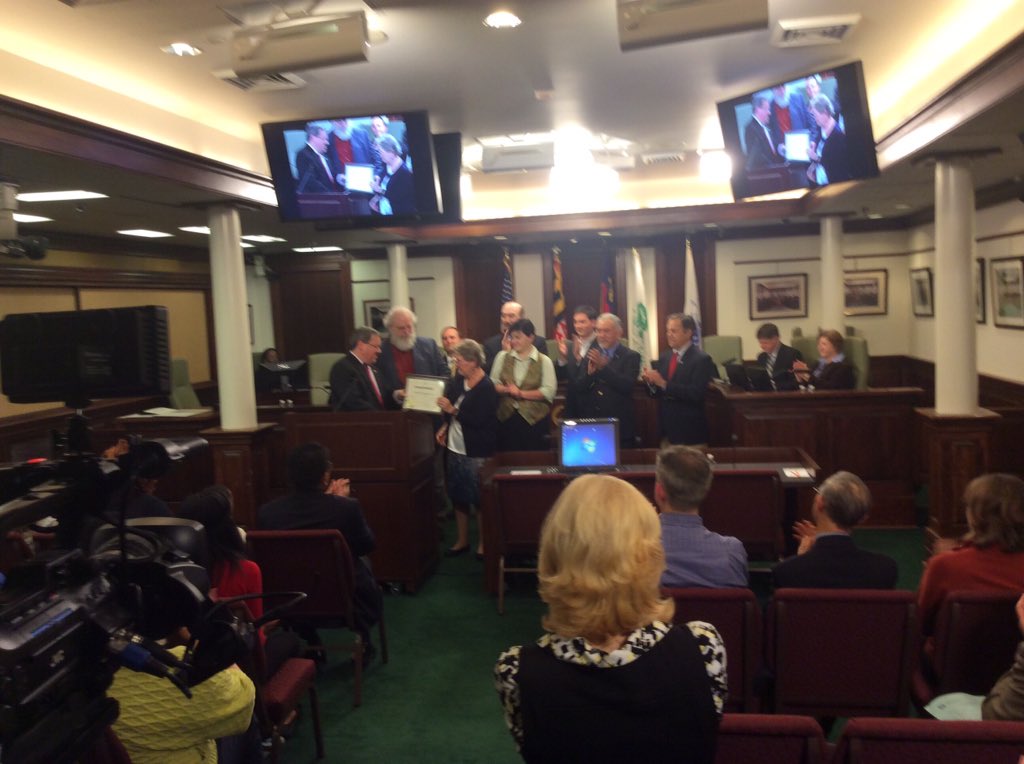 City of Gaithersburg Honors Outgoing Councilmember Cathy Drzyzgula (PHOTOS)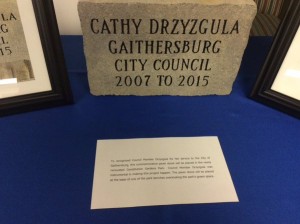 The City of Gaithersburg honored outgoing Councilmember Cathy Drzyzgula on Nov. 16th with a reception at City Hall. City councilmembers, staff, county and state officials all gathered to celebrate Drzyzgula's accomplishments and work in city office.
Drzyzgula took office in November 2007 and during her term helped move forward several projects, including planning for the Route 355 Corridor, revitalization of Olde Towne and environmental initiatives. She also championed the redevelopment of Constitution Gardens, which opened as the first municipal nature play space in Maryland in mid-September of 2015.
In honor of her service to the city, Mayor Jud Ashman declared Nov. 16th as "Cathy Drzyzgula Day" in Gaithersburg. Ashman presented Drzyzgula with an official proclamation. She was also presented with a certificate of appreciation from the Maryland Municipal League.
Drzyzgula and her husband, Bob, plan to retire in 2016 to the Pacific Northwest.
.@judashman presents official proclamation declaring Nov. 16 Cathy Drzyzgula Day in Gaithersburg. pic.twitter.com/qdnMXNiq8W

— Maureen Chowdhury (@MediaMaureen) November 17, 2015
Tom Reynolds of @MDMunicipal thanked Cathy Drzyzgula for her leadership on behalf of our municipalities. @MoCoMML pic.twitter.com/xdyVQhsq9R — Cheryl C. Kagan (@CherylKagan) November 17, 2015
Drzyzgula thanks family, staff, councilmembers and neighbors. @mymcmedia pic.twitter.com/vpoNOGzeoI

— Maureen Chowdhury (@MediaMaureen) November 16, 2015
.@CherylKagan presents Drzyzgula with a citation from Maryland General Assembly. @mymcmedia pic.twitter.com/L76u8gC5PW — Maureen Chowdhury (@MediaMaureen) November 16, 2015
Mayor @judashman addressing room, talking about Cathy Drzyzgula's accomplishments while on council. @mymcmedia pic.twitter.com/2saKJol6ok

— Maureen Chowdhury (@MediaMaureen) November 16, 2015
Councilmember Drzyzgula will have a commemorative paver stone placed at Constitution Gardens Park. @mymcmedia pic.twitter.com/UR8WDzwk92 — Maureen Chowdhury (@MediaMaureen) November 16, 2015
At event to celebrate Cathy Drzyzgula's time serving on the City of Gaithersburg council.@mymcmediapic.twitter.com/yUCPl8uFiK

— Maureen Chowdhury (@MediaMaureen) November 16, 2015
Related: