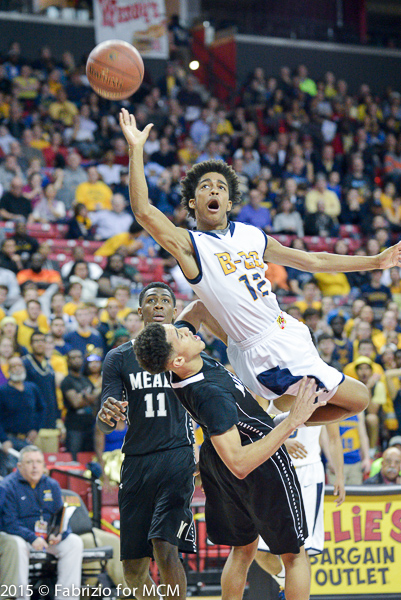 Barons Fall to Mustangs in Boys 4A Final (PHOTOS)
It was the last basketball game of the evening and a long one at that as Bethesda Chevy-Chase experienced a stampede by the Meade Mustangs.
Meade defeated B-CC by a score of 80 to 45 to claim the Maryland 4A Division State Championship.
The game was marred by an abundance of fouls as both teams combined to commit 59 fouls, 28 for BCC and 31 for Meade. The difference certainly was at the foul line and rebounding. Meade converted 38 of 53 free throws for 72% as compared to B-CC who only converted 16 of 35 for 45.7%. Meade gathered in 49 rebounds as B-CC could only capture 36. Neither team shot more than 36% from the floor.
B-CC narrowly escaped in overtimes against it's last two playoff opponents, Magruder and Duval but such was not the case with Meade who by half time lead B-CC with a score of 32 to 20 and quickly doubled that up on BCC in the first minute of the 2nd half going up by 20. Meade led for nearly 31 minutes of total game time.
B-CC's Cameron Galic (#3) and Yannick Alexis (#14) lead the higher seeded home team Baron's with 10 and 11 points, respectively, as Josh Qualls (#4) had 16 and Bruce Spruell (#5) had 10 for the visiting and now state champion Mustangs.
Meade finished the season at 26-2 as champions and Bethesda Chevy-Chase ended with a record of 20-6 as finalists.
PHOTOS | Phil Fabrizio @Photoloaf