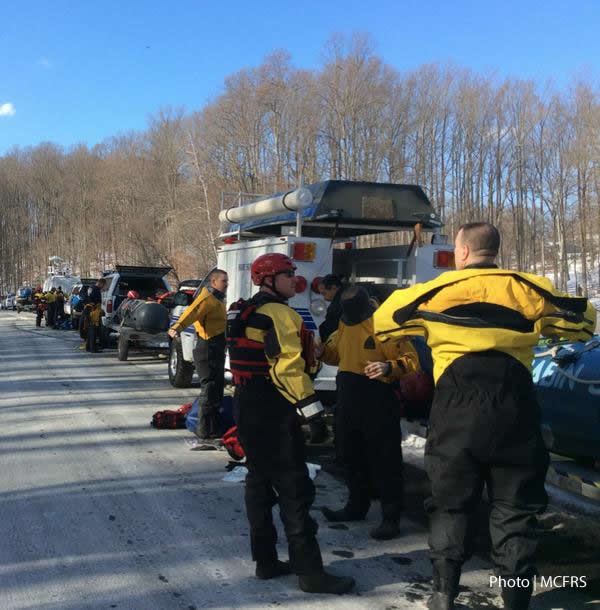 Firefighters Help Remove Deer Stuck on Ice at Little Seneca Lake
UPDATED Montgomery County fire and rescue crews helped Park Police remove two deer who were stuck on ice late Sunday afternoon at Little Seneca Lake, according to a fire department official.
Fire and Rescue Services Spokesperson Pete Piringer reported on his Twitter account that an airboat was deployed for the rescue operation at Black Hills Regional Park. He said the deer were about 100 yards from shore.
Neither deer survived, Piringer said.
Earlier #mcfrs water rescue crews assisted Park PD removing 2 deer from frozen Seneca Lake….neither deer survived pic.twitter.com/samEezyUmZ

— Pete Piringer (@mcfrsPIO) March 15, 2015
Ice rescue U/D: 1 of 2 deer rescued, #MCFRS airboat being deployed to skim on top of ice to retrieve 2nd deer. >2 doz ff's on scene. — Pete Piringer (@mcfrsPIO) March 15, 2015
U/D Black Hills Park: Long Channel Drive, (deer ice rescue) resources deployed incl #MCFRS boats and personnel in water and on ice

— Pete Piringer (@mcfrsPIO) March 15, 2015
U/D Black Hills Park-1 deer on ice, 1 deer in water 100 yards from shore, #MCFRS tech rescue planning extraction via air boat — Pete Piringer (@mcfrsPIO) March 15, 2015